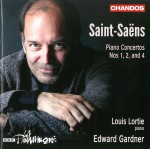 Louis Lortie brings another stellar recording to his lengthy discography with this new CD Saint-Saëns – Piano Concertos 1, 2 & 4; BBC Philharmonic; Edward Gardner (Chandos CHAN 20031 chandos.net). The three concertos are separated by roughly a decade each. Despite the accumulation of experience and artistic growth, the inherent genius in Saint-Saëns' writing is undeniable in all of them. But in the Concerto No.4, premiered in 1875 with the composer at the keyboard, the music is replete with richly complex ideas spread over an orchestral canvas barely capable of containing them. Lortie revels in conquering every technical challenge the composer sets, and soars with the orchestra in each moment of climax. This recording is powerfully inspired and Lortie's performance is the kind that makes you run out into the street, grab the first person you see and drag them back in to experience it.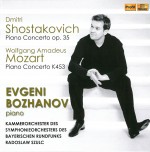 To his current handful of recordings Evgeni Bozhanov adds his latest CD, Shostakovich; Mozart – Piano Concertos, Kammerorchester des Bayerischen RSO; Radoslaw Szulc (Profil Edition Hänssler haensslerprofil.de). The two concertos are completely unlike each other, and hearing the young Bulgarian pianist confirms the impression that he has a remarkable gift for complete and authentic engagement in his repertoire. Bozhanov's performance of Mozart's Concerto No.17 in G Major KV453 is in every way a perfection of achievement. His sense of balance, clarity and partnership with the orchestral ensemble are all flawless. He never claims more than the moderate role that Mozart gave the piano part in the work.
The Shostakovich Concerto No.1 in C Minor Op.35 is, by contrast, a riot of brilliant ideas from the fertile mind of a 26-year-old composer. The 1933 composition has humour, pathos, melancholy, satire and all the energetic hope of youth. Bozhanov performs it as if it were written specifically for him, and every member of the audience at the live performance seems to believe that as well. Noteworthy is the depth of his playing in the second movement (Lento). There is no doubt about the depth of the sadness that underlies the simple ideas in this movement. It provides a stunning contrast to the outer ones that open and close the work.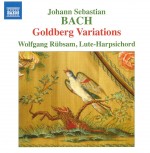 Wolfgang Rübsam has made his reputation chiefly as an organist but is also widely recognized as a fine pianist and harpsichordist. In his new recording Bach – Goldberg Variations (Naxos 8.573921 naxosdirect.com/items/bach-goldberg-variations-bwv-988-457587) he plays a lute-harpsichord. It's a Baroque keyboard instrument built like a harpsichord, using its mechanical action principles, but strung with gut rather than metal strings. This modern copy, however, uses a set of unplucked brass strings to sound sympathetic vibrations somewhat like a viola d'amore. The resonating body of the instrument looks like a giant lute or lady bug on its back. The overall effect of all this is a soft and very mellow sound.
Rübsam excels at ornamentation in this work and takes every tasteful opportunity to inject turns and grace notes. But the most distinguishing feature of this performance is its extraordinarily slow speed. Hearing the variations at a fraction of the tempo most other interpreters take is an exercise in patience that is rewarded with new insights into this very familiar material. The nature of the instrument may have a great deal to do with Rübsam's tempo choice but whatever the reason, this unique Goldberg deserves attention.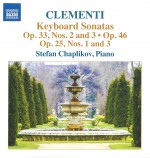 Stefan Chaplikov's new CD Clementi – Keyboard Sonatas (Naxos 8.573712 naxosdirect.com/items/clementi-keyboard-sonatas-opp.-25-33-46-457580) samples the work of this 18th/19th-century composer with five sonatas from Op.25 to Op.46 that span a period of 30 years. Clementi's writing is a good example of a composer reluctant to emerge from the structured discipline of the late Baroque and early Classical into a style where the invitation for emotional display was open to all but held suspect by some. Ever careful, Clementi used his left-hand keyboard-writing to provide both harmonic foundation and rhythmic drive to his works. It's a part of his vocabulary that changed very little over his lifetime. In the right hand, however, there is a subtle evolution that's heard in the length and shape of melodic phrases. Chaplikov exploits these and guides the ear to suggestions of bolder passing notes and freer rubato.
Despite his conservatism, Clementi's writing is masterful for its precision and technical requirements. Chaplikov's keyboard technique is utter perfection and delivers clear articulation of Clementi's rapid-fire melodies as they tear across the keyboard.
Jean-Philippe Sylvestre appears as soloist on a new recording with Orchestre Métropolitain under Alain Trudel: André Mathieu – Piano Concerto 4; Rachmaninov Rhapsody on a Theme of Paganini (ATMA ADC2 2768 atmaclassique.com/Fr/Albums/AlbumInfo.aspx?AlbumID=1614). The Mathieu concerto has a fascinating history that rivals the story behind his Concerto No.3 (Concerto de Québec) also recently recorded by Sylvestre. The Concerto No.4 was virtually unknown and deemed lost owing to the composer's rather relaxed approach to keeping his own scores. While the original score used in a 1950 Montreal performance has never been found, a recording of that concert made on 78 rpm discs found its way into Sylvestre's hands in 2005. He and composer/conductor Gilles Bellemare have reconstructed it based on the 1950 recorded performance. In its reconstructed form it stands as a large-scale work built along formal lines and expresses Mathieu's strong modern Romantic language. The purely aural process of transcription from the old recording is hard to imagine but the result has been breathtaking.
Sylvestre also performs the Rachmaninov Rhapsody on a Theme of Paganini Op.43, delivering a performance with the orchestra that is as highly charged as the maniacal violinist himself.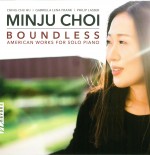 Minju Choi, born in South Korea and raised in America, has lived for many years in Europe and admits to a strong cosmopolitan outlook that shapes her life and music. Her new CD Boundless – American Works for Solo Piano (Navona Records NV6192 navonarecords.com/catalog/nv6192) features the work of three American composers. Among them, Gabriela Lena Frank most closely reflects this cosmopolitan view with her piece Sonata Andina No.1. It incorporates Andean folk music and is dedicated to the idea that different cultures can coexist without one subjugating the other.
Philip Lasser's sonata for piano Les hiboux blancs (The White Owls) is only as programmatic as its title. Lasser has strong convictions about the absolutism of music and allowing it to speak for itself. While he writes about his structure and technical approach, he remains silent on meaning.
Ching-Chu Hu presents a vivid contrast with his piece Pulse that deals with issues of the heart and a range of human emotions.
The three composers share a language that is largely tonal and combines a wonderfully creative inclination for rhythmic interest with clever tune-smithing.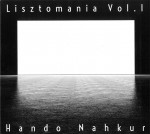 Hando Nahkur's fifth solo album is his first completely devoted to the piano music of Franz Liszt Lisztomania Vol.1 (HN Productions handonahkur.com/discography/). This recording promises further volumes of Liszt but begins by offering a couple of transcriptions of Schubert lieder, Erlkönig and Auf dem Waser zu singen, in addition to larger works. Nahkur is consistently amazing in his ability to blend both the technical and interpretive demands of this repertoire. Après une lecture du Dante is perhaps the most difficult piece in the program but it comes across with an unencumbered directness and a conceptual maturity required by the subject matter. The contrasting thematic ideas of heaven/hell are as demanding as the work's closing passages of rapid chromatic octaves. The way he embraces all this shows how secure Nahkur is with Liszt – one of his favourite composers – and it bodes well for future volumes.
It's unusual to find a brilliantly gifted performer of Nahkur's calibre still producing on his own independent label. How long before a major label signs him?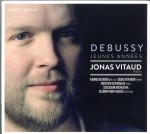 Jonas Vitaud's third major recording is an impressive double disc set Debussy – Jeunes années (Mirare MIR 392 mirare.fr/album/debussy-jeunes-annees). It's mostly piano solo but includes some songs for soprano and tenor, as well as a gorgeous performance of Debussy's Fantaisie pour piano et orchestra.
Vitaud, in his late 30s, has impressive credentials and artistic pedigree. His playing is flawless and obviously informed by a deep intellectual inquiry that searches for meaningful content in every note he plays. He's a thinker and a very effective communicator. He lifts Debussy out of the purely impressionist mould and interprets him in broader terms. While there's lots of requisite legato playing of beautiful long lines, there's also an unmistakable new sharpness to staccatos, lifts and phrase separations. Vitaud somehow manages to harness a rhythmic energy in Debusy's music that is often missed in other performances. Listen for this throughout the Suite Bergamasque, Mazurka and Images oubliées. The 2-CD set is an impressive early addition to a very promising discography.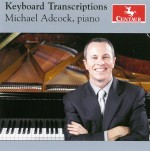 Michael Adcock has released a new disc Keyboard Transcriptions (Centaur CRC3534 arkivmusic.com) presenting works by Prokofiev, Gershwin/Wild, Bizet/Horowitz, Schumann/Liszt and Saint-Saëns/Godowsky. It's a rich program with plenty of drama and brilliance.
Prokofiev's own piano version of his Romeo and Juliet Op.75 ballet is one of the two major pieces on the recording. It's big, bold and unapologetic. The piano Adcock uses for the performance is a Steingraeber concert grand with a powerful bright sound ideally suited for Prokofiev's angular music. Adcock performs the suite splendidly with all the energy you'd expect from a full orchestra. The beautifully sinister Montagues and Capulets is especially effective with its evil bass line and foreboding melody.
The other major work on the CD is Earl Wild's Seven Virtuoso Etudes on tunes by George Gershwin. These are the real highlight of this recording. Wild was an extraordinary performer and gifted composer/arranger, and the Etudes demonstrate his genius for invention and virtuosity. Adcock plays these with an easy conviction that makes them seem like a natural fit for his impressive ability and fluid style. While each one is memorable, I Got Rhythm stands out for its intelligence and complexity.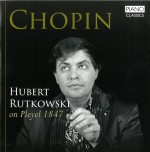 Hubert Rutkowski is a Chopin specialist and his latest disc Chopin on Pleyel 1847 (Piano Classics PCL 10129 piano-classics.com/articles/c/chopin-hubert-rutkowski-on-pleyel) adds to the growing number of performances using period instruments to capture the sound and feel that composers associated with their work. Chopin owned a Pleyel and regularly performed on one in public. The Pleyel that Rutkowski uses in this recording dates from 1847 and while it was built just a couple of years before Chopin died, there's no suggestion that he ever played this particular instrument.
Modern pianos have evolved dramatically from their early forms, based on the development of technology and materials, as well as an artistic imperative for richness of sound and simple raw power. Rutkowksi's playing is wonderfully light and song-like. He takes advantage of the Pleyel's slightly delayed dampening system and the more direct feel of keyboard contact with the strings. The piano's voice is a softer one owing to the lower tension of the strings that are supported by a composite frame using iron cross bars.
Rutkowski quickly captures the sound of Chopin's era but more importantly, revives the music with an authentic voice that is intriguingly fresh.