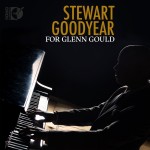 Stewart Goodyear's new CD For Glenn Gould (Sono Luminus DSL 92220 sonoluminus.com) is an expression of Goodyear's deep admiration of Gould's music and his peculiar take on just about everything. The disc includes a generous amount of Bach, some Sweelinck, Gibbons, Brahms and Alban Berg. The pieces represent a selection of works that Gould chose for his debuts in Montreal and Washington. Far from being an imitation of Gould's keyboard style, Goodyear's recording seeks to recognize the genius behind the programming, by which Gould included works that bore some relationship to each other.
The striking feature of Goodyear's playing is the authenticity and stylistic confidence he brings to each piece. From the early Baroque through Bach, Brahms and Berg, Goodyear plays with a keen ear for clarity, whether structural or melodic. The Bach Sinfonia No.8 in F Major, BWV 794 is an excellent example of this. His technique is crisp, incisive yet fluid.
The two Brahms Intermezzi, Op.118, No.2 and Op.119, No.3 come from what Goodyear believes was Gould's best recording. In it, Gould reveals himself as the salon artist looking for the most intimate expression of his music. The recording studio became the ultimate refuge for Gould's flight from the public stage. Accordingly, Goodyear admits that his studio time with this disc was largely intended to recreate that intimacy. Like Gould, Goodyear is careful with his tempi and always lets the forward movement of a phrase govern the amount of hesitation and drama he applies.
For Glenn Gould is a unique, creative project, and played brilliantly.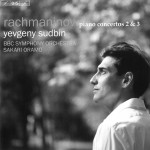 Yevgeny Sudbin has an impressive performance CV that includes nearly every major European orchestra. His newest recording Rachmaninov – Piano Concertos 2&3; BBC Symphony Orchestra; Sakari Oramo (BIS 2338 SACD bis.se) offers a truly exciting performance of these two repertoire stalwarts. The orchestra is, as expected, reliably superb. Sudbin, for his part, brings some new ideas to these two familiar works. With the Concerto No.2 Sudbin introduces several brief tempo pullbacks in unusual places, very subtle but arresting nevertheless to all who know these pieces well. He plays a few passages in the second movement with a speed more daring than is usually heard, but his unerring musicianship makes these small unconventional moments entirely convincing.
Sudbin makes an immediate impression of technical brilliance in the Concerto No.3. He skillfully navigates the opening movement, replete with high emotional contrasts. The second builds on this energy and Sudbin rides it right into the Finale where he and the orchestra build to a spectacular conclusion that is hard to describe. Anyone who loves these Rachmaninov concertos must have this disc.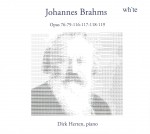 Dirk Herten is a pianist who marches to the beat of a different metronome. His latest recording Johannes Brahms – Opp. 76, 79, 116-119 (White Records white-records.com) introduces an approach to Brahms not often heard. Herten puts his music into a freely modern context. His principal tool is to slow down works that are usually played at considerably faster tempi. And while he does this with several pieces, the most dramatic effect is on the Rhapsodie Op.119. The reduction in speed takes much of the traditional turmoil out of the music. The boiling Romantic cauldron is reduced to a simmer. This suddenly puts the music into a stricter rhythm, forcing the ear to listen for new things, and this is how Herten makes his point with Brahms. The usual dramatic changes in speed are curtailed and Brahms' bold key changes and harmonic wanderings suddenly become more noticeable.
The Steinway D that Herten plays is very closely miked and possibly specially voiced for this session. In any case, he plays the instrument with a heightened intimacy that will make this Brahms repertoire a new experience for many. His touch can be mechanistically perfect as in the Intermezzo Op.117 No.1 or lusciously fluid as in the Intermezzo Op.118 No.2. Herten pedals very lightly if at all, and uses the instrument's natural resonance to fill the newly created microseconds of time. It's a courageous and provocative disc.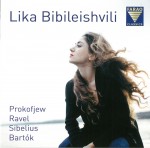 Lika Bibileishvili has been playing piano since age four. Her debut recording Prokofjew, Ravel, Sibelius, Bartók (Farao Classics B108099 farao-classics.de) introduces a powerful and versatile pianist who takes her vocation very seriously. Now 30, she is a fireball of energy that approaches Prokofiev and Bartók piano sonatas fearlessly. Prokofiev's Sonata No.6 Op.82 is a work of considerable variety in which the outer movements, especially the finale, are extremely demanding. The two inner movements are much more wistful and humourous. Throughout this piece, Bibileishvili never falters or surrenders control of the material. She combines an inherent sense of the composer's melodic purpose with the raw power that he demands be used at the keyboard.
This same energy fuels Bibileishvili's playing of Bartók's Sonata for Piano Sz80. Somewhat less bombastic than the Prokofiev and more elemental, it demands a different contemporary sensibility that she demonstrates convincingly. Here, Bibileishvili focuses intensely on Bartók's smaller-scale ideas, as if to turn the work in on itself. Her playing is astonishingly good and conveys impressive concentration.
This pianist-as-spectre appears in Ravel's Gaspard de la nuit, where Scarbo lives up to its devilish reputation for difficulty. Ondine, by contrast, flows and shimmers beautifully and shows Bibileishvili's lighter touch to perfection.
The Sibelius 13 Pieces for Piano Op.76 (of which Bibileishvili selected ten) adds another dimension to her debut recording. Sounding deceptively simple, some very challenging keyboard work combines with Sibelius' gift for melody to give this extraordinary pianist a chance to prove that she's as adept with beauty and frivolity as she is with fire and brimstone.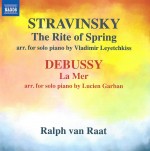 Ralph van Raat has an extraordinary keyboard technique. He is powerful, articulate and capable of extended physical demands bordering on the impossible. His latest recording Stravinsky – Rite of Spring; Debussy – La Mer (arr. for solo piano) (Naxos 8.573576 naxos.com) is demonstrable proof of this.
It's sufficiently awe-inspiring to hear a performance of Stravinsky's official piano duet version without imagining the work further condensed into a score for solo piano. Still, such a score exists and van Raat has now recorded it. Pianist Vladimir Leyetchkiss transcribed the duet into a solo version in 1985. It's every bit as dense and rhythmically maniacal as the orchestral score. The familiar passages of the sacrificial dances aptly capture what Stravinsky first conceived at the keyboard before he orchestrated the ballet. In addition to the work's elements of savagery, van Raat portrays beautifully those fewer moments of calmer, mystical darkness that occur in both Introductions as well as the Mystic Circles of the Young Girls.
The solo transcription of La Mer is a wonderful example of how such a work can be more than a mere reduction of the orchestral parts. Debussy originally set out to avoid imitative seascapes and instead chose to write music capturing the essential emotions of the sea experience. This 1938 solo version is by Lucien Garban, a director with Debussy's publishing firm Durand. Garban uses the composer's choices for orchestral colouration as a guide for his rewrite of the score. Van Raat instinctively draws out the heavily arpeggiated effects of massive oceanic movement and masterfully depicts what Debussy achieved so brilliantly in his orchestral score.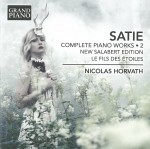 Nicolas Horvath plays Cosima Liszt's 1881 Érard in his latest recording: Erik Satie – Complete Piano Works 2 (Grand Piano GP762 grandpianorecords.com). In doing so, Horvath provides an example of how Satie would have heard his music in the late 19th century. This particular instrument is in surprisingly good playing condition and delivers tremendous power in the lower range.
The main work on the disc is Le Fils des étoiles, incidental music to a drama in three acts. The three preludes are brief and each is followed by a more substantial Autre musique in which Satie explores, invents and generally does the kind of thing that earned him a reputation for being unconventional. Horvath is quite comfortable with this music. He himself is a strong promoter of contemporary music and has commissioned more than a hundred works. His familiarity with modern keyboard language makes him adept at working with Satie's material, since the composer was among the earliest to toy with minimalism, atonality and other new approaches.
The recording is a serious, weighty examination of Satie's work by a highly capable and credible pianist. There's nothing casual about this – it's an all-or-nothing performance.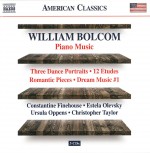 When Naxos proposed to William Bolcom that they record the entire body of his piano works, he countered with the suggestion to record only those pieces not already available on disc. After agreeing on the project, they approached four pianists – Constantine Finehouse, Estela Olevsky, Ursula Oppens and Christopher Taylor – to collaborate in recording this three-disc set: William Bolcom – Piano Music (Naxos 8.559832-34 naxos.com).
The repertoire includes unrecorded material from Bolcom's teen years right up to 2012. There's tremendous variety in this program, reflecting the broad creative expression that has marked Bolcom's career. The works are neither arranged chronologically nor given in any large block to a single pianist. Instead they're laid out as an intellectual progress that's as entertaining as it is stimulating.
It's a credit to the four performers that their interpretive approaches are so similar, allowing Bolcom to appear consistently as a composer whose language is bold and clear. Equally comfortable with swinging rags as with contemporary forms, Bolcom emerges from this recording project as a rich creative spirit capable of both profound iteration and light-hearted humour.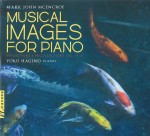 Musical Images for Piano (Navona NV6144 navonarecords.com) is a two-disc set of works by Australian composer Mark John McEnroe, performed by pianist Yoko Hagino. The set is subtitled "Reflections & Recollections Vol. 1 & 2" and is written in an introspective mood. McEnroe's style shows, at least in these works, the strong influence of Debussy and Satie. In his liner notes, McEnroe describes a desire to capture the increasingly reflective moments that occur in later life. He draws further similarities between Monet's inspiring gardens and his own as a stimulus for this collection.
The French impressionist style is a perfect vehicle for what McEnroe sets out to achieve. Serenity is the immediate feeling conveyed in this music, although the composer also ventures very effectively into dark corners for variety and balance. This well-planned tension and release is occasionally punctuated by touches of humour with pieces like A Fish with the Blues. Jazzy harmonies recur through the set, giving an eclectic sound to McEnroe's voice.
He writes with a strong affinity for melodic line and this feature has attracted a number of orchestrations of his piano works, resulting in subsequent recordings by several European orchestras.