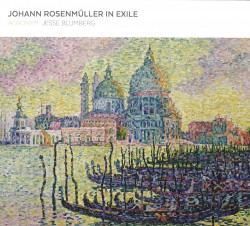 Johann Rosenmüller in Exile
Jesse Blumberg; ACRONYM
Olde Focus Recordings FCR909 (newfocusrecordings.com)
I first heard the music of Johann Rosenmüller in a Tafelmusik concert some years ago. I knew the music of Schütz and Biber, and I was delighted to find that here was a third major 17th-century composer. In the early part of his career he worked in Leipzig and he was apparently assured that he would be the next Thomaskantor, a prestigious post that would later be held by J.S. Bach. Nothing came of this. Instead he became involved in a homosexual scandal and spent time in prison. He escaped and made his way to Venice. That would have been important for his musical evolution as he got to know Italian music, in particular the work of Carissimi. Eventually he was able to return to Germany by becoming the Kapellmeister at the Ducal court at Wolfenbüttel.
This CD contains seven items: four Latin cantatas for solo voice and strings, and three five-part sonatas for strings. The singer is the baritone Jesse Blumberg. The works receive fine performances from singer and instrumentalists alike. An attractive recording of relatively unfamiliar material.