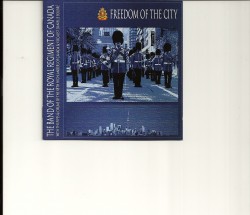 Freedom of the City
The Band of the Royal Regiment of Canada
RRC009 (band.rregtc.ca)
In 1962 the City of Toronto granted the Freedom of the City to the Royal Regiment of Canada to honour the regiment for their 100 years of service. On May 15, 2016, the city reaffirmed this Freedom. As part of that ceremony the band and regiment marched through the streets of Toronto. Production of this recording, with the Pipes and Drums of the 48th Highlanders and vocalist Danielle Bourré, is part of their thanks to the city for a century and a half of support.
This CD has a wealth of variety from such works as Elgar's Pomp and Circumstance Military March No.2 and Sibelius' Finlandia to film classics such as The Magnificent Seven and The Great Escape. The Pipes and Drums of the 48th Highlanders blend in with the band on The Magnificent Seven so well that one could well think that this was the original arrangement. Similarly, Bourré's rendition of the English folk song O'er the Hills and Far Away is enhanced with blending of the pipes. Among the lesser-known works, I have two personal favourites on this CD. They are The Two Imps, a novelty xylophone duet by Kenneth Alford of Colonel Bogey fame, and Serenade for Wind Band by British composer Derek Bourgeois. This number, written for guests at his own wedding to walk out of the church by, has a very tricky rhythm. In the composer's words he was "[n]ot wishing to allow them the luxury of proceeding in an orderly 2/4."
All in all this is a fine combination of familiar classics and entertaining music which we rarely have an opportunity to hear. It is well-performed, well-recorded and comes with clearly written program notes for all numbers.