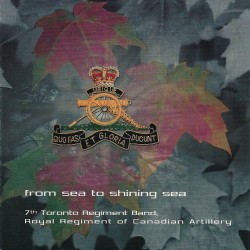 From Sea to Shining Sea
7th Toronto Regiment Band Royal Regiment of Canadian Artillery
7RCA-003 (goo.gl/Hi9o92)
As the title indicate, this CD takes the listener on a musical journey to many parts of the world, if not actually from coast to coast in Canada. It begins with a modernized version of the traditional Post Horn Galop. With the new title of Gunner Galop, arranger Bobby Herriot has mixed the traditional sound of this work to challenge trumpeter George McCormick with sections of modern swing on the valveless post horn. From that the band moves to two prize-winning marches from the 1990 competition to celebrate the centenary of the Royal Canadian Military Institute. From such more serious works as Mussorgsky's Night on Bald Mountain and Johan De Meij's Loch Ness, the band shifts to the lively upbeat Bobby's Blues, written for former band director Bobby Herriot by Paul Yoder.
The majority of the selections are compositions by Canadian composers or special band arrangements by Canadians. These include Herriot, David Allen Jacob, Jack McGuire, Ron McAnespie and above all Howard Cable. Cable gets special recognition here with no fewer than six compositions portraying musically different parts of Canada. The band takes the listener from McIntyre Ranch Country to Scene in Iqaluit, Cape Breton Moments and Point Pelee to mention some.