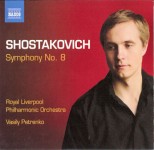 Shostakovich - Symphony No. 8
Royal Liverpool Philharmonic Orchestra; Vasily Petrenko
Naxos 8.572392

The Eighth Symphony of Dmitri Shostakovich (1906-1975) was composed in the summer of 1943 as Soviet forces turned the tide of war with their decisive victory at the Battle of Kursk. Though it is less well-know than its much-hyped predecessor, the garish "Leningrad" Symphony, it is in all respects a far superior work. The epic five-movement structure of the Eighth is balanced on a pair of memorable Scherzo movements that move from biting sarcasm to sheer terror, flanked by a poignant 25-minute opening movement and a finale terminating in an atmosphere of serene resignation. The ambiguous, highly personal language of the work was criticized for its dearth of overt patriotism and was poorly received. Christened the "Stalingrad" Symphony by Soviet propagandists, performances of the work were officially banned in 1948 and the work was not heard again in Russia until 1956.

This superb Naxos disc marks the third installment of a very promising series of Shostakovich symphonies conducted by Vasily Petrenko with the Liverpool Philharmonic. Though a mere 34 years old, the Russian maestro clearly has the Liverpool ensemble in his thrall. With his uncanny knack for drawing together the disparate elements of Shostakovich's prolix language into a coherent argument and an equally fine ear for subtle interpretive details, Petrenko makes a very strong impression indeed. The recording is bright and spacious, the performance is excellent, and the price can't be beat.