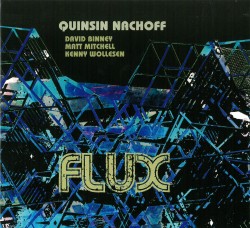 Flux
Quinsin Nachoff; David Binney; Matt Mitchell; Kenny Wollesen
Mythology Records MR0012 (quinsin.com)
Toronto-born tenor saxophonist Quinsin Nachoff has been exploring unusual textures since combining a jazz trio and a string quartet on Magic Numbers, his 2006 debut. The elements in his music have grown more tightly interwoven since then, so it's difficult to separate out the sources and genres that contribute to his work, music that bears the name "flux" appropriately. Nachoff's current compositions are alive with subtle underpinnings and a sometimes jarring surface, all of it brilliantly executed, interpreted and extended by his current quartet of prominent New Yorkers.
He's paired with alto saxophonist Dave Binney, the two supported by the virtually orchestral combination of keyboard player Matt Mitchell (piano, Fender Rhodes, Wurlitzer, Moog Rogue and organ) and drummer Kenny Wollesen (drums, timpani, tubular bells and handcrafted percussion). Together they develop a rare yet consistent combination of complexity and vitality, evident from the opening Tightrope, a tense piece in which Nachoff, the composer, introduces different thematic materials throughout, ranging from short, irregular rhythmic figures that set the initial mood to smooth rapid figures and a ballad, each segment opening to individual solos, until the piece climaxes with a collective improvisation thematically anchored by Mitchell's forceful left hand.
That combination of distinctive structures and strong group interplay continues throughout, with Wollesen's loose drumming and Mitchell's varied approaches continually shaping the music's flow. It's particularly apparent on Complimentary Opposites, as the two shift the ground from Binney's fluid invention to Nachoff's edgy, broken lines filled with vocalic shifts. Nachoff's creativity has been evident since his debut, and Flux is his most developed statement to date.