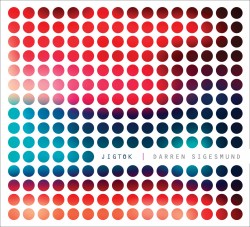 Jigtok
Darren Sigesmund
DS0004 (darrensigesmund.ca)
Toronto composer and trombonist Darren Sigesmund has been crafting his own distinct idiom for a decade now, a kind of pan-historic cool that emphasizes subtle timbres, often floating rhythms and a keen harmonic imagination that can recast a melody with fresh inferences. This is his second recording in two years with a quintet that includes New York-based violinist Mark Feldman and keyboardist Gary Versace (here he plays piano, organ and accordion), a group that draws a line from the 1930s French café sound of Stéphane Grappelli and Django Reinhardt through 50s cool jazz to the mid-60s music of Wayne Shorter to the present.
It's Sigesmund's acute consciousness of instrumental makeup that sings through here, from the different meshes of characteristic overtone patterns to attacks and decays. The frontline is matched by the orchestral colourings of bassist Jim Vivian and percussionist Ethan Ardelli. The result is a tonal richness that goes beyond the usual jazz quintet.
There's a special resonance to Machautnations in which Feldman's eerie droning melody is set against Versace's understated organ and the broad sonic washes of Ardelli's cymbals. The ultimate entry of Sigesmund's wailing upper-register trombone creates a kind of pan-cultural spell, a ceremony, seance or invocation that stretches from Northern Europe to the Far East. The more mainstream Now or Never highlights the unusual combination of violin and trombone along with Sigesmund's mature instrumental voice, at once brusquely authoritative and finely nuanced, arching across Versace's harmonic fields and inflected rhythms.