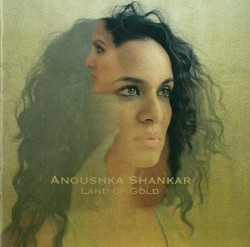 Land of Gold
Anoushka Shankar
Deutsche Grammophon 4795459
"Everyone is, in some way or another, searching for their own Land of Gold; a journey to a place of security, connectedness and tranquility, which they can call home," writes sitarist Anoushka Shankar in the liner notes of her new album. Themes of separation, isolation, journey into the unknown, parental love and hope, are all inspired by the refugee crises across the globe and the current state of the human condition. Shankar is an evocative storyteller – her compositions (co-composed with Manu Delago) are intensely hued with raw emotion. The journey from darkness and uncertainty to light and acceptance is portrayed with a powerful musical drive and in collaboration with many wonderful musicians.
The album opens with Boat to Nowhere and Secret Heart – two sitar-driven numbers, featuring yearningly poetic cello lines (Caroline Dale) in the first and the dynamic Indian reed instrument shehnai (outstanding Sanjeev Shankar) in the latter. M.I.A. is a guest artist in Jump In (Cross the Line), adding a contemporary feel and expression, and Alev Lenz's touching lyrics and vocals are the pulse of the title song Land of Gold. But the heart of the album is Remain the Sea – featuring heartbreaking poetry of Pavana Reddy, spoken with much feeling (Vanessa Redgrave), and landscaped beautifully with traditional chanting and sitar. In this piece one cannot help but feel the weight of emotion, coupled with responsibility.
The mix of Indian classical styles, electronica, jazz and textured soundscapes, has an admirable fluidity. This album makes a difference – as a social commentary and as a powerful musical creation.