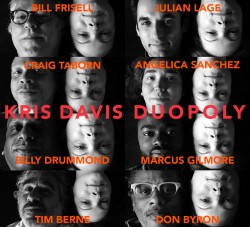 Duopoly
Kris Davis
Pyroclastic Records PR 01/02
(krisdavis.net)
Review
Since leaving Canada to settle in New York, pianist Kris Davis has extended her creative vision as both an improvising pianist and as a composer. Duopoly (two plus many?) is her first extended exploration of the duet, and it's a genuine exploration, combining multiple duo partners and methods in a large-scale work. Choosing to work only with musicians with whom she hadn't previously recorded, Davis enlisted eight different partners to record two duets each. The first time through, Davis and her partners each explore a composition (five by Davis; one by Angelica Sanchez; two jazz standards); the second time through the order of partners is reversed and each duet is wholly improvised.
Her partners also appear in pairs: the first two duets are with guitarists Bill Frisell and Julian Lage; then pianists Craig Taborn and Angelica Sanchez; then drummers Billy Drummond and Marcus Gilmore; and finally reed players, alto saxophonist Tim Berne and clarinetist Don Byron. Even the release is dual: the 16 duets are presented as both a music CD and a DVD, the two performers seen in split screen.
The music constantly reveals different facets, from Davis' muffled prepared piano blurring into Frisell's guitar on Prairie Eyes through the rhythmic dialogue of Thelonious Monk's Eronel with Drummond to the dense web of Trip Dance for Tim with Berne and the liquid grace of Ellington's Prelude to a Kiss with Byron. The wholly improvised segments, each named for the partner, are just as diverse. The intertwining continuous piano and percussion of Marcus Gilmore invoke Cecil Taylor and Bud Powell; Sanchez sets a reflectively Monk-ish mood in her pairing; the resonating tones and clusters of Craig Taborn suggest Morton Feldman; Davis and Lage create continuous harmonic surprise. It's a fine introduction to Davis' work and the cutting edge of contemporary jazz as well.