Very, very rarely does a review copy CD have such an effect on me that I simply want to keep playing it instead of listening to the rest of the month's selections, but that's exactly what happened with the absolutely stunning CD
Janoska Style
, featuring the
Janoska Ensemble
in a dazzling selection of their own distinctive arrangements
(Deutsche Grammophon 481 2524).
The ensemble features the three Czech brothers Ondrej and Roman Janoska on violin and František Janoska at the piano, with their Hungarian brother-in-law Julius Darvas on double bass. All four musicians had significant independent careers in Vienna before deciding to concentrate on their own music with the Janoska Ensemble in 2013. They combine salon style, gypsy music, jazz and improvisation and bravura cadenzas in virtuosic arrangements that leave you short of breath and scrambling for words to describe them.
From the opening Die Fledermaus Overture à la Janoska, which morphs into a frenetic gypsy version of Those Were the Days, through reworkings of Waxman's Carmen Fantasie, Massenet's Thaïs Meditation, Paganini's Caprice No.24 to Piazzolla's Adiós Nonino, this is musical imagination, vision and virtuosity of the highest order.
We're never asked to choose a CD of the Year, but if we were then this would undoubtedly be mine.
Review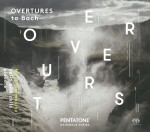 Overtures to Bach is the latest CD from the cellist Matt Haimovitz on the Pentatone Oxingale Series label (PTC 5186 561). It's yet another tour-de-force solo recital of Bach and Bach-inspired contemporary works from this outstanding performer.
Haimovitz's continuing relationship with the Bach Cello Suites stretches back over a period of more than 30 years, and in this latest venture – which he calls a culminating moment in the relationship – he has commissioned six new overtures that reflect on and anticipate the six individual suites and, by expanding on the cross-cultural and vernacular references in Bach's music, reach both forward and backward in time. Each new piece is followed by the Prelude to the relevant Suite. The new works, in Suite order, are: Overture by Philip Glass; The Veronica, by Du Yun; Run, by Vijay Iyer; La memoria, by Roberto Sierra; Es War, by David Sanford; and Lili'uokalani for solo cello piccolo by Luna Pearl Woolf.
Haimovitz is superb in the wide range of technical challenges presented by the new works, and is as thoughtful and inquisitive as ever in the Bach Preludes. It's a simply outstanding CD.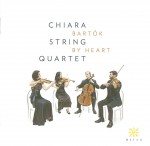 When I saw the title of the new 2-CD set from the Chiara String Quartet – Bartók by Heart (Azica ACD-71310) I couldn't believe my eyes. Surely it didn't mean that they were performing all six of the Bartók quartets from memory? Well, yes it did, and yes they were.
I don't think you necessarily have to be a string player to be able to appreciate the simply staggering nature of such a challenge, but anyone who has ever played in a string quartet will know exactly what is involved here – you don't simply have to remember your own part, but also everybody else's part to a large extent so that the complete picture is always present in your mind. And these are six works of huge complexity and technical difficulty.
It's important, though, to move beyond the astonishing magnitude of the feat itself to the musical and emotional result, and the level of the performances here more than repays the effort involved. Interestingly, the quartet members feel that memorizing the music made the more difficult passages easier to play, and that the process took the music back to the aural tradition from which Bartók drew his initial influences.
One thing is certain: in a fiercely competitive field there isn't another Bartók set quite like this one.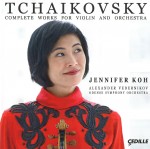 The outstanding American violinist Jennifer Koh, who has produced a string of terrific CDs for the Cedille label featuring contemporary compositions, returns to the standard repertoire for her latest release, Tchaikovsky Complete Works for Violin and Orchestra, with Alexander Vedernikov conducting the Odense Symphony Orchestra (CDR 90000 166). The trademark Koh intelligence and sensitivity in programming is still there, however: Vedernikov was the conductor when the 15-year-old Koh played the Tchaikovsky Violin Concerto in D Major Op.35 in the International Tchaikovsky Competition for Young Musicians in 1992, the same year in which she first played with the Odense Symphony, and in 2011 all three performed together for the first time.
Koh admits to possibly being more patient in the concerto after all these years, and there is certainly never any sense of rushing in what is a carefully measured and highly lyrical performance. There aren't quite the fireworks that you'll find in some recordings, perhaps, but that doesn't in any way diminish the interpretation here – it's a thoughtful, personal statement from a player with impeccable technique.
Tchaikovsky's works for violin and orchestra all date from the years 1875-78. The Sérénade melancolique in B Minor Op.26 from 1875 and the Valse-Scherzo in C Major Op.34 from 1877 open the disc, with the 1878 concerto as the central work; the Glazunov orchestration of the three-piece Souvenir d'un lieu cher Op.42, also from 1878, completes a highly satisfying CD.
Another outstanding American musician, cellist Zuill Bailey, features on two new CDs.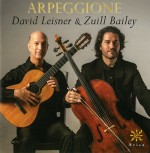 On Arpeggione (Azica ACD-71306) he teams with guitarist and composer David Leisner in a recital that includes Schubert's Sonata in A Minor (Arpeggione) D821, de Falla's Siete Canciones Populares Españolas and the world premiere recording of Leisner's own Twilight Streams. Short pieces by Gluck, Saint-Saëns and Villa-Lobos fill out a CD that ends with an astonishing transcription of a virtuosic violin piece by Paganini – the Variations on One String on a Theme from Rossini's Moses.
Terrific technique and warm tone from both players make this a charming disc. All of the arrangements other than the Villa-Lobos are by Leisner.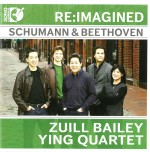 On Reimagined: Schumann & Beethoven for Cello Quintet (Sono Luminus DSL-92204) Zuill Bailey joins the Ying Quartet in arrangements of the Schumann Cello Concerto in A Minor Op.129 and Beethoven's Sonata No.9 for Violin and Piano Op.47 "Kreutzer." The Schumann arrangement is by the performers; the Beethoven is an anonymous arrangement from 1832.
The Schumann works well, but the revelation here is the "Kreutzer" Sonata. The absence of a piano makes for a completely different opening, for starters, but the entire work comes across not just as a transcription or arrangement but as a new Beethoven string quintet – and a stunning one at that. It makes you realize and appreciate the sheer depth and strength of the original sonata.
The playing is outstanding throughout a quite fascinating and thought-provoking CD.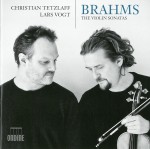 Having first recorded the Brahms Violin Sonatas in a 2002 live performance, violinist Christian Tetzlaff and his regular collaborator pianist Lars Vogt have revisited them after 14 years as they feel that their growth as a duo has resulted in their having more to say (Ondine ODE 1284-2). I've never heard the 2002 CD, but this latest issue provides ample proof that the duo does indeed have a great deal to say in these immensely popular works.
The opening of the Sonata No.1 in G Major Op.78 is simply lovely, and the beautiful playing that follows evokes all the usual Brahms descriptive terms – it's warm, gentle, expansive and autumnal in feel. The Sonata No.2 in A Major Op.100 is equally lovely, and there is plenty of fire in the Sonata No.3 in D Minor Op.108.
Brahms' contribution to the F.A.E. Sonata, the Scherzo WoO 2 completes the disc. The playing from both performers throughout is rhapsodic, passionate and nuanced, with an excellent dynamic range and a simply lovely recorded sound. This is one revisit that is quite clearly well worth the trip.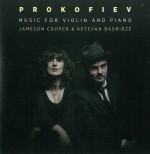 There's more lovely duo playing on Prokofiev Music for Violin and Piano, the debut duo CD by violinist Jameson Cooper and pianist Ketevan Badridze issued on the Afinat Records label (AR1601) in celebration of the 125th anniversary of the composer's birth. The English-born Cooper has long been active in the United States, and is the first violinist with the Euclid Quartet in residence at Indiana University South Bend, where Badridze is also on the faculty as a senior lecturer.
It's a CD that certainly makes a lovely birthday present, with outstanding playing of the three works on the program: the Five Melodies Op.35bis; the Violin Sonata No.1 in F Minor Op.80; and the Violin Sonata No.2 in D Major Op.94bis. Both performers are in great form, with their outstanding techniques allowing them to explore the emotional depths of the dark and intensely personal F Minor sonata in particular.
Cooper and Badridze have some top competition in this field – I've reviewed similar CDs by Viktoria Mullova, Alina Ibragimova, Jonathan Crow and James Ehnes in the last few years – but this is a disc that can more than hold its own. Cooper's insightful and perceptive booklet notes complete a terrific package.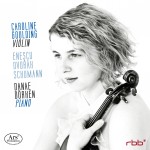 The 23-year-old American violinist Caroline Goulding teams with pianist Danae Dörken on her debut CD of music by Georges Enescu, Antonín Dvořák and Robert Schumann (Ars Produktion ARS 8536).
The choice for the opening work on the disc, Enescu's Impressions d'enfance Op.28, is a surprising but strikingly successful one. This simply astonishing suite that traces the course of a child's day is not what you would expect on a debut disc, but it provides a wonderful palette for violinists to display their range of tone colour as well as their technique, and Goulding takes full advantage of it.
There is something pleasingly old-fashioned about Goulding's playing in some respects, with its big warm tone and vibrato and her judicial use of portamento. The Dvořák Romantische Stücke Op.75 benefits greatly from this in a lovely performance, and there is more nice playing from both performers in Schumann's Violin Sonata No.2 in D Minor Op.121.
All in all, an excellent debut CD from a definite talent.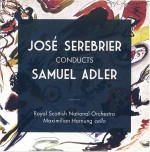 Maximilian Hornung is the soloist in the Concerto for Cello and Orchestra by the American composer Samuel Adler (b.1928) on the CD José Serebrier conducts Samuel Adler (Linn CKD545); Serebrier also conducts the Royal Scottish National Orchestra in Adler's Symphony No.6.
The concerto is a strong four-movement work written for the Cleveland Orchestra and its principal cellist Stephen Geber almost 30 years ago, when Adler was a professor at the Eastman School of Music in Rochester. The movements strike a lovely balance between slow, lyrical writing for the cello and rhythmically strong up-tempo passages that show a fair bit of jazz influence.
The symphony is perhaps the more significant recording here. It was written in 1984-85 for the Baltimore Symphony Orchestra and their conductor David Zinman, but Zinman left the orchestra before the work could be scheduled. This recording is the premiere performance of the symphony as well as the first recording.
It's a powerful three-movement work with a simply explosive start and a slow, expressive middle movement between two fast outer movements. The orchestration has a distinctively American feel, with more than the occasional hint of Leonard Bernstein, especially in the handling of the percussion and the rhythmic writing.
The short orchestral tone poem Drifting On Winds And Currents concludes an impressive CD.