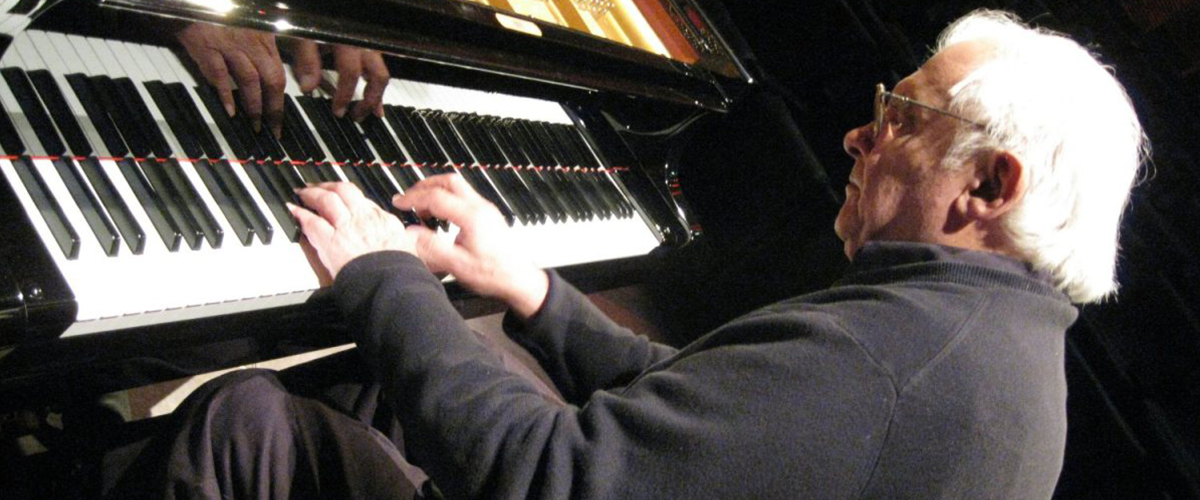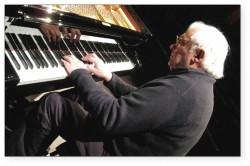 Paul Bley who died at 83 in early January was probably never bothered that he was usually described as Canada's second-best-known jazz pianist; Oscar Peterson was the first. But Bley, who shared a Montreal birth with Peterson, and who similarly was honoured with induction into the Order of Canada in 2008 – albeit 30-plus years after Peterson – was for all intents and purposes a much more radical pianist than O.P.
Peterson, seven years Bley's senior, was a flamboyant stylist who adapted Art Tatum's all-encompassing swing era techniques to the structure of modern jazz during an almost incalculable number of performances from the late 1940s until his death in 2007. However Bley, represented on more than 100 discs during his career, cycled through a variety of keyboard strategies from the outgoing to the cerebral, eventually matching the atonality of off-centre techniques with straightforward, melodically measured motion. He was also one of the first serious improvisers to deal with the sonic possibilities that could be extracted from the then brand-new portable Moog synthesizer. Later, such better-known pianists as Keith Jarrett, The Bad Plus' Ethan Iverson and Satoko Fujii developed their playing following the examples of Bley's breakthroughs.
As a teenaged boogie-woogie specialist "Buzzy" Bley, born in 1932, was gigging locally at 13 and briefly took over Peterson's regular gig at Montreal's Alberta Lounge in 1949, when the latter made his New York debut. The next year Bley moved south to study at New York's Juilliard School of Music, and by the mid-1950s had not only recorded with alto saxophonist Charlie Parker, be-bop's avatar, but made his first LP Introducing Paul Bley, on Debut records, in a trio with legendary modernists, bassist Charles Mingus and drummer Art Blakey. Bley, who had married pianist/composer Carla Bley – née Karen Borg – was leading a conventional Modern Jazz Quartet-styled combo in Los Angeles in 1958, when he let his bassist Charlie Haden's friends, alto saxophonist Ornette Coleman and pocket trumpeter Don Cherry, sit in. Coleman's revolutionary restructuring of the then-accepted jazz basics – so that improvisations didn't have to be based on the initial structure and where every player was free to contribute his variants to the tune – was a revelation to and influence on Bley.
Back in New York, Bley became a charter member of the so-called New Thing and the Jazz Composers Guild, alongside certified avant-gardists such as militant tenor saxophonist Archie Shepp, bandleader Sun Ra and pianist Cecil Taylor, among others. He expressed his new-found polytonal keyboard freedom on two 1960s LPs for the ESP label. One, Barrage, was with a quintet including drummer Milford Graves and the Sun Ra Arkestra's alto saxophonist Marshall Allen, and included distinctive cover art work by Canadian visual artist Michael Snow. Closer, a session with bassist Steve Swallow and drummer Barry Altschul, was one of the multitude of trio discs Bley would make with a succession of bassists and drummers during the 1960s and 1970s. On it, Bley redefined the idea of interplay in the jazz trio in a method much different than Peterson's traditional follow-the-leader approach. It was this conception of bluesy yet cerebral intensity that welcomed other players' ideas at any time, which influenced Jarrett and many other keyboardists. Earlier, Bley and Swallow had been part of multi-reedist Jimmy Giuffre's drummer-less trio, which played hushed chamber jazz informed by folksy themes and European atonality. The band's masterpiece was Free Fall (Columbia), and it and the trio's other discs are generally acknowledged as the initial influence on ECM Records' characteristic sound.
Meanwhile Closer could also describe Bley's relationship with his favourite composers of the era. Except for the odd original, standard and Coleman covers, the majority of his repertoire – including certified jazz classics like Ida Lupino, And Now the Queen and Ictus – was composed by Carla Bley. After they separated, his next companion, singer/keyboardist Annette Peacock, composed much of the material he played. As late as 1992 he recorded an entire disc consisting of Peacock material simply entitled Annette (hatOLOGY). His associates were bassist Gary Peacock and Viennese flugelhornist Franz Koglmann. Bley's sparse piano ruminations that terminated when he was satisfied, not according to conventional structures, plus his low-key articulation also appealed to the growing European free music experimenters. Besides work with Koglmann and Swiss reedist Hans Koch, some of his best latter day sessions were with Europeans: Time Will Tell and Sankt Gerold Variations 1-12 recorded for ECM in the mid-1990s with British saxophonist Evan Parker and long-time American-in-France, bassist Barre Phillps; Chaos (Soul Note) with British drummer Tony Oxley and Italian bassist Furio di Castri; and Florida with Danish drummer Kresten Osgood.
Bley's association with Annette Peacock was around the same time as he began experimenting with the Moog. Besides recording several discs showing off its parameters, he was the first improviser to adapt the analog keyboard synthesizer for live performances. After spending a couple of years working out strategies for multi-keyboard and patch chording, Bley abandoned the synth and returned to piano. After that he was usually recorded in classic piano trio or solo piano formats. The exquisite Play Blue (ECM), a meditative solo disc recorded in 2008 and released in 2014, is his final session as of this time.
Although Bley left the synthesizer for others to explore he didn't give up on multimedia. With his wife, video artist Carol Goss who survives him, for a decade starting in 1974 he co-founded and ran Improvising Artists Inc. (IAI), which recorded 20 discs and some of the first music videos. Besides his own work, Bley and IAI put out discs by established improvisers such as Peacock, Giuffre, Ra and saxophonist Sam Rivers as well as younger discoveries. Jaco, IAI's sixth release with Bley on electric piano and Bruce Ditmas on drums, was the studio recording debut of future jazz superstars, guitarist Pat Metheney and electric bassist Jaco Pastorius.
During the 1990s Bley also taught part-time at Boston's New England Conservatory. Among his many students was Japanese pianist Satoko Fujii. Her first CD, Something about Water (Libra) from 1995, is a duo date with Bley. Similarly, although he hadn't lived in Canada for about half a century, along with his other projects, Bley recorded a series of albums with several Canadians during the 1990s and aughts. They included such well-received efforts as Double Time with flutist Jane Bunnett; Outside In with guitarist Sonny Greenwich; Know Time with drummer Geordie McDonald and trumpeter Herbie Spanier; Touché with fellow expatriate Canadian, flugelhornist Kenny Wheeler; and Travelling Lights featuring saxophonist François Carrier and drummer Michel Lambert, all on Justin Time records.
No matter whether he played in duo or larger formations, Bley's off-handed mastery, which combined narrative delicacy with rhythmic astringency, was always completely original and instantly identifiable. What better epitaph than that can there be for an improvising musician?
Ken Waxman's column Something in the Air is a regular feature of The WholeNote's CD review section, DISCoveries.