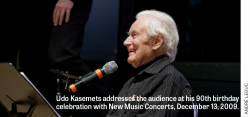 This winter has been brutal. Sunday, January 19, 2014 was a particularly cold day for music in Toronto. Udo Kasemets' death at 94 in Toronto that day marks the passing of a prominent and prolific Canadian modernist musical iconoclast who produced new music well into his last decade. I wrote a brief appreciation of some of his avant-garde music activities in his adopted hometown, Toronto, in a 2010 essay in The WholeNote.
In reviewing Kasemets' career it struck me that my own music career crossed his in ways both personal and professional in every decade since the 1970s. Therefore instead of summarizing his action-packed and varied life, the broad outlines of which are now accessible online, I choose here rather to highlight a few interpersonal moments, decade by decade.
1970s: Our first meeting occurred at York University in the mid-70s where I was a music undergrad and Udo Kasemets a visiting lecturer. He already had avant-garde street cred. He'd enjoyed over two decades of a wide-ranging music career in Toronto and was known among the new music and artist community as a composer, concert producer, conductor, teacher, music journalist and editor. In the 1960s he had introduced the Toronto public to John Cage, Marcel Duchamp and a generation of American experimental composers and multimedia artists.
When I later called him about arranging a performance of a work of his by the group New Music Cooperative I thought it wise to be polite and call him Mr Kasemets. "Call me Udo," he said in an austere Estonian-inflected tone. I made sure to call him Udo from then on, as I will here. The N. M. Co-op performed his work, though I wondered why his compositions didn't receive more performances in Toronto back then. It's not much different today.
1980s: In 1983 I was invited to play in Udo's moving epic anti-atomic bomb work Counterbomb Renga created in collaboration with a chain of more than 100 musicians and poets from Canada and the USA. Listening to the CBC broadcast recording of the premiere recently, streaming on Udo's page on the Canadian Music Centre's website, I still find it moving.
In 1988 Jon Siddall, the founding Artistic Director of the Evergreen Club Gamelan, commissioned Udo to compose a work scored for the Toronto group. I was one of the eight ECG musicians. Udo gave us Portrait: Music of the Twelve Moons of the I Ching: The Fifth Moon.By the time of its 1989 premiere however Siddall had moved to Ottawa and I found myself the group's incoming artistic director. Careful of my new footing, it was now my job to motivate the young group, comprised primarily of percussionists fresh out of U of T, through rehearsals and the premiere concert performance of the demanding new work. Due to its exceptional length (just one piece for an entire concert?), its experimental idiom (where's the melody?) and notation (where's the score?) several ECG musicians were not fully convinced of the work's value. Everyone however dutifully played the gig, as professional musicians do. And as it turned out no one left on account of the repertoire: I'm pleased to announce ECG is celebrating its 30th anniversary this season.
1990s: John Cage, a pivotal influence on Udo's thinking and composition, died on August 12, 1992. Udo served as a key organizer of the tribute that fall, a day-long musicircus featuring Cage's compositions staged at various locations within the DuMaurier Theatre, Harbourfront, Toronto. I was happy to be asked to perform in several Cage works including the radioscape Imaginary Landscape No. 4(1951).
In 1995 Udo invited me to his midtown apartment on the block-long leafy Helena Ave. We spoke about a wide variety of subjects but landed on my ambition to put the Sundanese suling, a type of bamboo ring flute indigenous to West Java, Indonesia but little known outside of it "on the Toronto map." I'd been playing the suling professionally for 12 years by then and had finally begun to understand its technical possibilities and limitations outside its indigenous repertoire. It had slowly but surely become my instrumental "voice." Udo was intrigued and intellectually challenged enough to want to compose for it. Our dovetailing interests established, I commissioned him that summer to write a suling work. He produced the echoing, lush SulingFlower scored for five sulings, four of which are pre-recorded, the tape to be played back on a four-channel P.A. system. I successfully premiered it at the Music Gallery and performed it again a year or two later.
2000s: I met and spoke briefly to Udo several times at Music Gallery concerts at the Gallery's current home in the St. George the Martyr church. Although his health was not always dependable he remained an avid concert goer into his tenth decade. He made the trek I think motivated by his indomitable thirst for new sounds and also to connect with a music community he helped foster decades prior.
An important moment of validation for Udo's music came in December 2009 when the New Music Concerts' large ensemble, conducted by an enthusiastic Robert Aitken, staged Udo's work at the Betty Oliphant Theatre in commemoration of the composer's 90th birthday. While there have been and continue to be individual musicians eager to champion compositions by Udo through performances and recordings – including pianist Stephen Clarke and percussionist Rick Sacks – this concert marked a rare performance of a recent orchestral work. It opened many ears and minds in the audience, including mine, to the compositional brilliance and enduring significance of Udo's work.
At a chance meeting with Udo after a concert at the outdoor Music Garden, Harbourfront, around 2003, somehow the subject came around to things Japanese. Out of the blue he told me he'd heard "udo" meant a "useless plant, a weed" in Japanese. Puzzled and intrigued, I looked it up later. Udo is the Japanese name for Aralia cordata or "mountain asparagus" a plant related to ginseng, widely grown for food in Japan and also used medicinally in Korea. Udo may have gotten it wrong: he and his Japanese cognate may not be "useless" after all.
2010s: I last saw Udo one warm summer afternoon in 2012. I visited him in hospital with percussionist and Arraymusic artistic director Rick Sacks, our blue-green cotton gowns and purple latex gloves on. Udo was frail and in bed, but ate his dinner with gusto and smiled at us. He was having a good day. During pauses he spoke to us in a quiet voice inflected with his characteristic Estonian accent, dispensing short phrases, some packed with powerful meaning. "Freedom is beautiful thing," I think he whispered.