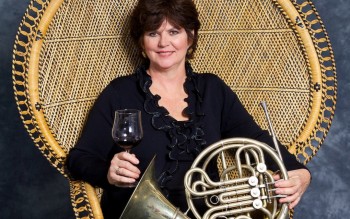 Joan Watson - June 28, 1953 - March 12, 2015
Andrew Timar
I was saddened to hear of the passing of French horn player extraordinaire Joan Thelma Watson on Thursday, March 12, 2015. She was a trailblazing Canadian horn virtuoso, serving as associate principal horn with the TSO and the principal horn of the COC Orchestra. She worked extensively as a soloist, lecturer and educator and advocated effectively on behalf of women brass musicians. Her playing was featured on television, movies, commercials, musicals and she was proud to have been a founding member of True North Brass.
It's clear however she didn't want to be known as an ivory-tower classical musician. "I was a member of Rob McConnell's Boss Brass, and have backed up Rod Stewart, Andrea Bocelli, Lisa Minnelli, the Eagles, Lighthouse and Led Zeppelin," she wrote.
I remember when our musical paths briefly crossed. They were moments for me that illustrate the inclusiveness of her professional musical choices and generosity of spirit towards musicians of all stripes.
The occasion was when Joan performed and then recorded as horn soloist with Toronto's Evergreen Club Contemporary Gamelan. That's where I, since 1984 the ECCG's designated suling (ring flute) player, step into the storyline. It was the first Toronto rehearsal of Gilles Tremblay's dramatic L'arbre de Borobudur (1994) at the westend Woodshed rehearsal space during a blustery morning in May 1996, a follow-up to the work's Montreal premiere, an opportunity for ECCG to present the work on its home Toronto turf. ECCG had premiered that work for 16 (or 17) musicians in Montréal with members of SMCQ, the group which had commissioned the composition, conducted by Walter Boudreau. Two players had covered the horn part in that performance.
My instrument, the suling degung, is a 30-cm long end-blown bamboo ring flute a relatively small, simple-looking instrument, especially when compared with the gleaming metallic magnificence of the horn. Moreover the suling degung has only four finger holes to produce everything required by Tremblay's demanding score. In the rehearsal Joan was seated next to me and the seven other players of the ECCG, with two harps, a double bass, two percussionists and an ondes martenot also crammed into the space. Maestro Boudreau conducted sporting his signature red sneakers, peering over his glasses. It was the first time these particular Toronto classical musicians had worked with any kind of gamelan. … After casual greetings, everyone got down to the serious matter of negotiating the pitch and tuning for the day. Harpist to gamelanist: "Can I have an 'A'?" Gamelanist: "Sorry, we don't have one." It gave both parties a glimpse into the two different worlds here, but it was quickly sorted.
Joan with her horn was sitting beside me in a chair, while I was seated on a floor cushion in typical gamelan fashion. This considerable difference in elevation made eye contact rare. We had not met before, but the fact we were playing the only wind instruments in the score made us extra aware of each other's performance.
After the sweaty work of wading through several gnarly sections of the work, the break was announced. We put down our instruments and rose to get a breath of fresh air. Just then Joan caught my eye for the first time and asked, "What do you call that little flute?"
She had been listening to me after all – as I had been to her. I don't recall my reply, probably because it wasn't that memorable, but I took it as a compliment, perhaps even a validation. Now, it was admittedly a slight comment, but I've treasured the memory of how good it felt ever since. Not sure exactly why ....
Her superb playing was a joy to make music with in this rehearsal, the concert itself and the recording of the Road to Ubud CD that followed. I imagined there would be more musical encounters with Joan on stage, but sadly that turns out now to have been the last. What I savour most of all is the memory of Joan Watson's always inspiring musical spirit.
Diane Doig
I met Joan Watson shortly after leaving my hometown of Montreal to establish myself as a bona fide professional French horn player in Toronto. Joan the teacher, the musician and the person would be instrumental in my budding career. I would learn later that Joan was a trailblazer for other female brass players as well.
I had just returned from one audition and was already preparing for the next, when another horn player suggested that I could benefit from a lesson with Joan. We arranged a lesson at her home in the Beaches. To set myself up for the lesson I remember drinking tons of coffee to simulate the nerves of an audition day. To my surprise I was more relaxed in her presence and in her home than I had anticipated. I knew this was the beginning of a lasting relationship. On the streetcar ride home I had a caffeine crash, but with a big smile on my face. That meeting resulted in weekly lessons.
As I expected, we worked on orchestral excerpts in our lessons. Her comments were always constructive and positive. Joan lit a fire of curiosity in me, while bringing out qualities in me that had been left dormant. I found that playing the horn could be enjoyable again. As a result I won my first professional audition in a symphony orchestra.
Excited about my new potential, that summer while attending the Scotia Festival of Music in Halifax, I was informed about an opening in Toronto for principal horn in a long-running show. I had only two days to get back for the audition. I knew I needed to stay focused and be positive, one of the many things Joan had taught me about life: have faith and know everything will work out for the better. A short interview followed the audition and I received a phone call from the contractor Moe Koffman the very next day offering me the job (in part, as I learned much later, because of a high recommendation from Joan Watson). An admirable quality of Joan was the way she promoted what she believed in.
I continued taking lessons with her and over time, had the privilege of getting to know her on a more personal level. I was playing eight shows a week and Joan was like my personal coach and therapist helping me to find balance physically and mentally. She was particularly good at working with people. Organized groups of women of all ages and from all walks of life were created under her tutelage meeting once a week to generate positive changes. Joan loved to teach people and loved learning from them.
She practised what she preached, always leading by example. As the years went by, she continued to elevate her playing to more impressive heights. Her ability to navigate and execute the notoriously difficult passages of the repertoire was inspiring. She continuously kept perfecting her craft: a genuine artist!
In 2006, the Four Seasons Centre for the Performing Arts opened with the COC under Richard Bradshaw performing Wagner's complete Der Ring des Nibelungen. Joan had the horn section working together in unison as a team. Her endurance and execution of sensitive musical phrases throughout the cycle was outstanding.
This year I had the great privilege to play Wagner's Die Walküre while sitting beside Joan. Her breath control and luscious warm sound truly caught my heart. What none of us realized at the time was that Joan had been quietly battling breast cancer for a couple of years and receiving blood transfusions hours before the performances. She didn't want her colleagues to worry about her or treat her any differently. I have been asking myself how on earth did she manage? When I look back, all that she taught me in her lessons was present in her own playing; and her passionate horn playing and musicianship were extensions of who she was as a person. The countless number of musicians she inspired is a testament to her legacy. It is these qualities that defined her career and helped carry her through to the end of her final performance on February 22, 2015.