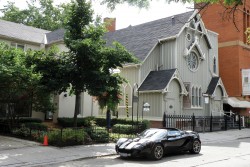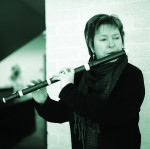 Part of rural Toronto when it was built in 1875, the Heliconian Hall is located near the south end of Hazelton Avenue, situated amongst galleries, upscale offices and private homes in what's now known as Yorkville. It's the home of the Heliconian Club, an organization founded in 1909 for professional women in the arts and one of the oldest associations of its kind in Canada.
For me, it's a delightful and unpretentious little oasis in a surrounding sea of consumer excess, and an intimate concert hall which I have known since I was a kid. I played my first "non-compulsory" solo recital there, blissfully free from the pressure of university grading, and have made music there many more times since. I also recently became a member of the Heliconian Club and appreciate the opportunity it provides to connect and interact with women artists of various disciplines, backgrounds, ages, and perspectives on the creative life.
The current building opened in 1876 as the Olivet Congregational Church, and became the church hall and Sunday school in 1890 when a larger adjacent building was erected. In 1921, it was sold to the Painters Union and renamed Hazelton Hall when acquired by the Heliconian Club in 1923. Original elements of the Carpenter Gothic board-and-batten church have been restored to their former glory, including a Victorian rose window above the entrance, a majestic oak and brick wood-burning fireplace, vaulted ceiling and wooden rafters. The Hall has been appointed a National Historical Site, and the Lonely Planet website lists it as #213 of 540 places to visit in Toronto!
The current building also has a modest but well-appointed kitchen, a small bar and a patio at the rear, which is a convivial touch for summertime events. But perhaps what makes the Heliconian most appealing to musicians is its stellar acoustic and its intimate feel. With every seat occupied there's room for 120, and the stage rises just a foot above the main floor, so there's little chance of establishing that "us versus them" feeling that many performance venues still seem to evoke. It's a great place for chamber music, and it's easy to get to – two reasons why the revivified Baroque Music beside the Grange's occasional concerts take place there. The hall is available for anyone to rent, at a very reasonable rate. An added bonus is that there's almost always an art exhibit on display in the main space for concertgoers to explore.
BMBG's previous home was the Church of St. George the Martyr, another historic building which predates the Heliconian Hall by about 40 years. These days, though, the multifaceted activities of the Music Gallery mean that the concert dates we'd like are often not available there. So we needed to find another venue for our concerts. The solution was truly a no-brainer: the historic and cozy atmosphere of the Heliconian Hall is perfect for our purposes, and the sound is fabulous. It's a pleasure to play there. It feels very much like home.
BMBG's upcoming Heliconian Hall concert The Coffeehouse Collective: Sociable music, Baroque-style is Friday March 4 at 8pm.