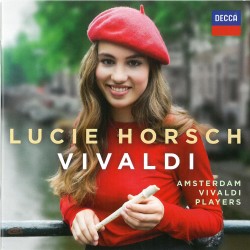 Vivaldi
Lucie Horsch; Amsterdam Vivaldi Players
Decca 483 0896
Review
I first heard of Lucie Horsch a few years ago when her videotaped performances began appearing on the Internet. As a teenaged finalist in the 2014 Eurovision Young Musician contest, she offered a mesmerizingly beautiful rendition of the Siciliano from the familiar C Major Concerto RV443 and tastefully took complete charge of any fiery allegro she was handed without sounding like she was being chased by a demon around an athletics track. Her playing was refreshing and delightful.
This CD's program, more varied than most others of this repertoire, features RV443 played in G on the soprano recorder, three other popular concertos and a few well-crafted arrangements. Rousseau's arrangement of Spring from the Four Seasons is heard here on sopranino, and excerpts from the G-Major Concerto for Two Mandolins, Nisi Dominus and the opera Il Giustino are also played on a well-chosen variety of instruments. The use of tenor recorder for the Nisi Dominus is particularly evocative.
Just as in the videos of yesteryear, Horsch interprets the faster movements with technical panache, the slower ones with refined phrasing and exemplary wisdom regarding the addition of ornamentation, and most everything with an impressive musical understanding. She is accompanied by a group of excellent modern players including her father, a cellist in the Concertgebouw Orchestra. I do wish the booklet included a bit more on Vivaldi – but the celebration they make of this gifted young woman is completely understandable.