Nordic Sound – Tribute to Axel Borup-Jørgensen
Michala Petri; Lapland Chamber Orchestra; Clemens Schuldt
OUR Recordings (ourrecordings.com)
Danish & Faroese Recorder Concertos
Michala Petri; Aalborg Symphony; Henrik Vagn Christensen
OUR Recordings (ourrecordings.com)
August brought me two CDs of modern recorder concertos from Denmark, released on the Danish label OUR Recordings, and what a pleasant smörgåsbord they are (sorry, couldn't resist that one).
Review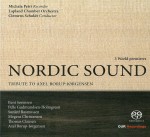 Nordic Sound is a special tribute to Axel Borup-Jørgensen (1924-2012), one of Denmark's most influential modern-era composers, and four of the six works on the program are for recorder and strings. Inspired by the Danish landscape, Bent Sørensen creates a mystical and spacious atmosphere in Whispering, and the elegant pointillism and rhythmic complexity of the Faroese composer Sunleif Rasmussen's Winter Echoes elicits wonderful and virtuosic playing from all parties. Mogens Christensen requests a panoply of flutters, pips, chirps and multiphonics from Michala Petri in his Nordic Summer Scherzo, all of which makes for a tour-de-force of bird imitation, and Thomas Clausen's four-movement Concertino provides a tasteful shift to the neo-Baroque. Two pieces for strings, by Pelle Gudmundsen-Holmgreen and Borup-Jørgensen himself, are beautifully played by the members of the Lapland Chamber Orchestra under Clemens Schuldt.
Review
Danish and Faroese Recorder Concertos also features Petri as recorder soloist but this time with the excellent Aalborg Symphony Orchestra under Henrik Vagn Christensen. A novel by Italo Calvino was the inspiration for Rasmussen's four-movement Territorial Songs, and his inventive, multi-faceted use of orchestral colour and depth of melodic expression is impressive. Chacun son son by Gudmundsen-Holmgreen begins with the whimsical combination of bass recorder, bass clarinet, clarinet and bassoon, and the various sections of the orchestra are pitted against one another, as one might expect given the piece's title. The recorder is well incorporated into the woodwind section here, rather than being cast in a more typical soloist's role, and the instrument, particularly the bass recorder, balances well with the others, something unlikely in an unplugged live performance. Thomas Koppel's Moonchild's Dream is the third contribution to the program and its lovely yet unmistakable film vibe is no surprise, considering that it was originally commissioned for a video.
As always in this repertoire, Petri continues to show why she remains a leading inspirer of new repertoire for the instrument. I just wish that the excellent solo clarinetist from the Aalborg Orchestra had been credited, as the violinist was.