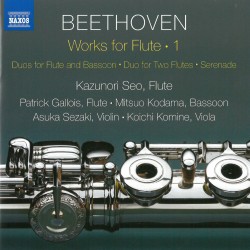 Beethoven – Works For Flute 1
Kazunori Seo; Patrick Gallois; Mitsuo Kodama; Asuka Sezaki; Koichi Komine
Naxos 8.573569 (naxos.com)
Japanese flutist Kazunori Seo takes centre stage in this recording of Beethoven's wind-focused chamber music. First up on the program are three duos for flute and bassoon, transcribed by Seo to substitute a flute for the clarinet originally called for on the upper part. It's not certain that these duos are really Beethoven's, and they don't display the complexity of the other two pieces which follow them here – but their transparent simplicity is charming. Seo and bassoonist Mitsuo Kodama play with grace and attentiveness here, but are perhaps a little too cautious in their interpretation. That said, Seo's sound on his wooden modern flute is lovely, his use of vibrato as a decorative choice is exemplary, and the instrumental blend is top-notch.
Much less reserve can be heard in the Duo in G Major for two flutes, played by Seo and Patrick Gallois with strongly shaped phrasing, dramatic shifts of dynamic range, and expressive use of articulation and ornament. The conversation's saltier and the results are definitely fun!
The interpretive thoughtfulness continues with Serenade in D Major for flute, violin and viola, Op.25, which receives a nuanced and intrepid performance in its original scoring. This is a wonderful piece of chamber music and it's good to hear it played with such polish and spirited engagement.