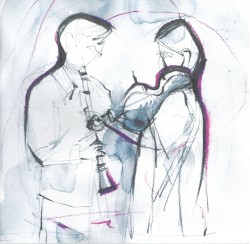 Emilyn Stam and John David Williams
Emilyn Stam; John David Williams
Independent (emilynandjohn.com)
This self-titled CD is a fetching collection of original tunes by the Toronto-based duo Emilyn Stam (on fiddle and accordion) and John Williams (on clarinet and harmonica). Drawing on their individual and joint experience in a broad range of musical genres, they deftly blur the lines between the traditional/folk and experimental/improv worlds with inventive artistry. Fiddle and clarinet are the predominant colours throughout; these blend remarkably well here – kudos to the engineer for capturing such a great sound from the tricky-to-record clarinet!
Whether in waltzes, jigs, blues or more-outside-the-box tunes – my personal favourites being the Tim-Burton-meets-the-klezmorim Sleepless Waltz and the quizzical Waltz from Hawaii Bar – there's a whole lot to enjoy here. Stam and Williams play with colourful and expressive nuance, and their enjoyment of what they're doing is palpable. Much instrumental virtuosity is on display here too but it's all in good service to the music, and the occasional forays into what some of us might call "extended techniques" just add to the pleasure. Some very hot clarinet playing can be heard in The New Rule, and when Stam switches to accordion halfway through this tune, the blend of the two reed colours is brilliant.
This is creative, witty and beautiful music making, and I hope we all hear a lot more from this duo. I first knew of Emilyn Stam's playing through her work with the late great Oliver Schroer; as I listen here, I can almost see him beaming in the background.