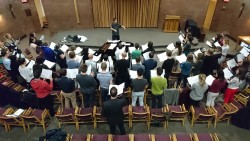 Dallas Bergen conducts big – really big. His grand gestures and huge sweeping movements carry right off the stage. He even hops and swings around the front of the choir, gesturing generously to convey his message. Univox, the choir in front of him, giggles and laughs, but mostly, they follow along. When stray tempi appear every so often, they are guided back on track with the metronomic snapping of a finger – Bergen is there, ready to help them keep moving forward.
There's a huge multitude of choirs in Toronto. Even after writing about choirs for two years and being involved in the choral community for a decade, I'm still surprised at the many choirs that I continue to learn about. Univox is one of the many choirs that make up the diverse fabric of our city's music scene, and my favorite part? They're non-auditioned. Bergen says that "it is great to create cleanly polished ensembles with trained and experienced voices, but group singing at a high level shouldn't be exclusive." Univox is 12 years old with about 70 singers. There is also a sister choir in the organization, Florivox, a women's chorus conducted by Joshua Tamayo.
I happen to be a firm believer in non-auditioned choirs. As an undergraduate student at the University of Toronto, I was unable to access the Faculty of Music's choirs, which were focused on the Faculty's own students and were a daunting challenge to join. A host of other choirs existed throughout campus but none created the type of environment I was looking for, a community of more than just singing. Univox chorister Ryan Kelln feels similarly about a greater purpose for a musical community. "Univox is different for me because it is trying to be more than just a place to sing," he says. "The choir is run by the members, we are involved in the local community, and work with local charities and host non-singing events for members." Their partner for this weekend's concert is the Toronto Wildlife Centre.
Bergen spends a lot of time working on technique and educating the ensemble. The choir starts off rehearsal with arpeggios. Different phonations are proffered by Bergen to get them warmed up: "wee wee", then "oo oo". He spends time singing on the "ng" phonic, one that will be helpful for the French songs of the program. "Working with untrained voices and individuals who don't have proficiency in the language of music puts more need on the conductor to teach all of this – or inspire the singers to learn it," says Bergen, "in addition to getting to the heart of the music. I appreciate the reward of accomplishment, having them take a masterwork like a Bach motet from a horrendous first read to a well-executed and inspired performance." The music only improves as the singing improves and Bergen recognizes the importance of teaching technique to get there.
The upcoming Univox concert, "Promises, Purpose, Presence," focuses on the myriad themes of spring, Easter and Passover. The most unique offering for their concert is Le Chant des Oyseaux by Clément Janequin. From 1529, this is polyphonic music but not sacred – creating the effects of birds with onomatopoeia, repeating sounds and fun rhythms. There are "trrs", "vrrs", and "qrrs" evoking cymbals, "cou cou's", and an overall fun feeling. Bergen eggs the choir on throughout, asking for them to feel and emote the music as a "cacophony of birds."
When I ask Bergen about composers he likes to program, Sydney Guillaume comes up. The choir is performing his Ego Sum. A Haitian-American composer, Guillaume mostly writes choral music. He's especially fond of using the poetry of his father, Gabriel T. Guillaume. Ego Sum is one of his more gentle, interior songs, bringing the listener and singer to contemplate the individual and the greater universe. Known more widely for his Creole- and African-influenced music, Guillaume shows with Ego Sum that he is equally at home composing chorales.
The poetry of Guillaume Sr. fits well into the overall approach of the choir. The tension of being greater than just the whole, and the complicated identities we have as individuals, come into play very clearly in a musical ensemble. "The choir is filled with old and new friends who get to blend their voices together to, quite literally, make a whole greater than the sum of the parts," says Kelln. "[The choir] succeeds because of the combined efforts of everyone and the support and acceptance required to get there." It means that the poetry – "Ego sum, ego sum…I am that I am…but me, I am just a man" – provides a wonderful textual journey for the choir.
The song finishes with a beautiful setting of "Merci, Merci seigneur" ("Thank you, thank you Lord"). There's a dissonant chord before a resolution at the end. The choir doesn't quite hit it. Bergen has a constant smile on his face, even when the choir goes awry. He hops on the piano to correct the notes as the choir backs up a few bars. They go back through, and the baritones lead this gorgeous close before the choir decrescendos to null. Good stuff.
Univox presents Promises, Purpose, Presence, conducted by Dallas Bergen on March 25, 2017 at 8pm, at Christ Church Deer Park, Toronto. For details, visit our listings or http://univoxchoir.org/.
Follow Brian Chang on Twitter @bfchang. Send info/media/tips to choralscene@thewholenote.com.