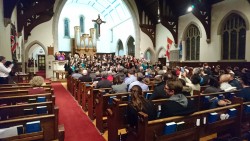 There are two rows of little boys bobbing up and down, dressed in matching white dress shirts and bright red ties that can't help but be oversized. They're singing Puttin' on the Ritz as they turn sideways and gesture to the audience. It's incredibly cute and the audience eats up the charm offensive. This is the ASLAN Boys Choir, the second of six choirs performing at SingONtario!.
SingONtario! is a signature event of Choirs Ontario, the umbrella organization for choral music in the province. This year, there are six choirs that have been performing under renowned Venezuelan conductor and educator Maria Guinand (whose presence in Toronto was the culmination of work involving Hilary Apfelstadt at the University of Toronto, Elise Bradley at the Toronto Children's Chorus, and Choirs Ontario). Concurrently, there are clinics being offered by various choral leaders from around the province. They finish the day with a concert and a massed performance.
The University of Toronto Women's Chorus opened the concert and I was instantly focused on the abundance of vibrato, especially in the second sopranos. The percussive rhythms of the Mata del Anima Sola were muddied by the unsettled pitches. There are many different types of voices in these six choirs, and the diversity of the choirs involved gets to the heart of why choral education is so important – whether it's maturing female voices like those trying to build their instrument in university music programs; very young boys who don't yet have the physiology for much depth of sound; or emerging singers who may have never sung in choirs before a few months ago. The good thing is that these voices are supported by a host of capable choral educators. That is the strength of an organization like Choirs Ontario: to continue to advocate for not only great music, but great people, at every age and ability.
In contrast to the younger women's voices of the University of Toronto, the Ave Choir was a welcome addition to the choral community – only one year old! There are some incredibly deep, warm, lovely alto voices in that choir. Biebl's Ave Maria was an ambitious choice, yet ultimately unfulfilled. Young Voices Toronto brought us a great arrangement of a traditional Filipino song Orde-E, evoking birds with vocal ornamentations like swoops, caws, and slides. They also featured a drum, as did the Etobicoke Youth Choir in Sarah Quartel's The Beat of a Different Drum. Quartel has many published works and her name is increasingly popular as a local Ontario composer. Also – a new discovery to me – it is pretty fantastic that Etobicoke has a youth choir, and has since 1976.
The Toronto Youth Choir, the last of the six choirs I've mentioned, managed to fill the church with a warm and balanced presence. Their presentation of Eatnemen Vuelie was especially fun; an arrangement based on the choral music popularized by the movie Frozen. The massed choir that closed the concert was guided by Maria Guinand herself, in two songs. El Campo Esta Florido (Vals venezolano), arranged by Alberto Grau and Verde Mar de Navegar, arranged by Capiba. The latter song was full of energy and the choirs exuded joy as they sang through it. Guinand added appropriate snapping, clapping and dance to the song. This kind of movement and connection in the music might come naturally to Latin Americans, but not quite so to the overly polite and stodgy Canadian. This momentary lapse of guardedness was very welcome.
Prior to the evening's concert, I attended two of the clinics offered on choral music topics. Jackie Hawley, an Ottawa-based choral educator and founder of the Cantiamo Girls Choir, shared her experiences working on an exchange of students between Ottawa and Iqaluit. Her presentation got to the larger issue of choral music-making in a diverse country like Canada. Music doesn't exist in a vacuum, and while community-building is a very important part of the work of a choral educator, it is a skill that is learned and developed through doing, not in textbook or university classrooms.
Hawley spoke of working in Iqaluit and trying to arrange workshops that no one was attending. It wasn't until someone pointed out that it was because there were only 2 hours of sunlight some days, so people were spending it outside with their families, not inside away from the light. Ultimately, the process of being effective is one of preparation and adaptation.
Another key issue of tension in the workshop was that of cultural appreciation versus appropriation when Indigenous art is shared with a wider community. At what point does music or art become one or the other? Are they two sides of the same coin? A lot of that depends on the types of conversations that are being made over the art and the process of its creation. There is no straightforward answer for this tension.
This issue also arose in a later workshop on choral music and the Muslim world with Hussein Janmohamed and Shireen Abu Khader, both accomplished musicians and doctoral students at the University of Toronto. As artists interacting with the music of the Middle East and/or from Islamic tradition, they gave insight into culture and conversations of choral music that isn't so dominated by Western influences and tendencies. Janmohamed reveled in the freedom to explore sounds, stories, and conversations about music, shaped by music, and through what he calls "meeting each other sonically." "Sonic" is a good word, an active word that evokes doing. Abu Khader shared her insights on the rich choral traditions in Christian churches of the Levant, but the lack of secular choral work. Both clinicians presented works they have written, amongst others, and we sang through excerpts.
At the end of their workshop, Janmohamed and Abu Khader invited the participants into the creation of a song. The process was quite inspiring and wonderful. Using the templates and ideas of songs they had introduced over the last hour, they broke us into two groups and allowed us to have a "sonic conversation" based on what we had learned. After a few technical prompts amongst the group, we actually just started singing, and it all sort of settled into something lovely and improvisational. In that moment, we were able to have a conversation about music that brought ourselves directly into the creation of something new. It was a complicated conversation, conveying thoughts on education, what we were hearing, playing with text, rhythm, listening to what we liked, testing out something new, modulating to fit into the larger whole, bringing in external influences, and so much more – all in two minutes of singing with each other.
Choral music allows us to have complex conversations like this one – and with choral leaders like Abu Khader, Janmohamed, and Hawley (amongst many, many others), Choirs Ontario continues to support this important sonic work.
SingONtario! took place at Christ Church Deer Park, Toronto on Sunday, March 5, 2017. The next big event on the docket for Choirs Ontario is the annual Ontario Youth Choir program, which is being presented by Elise Bradley at Carleton University, and applications are now open. For details, visit http://www.choirsontario.org/index.jsp.
Follow Brian on Twitter @bfchang Send info/media/tips to choralscene@thewholenote.com