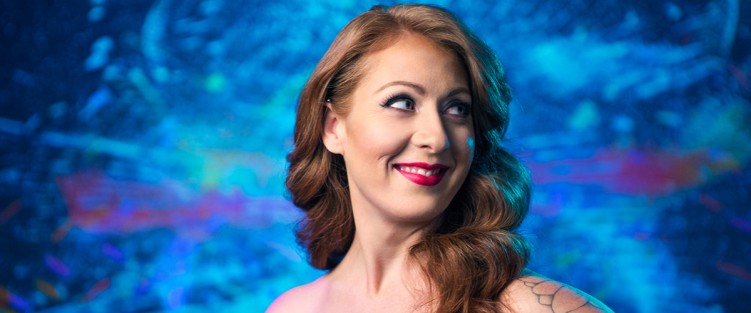 On Sunday evening, December 8 at 8:30, pianist, impresario and all-around creative spark plug, Cheryl Duvall, is doing something at the Tranzac Club she's never done before: launching her first full-length recording as a piano soloist. It's not that she hasn't been in the recording studio numerous times, but this time it's a special project for her, one in which she's invested her creativity on many levels. (It's also been a special project for me.)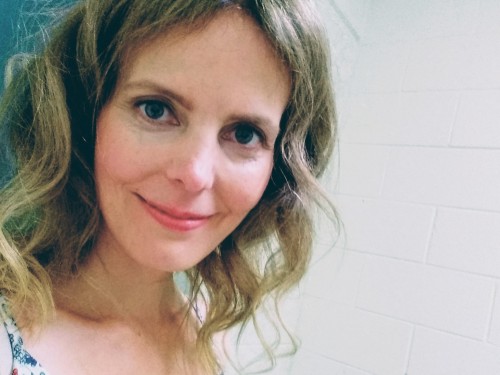 The title of the CD, Harbour, is taken from a major new work by Victoria-based composer Anna Höstman, commissioned by Duvall expressly for this project. Duvall told me that when she first encountered Höstman's music in 2012, "I was immediately drawn to her poetic use of harmony, texture and time, as well as her unexpected melodic turns. I found myself inspired to create pianistic colours that would help evoke the different atmospheres in her music." Duvall and violinist Ilana Waniuk, had co-founded the Thin Edge New Music Collective in 2011, and they had commissioned Höstman to create a chamber work for their series. Duvall said, "I loved puzzling my way through her fascinating uses of rhythms and counterpoint, which often went from static and sparse to jumbled and tangled within moments. Since then I have performed at least 15 of her works in different contexts, and premiered at least seven or eight. She is very inventive in how she approaches the piano and I feel I am witness to her ever-evolving relationship with the instrument."
The broader story of Duvall's incessant commissioning activity lies in her experience with the Thin Edge New Music Collective (TENMC). In its first nine years of operating, TENMC has commissioned 70 new works, a remarkable number for such a small, young organization. Some of these can be heard on a recording I produced in 2017, one which Duvall co-organized and co-supervised, Raging Against the Machine, which features TENMC, alongside the Montreal group, Ensemble Paramirabo. That recording includes music by American composer Steve Reich, Dutch composer Louis Andriessen, Canadians Patrick Giguère, Brian Harman, and, not surprisingly, Anna Höstman. That recording is available on the Red Shift label at redshiftmusicsociety.bandcamp.com.
This latest recording, Harbour (for which I was, again, happy to serve as producer) is also available on the Red Shift label, and is a complete collection of the works for solo piano by Höstman. Harbour, the title work, is also the longest composition on the recording, a sprawling, 26-minute work that weaves its way through a varied musicscape of textures, themes, counterpoints and dynamic shadings that leaves the listener filled with a multiplicity of experiences. The scale and complexity of Harbour is thrust starkly into relief by the much simpler, perhaps gentler qualities of the works that surround it. Harbour is available as both a CD and digital download at: redshiftrecords.org.
The very first commissions for TENMC, Duvall freely acknowledges, were born out of necessity, to fill repertoire gaps for the available instrumentation, but they have become a major part of her activities as co-artistic director of TENMC, as well as in her solo endeavours. "They were an exciting step," she says. "Being the very first person to hear a piece of music is a fascinating experience and a huge artistic risk in many ways. You never know what you are going to get and what challenges you'll face in the process – but this keeps me motivated, the constant element of surprise and the always evolving directions and concepts that different composers are exploring."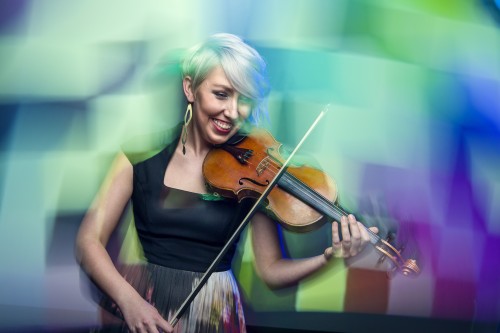 Duvall's partner in TENMC, Ilana Waniuk tells their story in somewhat more practical terms. "Cheryl and I decided that we wanted not only to create a means of exploring/performing contemporary chamber music on our own terms, but to actively take part in the commissioning and development of new works," Waniuk says. "Starting an ambitious project with limited funds and minimal prior administrative experience is an amazing litmus test for the strength of a collaborator. Cheryl's passion, tenacity, creative vision and willingness to take artistic risks was apparent from the outset and has carried us through nine seasons and counting. Together, we have tackled scores which have required us to decipher highly complex/individualistic notation, interpret light sculptures, operate on musical instruments wearing hospital scrubs and explore virtual sonic worlds through interactive video game technology ... Perhaps even more importantly, as a collaborator, she makes it a conscious priority to ensure that her fellow artists have a safe and welcoming space within which they can create and rehearse. "
Anna Höstman echoes Waniuk's observations about Duvall's strengths as a collaborator. "On the one hand, Cheryl has an amazing ability to crystallize fragments of tumbling when they occur in my music, allowing direction and impulse to shift with swift fluidity," she says. "On the other hand, one sinks into the warm timbre and depth of feeling she achieves in more shadowed, tender passages. Cheryl is a remarkably inclusive performer, programmer and thinker – with energy like a rushing river. She has transformed our Canadian artistic landscape with her devotion to new music creation."
Innermost Songs
The concluding track on Harbour is Höstman's 2019 composition, Adagio, originally commissioned by Duvall for another of her initiatives, an upcoming solo piano performance she calls Innermost Songs. "A year and a half ago," Duvall explains, "I approached seven Canadian composers to write new works for me, while I created a documentary exploring the composer/performer relationship. I chose composers with completely different aesthetics, processes, sound worlds and approaches, in order to give my research diversity and scope. Composers Daniel Brandes, Patrick Giguère, Anna Höstman, Emilie LeBel, James O'Callaghan, Monica Pearce and Kotoka Suzuki are featured in this event. There are two pieces with electronics, one with a harmonica, and another with video, as well as purely acoustic pieces that explore different aspects of pianism, making an eclectic mix of piano music."
As wide-ranging as these commissions are, they all refer back specifically to Duvall, the artist for whom they're being written. One example – Monica Pearce describes her work, Silks, as follows: "This work was written for and dedicated to Cheryl Duvall, a pianist who has an avid interest in aerial silks. Duvall choreographed, performed and filmed an aerial silks routine, and for the process of composing, I mapped each movement of the routine to music. The held poses are mapped to a series of chords, which were handpicked from my absolute favourite chords from Romantic/20th-century piano literature (Brahms, Messiaen, Poulenc, Rachmaninoff, Scriabin). Pearce has worked with Duvall on many projects over the years. "I've written for her ensemble, Thin Edge; she has played in my operas; and so on – but this was the first time to write something for her as a soloist. Knowing her as a good friend as well as a musical collaborator, I wanted to write something that felt very 'her.' She is someone who is always searching and striving towards musical beauty and transcendence."
Innermost Songs will take place at the Canadian Music Centre, 20 St. Joseph St. in Toronto on January 16, 2020 at 8pm.
Waniuk gets the last word: "Cheryl is incredibly inventive and has the ability to examine all facets of an idea, often coming up with surprising and innovative solutions to complex problems. Whether insisting we climb Mount Fuji eight hours after arriving in Japan for a concert tour, or taking aerial silks classes to gain a better understanding of our ongoing circus/contemporary music project Balancing on the Edge, she has an adventurous spirit and great sense of humour – two qualities which I consider essential ingredients in our musical/artistic partnership. It has been so exciting to watch her branch out in new directions through her various solo projects. I can't wait to see what adventures, artistic and otherwise, await!"
David Jaeger is a composer, producer and broadcaster based in Toronto.