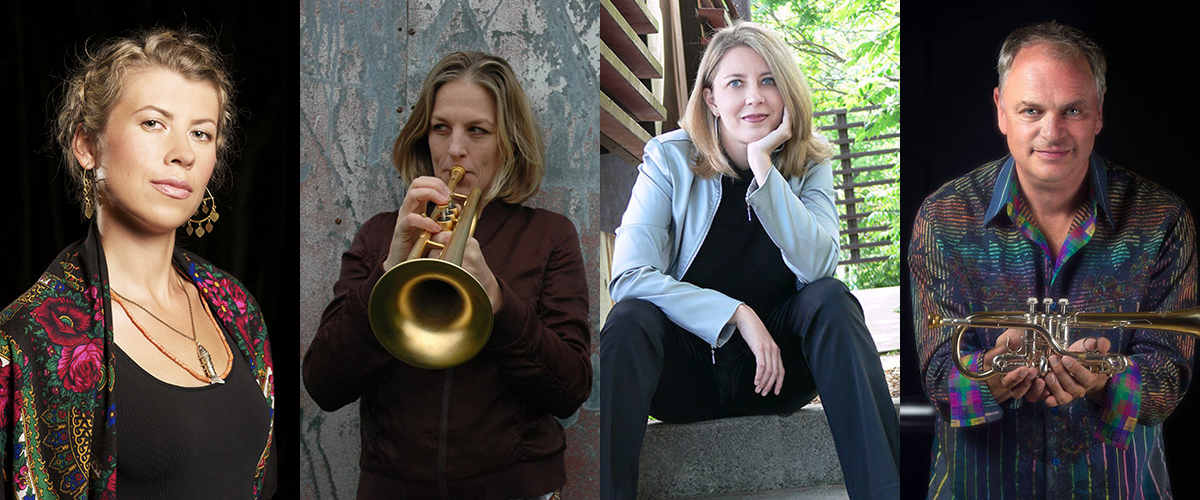 Soundstreams' founder and artistic director Lawrence Cherney has long been impressed by the breadth and depth of trumpet repertoire across the ages, and as a former trumpet player myself, I am always happy to hear him out on the charms of this favoured instrument. Now Cherney has gone one step further and created a whole concert to make his point.
On October 3, Soundstreams presents "Top Brass" at Trinity-St. Paul's Centre, featuring three brilliant trumpet soloists, Canadians Jens Lindemann and Ingrid Jensen, and Norwegian Ole Edvard Antonsen. Each of the three soloists has their virtuoso solo moments in the concert, but Cherney and his Soundstreams team have upped the ante by commissioning several works by leading Canadian composers for multiple trumpets, performing with a variety of accompanying forces, including a virtuoso string orchestra led by Joaquin Valdepeñas. The composers' comments about the works they are contributing were as fascinating and as varied as the works themselves promise to be.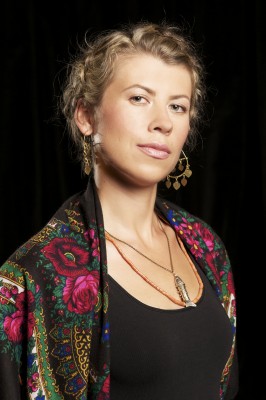 Vancouver composer Anna Pidgorna was commissioned by Cherney and Soundstreams to create a work for the three trumpet soloists and string orchestra. Pigdorna's composition, which drew inspiration from the Biblical seven trumpets of Revelations, is titled The Three Woes, the designation of the last three of these trumpets. Pigdorna writes: "The Fifth Trumpet (First Woe) prompts a star to fall from heaven and open the bottomless pit, releasing acrid smoke and locust-like creatures, which are actually scorpion-tailed warhorses with human faces and lion's teeth. These 'locusts' will repeatedly sting anyone who lacks the seal of God on their foreheads. The Sixth Trumpet (Second Woe) will release four bound angels who will lead an army of 200 million mounted on horses with lion's heads and snakes for tails. This army will kill exactly a third of the mankind that didn't already die from forest fires, bloody oceans, poisoned waters and the dimming of sunlight. The Seventh Trumpet (Third Woe) will bring in Christ's second coming and the final judgment of the remaining people, after which paradise will be established on Earth and Christ will rule in peace and happiness for ever and ever, Amen."
Pigdorna continues: "The ancient authors of the Bible were certainly imaginative in the catastrophes they described, but reading this I can't help thinking that much of this is already happening, due to global climate change. Ocean life is dying from rising temperatures; forests are burning en masse, dimming sunshine with smoke; fresh water is being polluted by industry. Thinking of the ending of the prophecy which promises Earthly Paradise, I can't help wondering how the remaining people will manage to live happily ever after on a ruined planet after surviving war and major cataclysms and watching most of their brethren get slaughtered."
Pigdorna's musical setting of this dramatic scenario begins with most of the instruments positioned throughout the hall, and two of the three trumpets on opposite sides of the balcony, leaving one onstage. The cellos and basses of the string ensemble remain onstage, but the more portable violins and violas begin the piece out of their normal concert positions, around and even among the audience. As the work progresses through the soundings of each of the Three Woes, the players gradually move to the stage. The end of the work is a musical depiction of the arrival of Earthly Paradise. Pigdorna, whom I first met when her works were introduced to Toronto audiences by the Thin Edge New Music Collective, told me she's currently writing an opera on a scenario from this same Biblical story.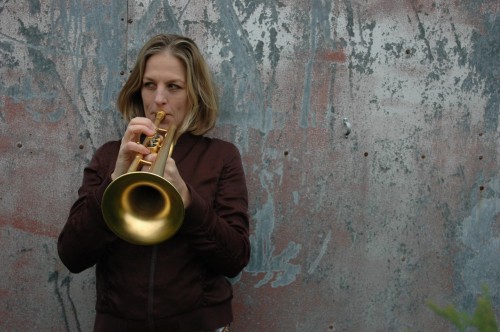 The idea of including choreography in the score, to move performers through the performance space is not a new one. Listeners familiar with the music of Murray Schafer recognize this sort of device as completely normal in Schafer's works. There is, for example, intricately detailed choreographed movement in his 1977 orchestral composition, Cortège, as well as in several of his 13 string quartets, and in many other of his works. Schafer's music appears in the Soundstreams Top Brass presentation too; an unaccompanied solo trumpet (Ingrid Jensen) performing Schafer's Trumpet Aubade, conceived as a morning song to be performed on a wilderness lake. It's a work that appears in Wolf Music, a made-for-radio production that Schafer and I produced at Wildcat Lake in the Haliburton Forest and Wildlife Reserve in 1997, and now available as a Centrediscs recording, available from the Canadian Music Centre.
Toronto composer and conductor, Brian Current has often conducted Schafer's music. They have also been teaching colleagues at the Royal Conservatory of Music. In 2011, when Schafer was awarded the Premier's Award for Excellence in the Arts (Ontario), Schafer chose Current as his protégé. For Top Brass, Soundstreams commissioned Current to create an homage to Schafer, a Serenade for Three Trumpets. Current calls Schafer "Canada's pre-eminent composer whose research, altruism, talent and hard work I have admired for years." Current, a multiple-prize-winning composer, who is enjoying an enviable career of his own, wrote in his program note, "In response to Schafer's Aubade, I offer this brief evening song, or Serenade, for three trumpets playing overlapping patterns. Traditionally, a serenade is a composition or performance delivered in honour of someone or something." For his salute to Schafer, Current places his trumpet soloists at three points in the hall, surrounding the audience.
Another expression of collegial admiration appears in the program as Ole Edvard Antonsen performs Paths by Japanese composer Toru Takemitsu (1930–1996). In 1994, Takemitsu expressed his own admiration in this haunting solo trumpet composition, in memory of his friend, Polish composer Witold Lutoslawski (1913–1994). Takemitsu's own death followed two years later.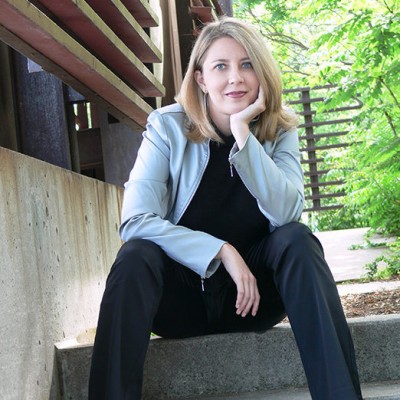 Titanomachy is a double concerto for solo trumpet, solo piano and string orchestra by Alberta-born composer, pianist, author and filmmaker, Heather Schmidt. It's a work that Schmidt has wanted to compose for trumpeter Jens Lindemann for some time, as a vehicle for the two artists to perform together. The chance to realize the idea came when Soundstreams commissioned the work for Top Brass, and invited Schmidt to write herself into it as piano soloist. The title refers to a mythical battle between two factions of Greek gods – the Titans and the Olympians. Schmidt reasoned, "The pitting of two soloists against each other seemed to lend itself to the concept of a battle."
In her program note, Schmidt writes: "The piece opens with the trumpet playing towards the inside piano strings with the damper pedal down, as if echoing the beautiful landscapes of the ancient Greek territory of Thessaly where the Titanomachy took place. After a more lyrical section that evokes the 'calm before the storm,' the battle begins. From there, it's an escalation to the end, with trumpet and piano trying to outdo each other. As part of the trumpet's tactics, there is an escalation of 'weapons' as the trumpet switches from flugelhorn, to C trumpet, to piccolo trumpet." Schmidt, a true polymath, has been composing music since the age of five, and her mammoth canon of works continues to grow. I produced her debut CD, Solus, for Centrediscs in 2003, as well as a CD of the piano works of Fanny Mendelssohn-Hensel, for Naxos in, 2010.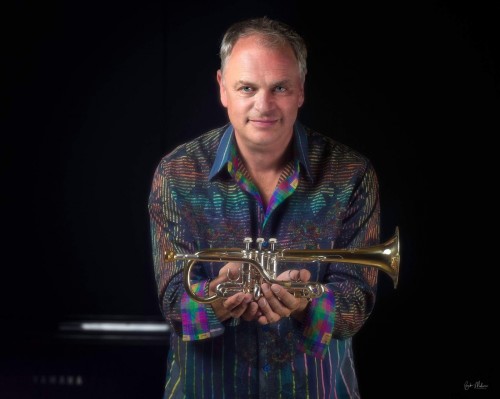 Schmidt and Lindemann also appear together in Top Brass in Mysteries of the Macabre, three arias from György Ligeti's (1923–2006) opera, Le Grand Macabre. The coloratura arias of the character, the Chief of the Secret Political Police, were arranged for trumpet and piano, with Ligeti's enthusiastic permission, by Elgar Howarth, an English composer, conductor and trumpeter. Howarth had, in fact, conducted the world premiere of Ligeti's opera in 1978.
Top Brass' ambitious program will cover three centuries and several contrasting styles of trumpet music. The concert leads off with the Concerto for Three Trumpets, Tympani and Strings, one of 13 trumpet concertos by the Baroque master Georg Philipp Telemann (1681–1767.) It's a rousing, joyful opening, almost fanfare like, as if to kick off Soundstreams' season with musical affirmation. (The trumpets of Telemann's time would have been natural, valveless instruments, unlike the trumpets that Antonsen, Lindemann and Jensen play.)
Twentieth-century French composer André Jolivet (1905–1974) composed two trumpet concertos, works he referred to as "my ballets for trumpet." Ole Edvard Antonsen's recent CD on the BIS label, includes both Jolivet concertos. Soundstreams' presentation features Antonsen, along with Heather Schmidt, in Jolivet's Concertino for Trumpet, Piano and Strings which was composed in 1948, and in fact was set with choreography on several occasions. The piece reveals Jolivet's interest in jazz, a genre he became increasingly aware of after World War II. The vigorous outer movements of the concertino surround a notably bluesy middle movement. The prominence of both the trumpet and piano in the outer movements make this brisk and urbane piece almost a double concerto.
From her perspective, Schmidt told me she loves such a diverse program. "Of the three works I'm performing, each one has its unique challenges. My piece, Titanomachy is filled with concerto-style virtuosity. The Jolivet has challenges within the vein of a contemporary style ensemble piece. And the Ligeti has a significant theatrical element including vocalizations, playing maracas and other non-traditional components within the piano part."
Without a jazz presence, Soundstreams' trumpet bonanza would be incomplete. Vancouver-born Ingrid Jensen is one of the most respected trumpeters in the world of contemporary jazz. Now based in New York, she has an international career. She plays a custom Monette trumpet built for her by the master builder Dave Monette. In addition to her performances with the trio of virtuoso trumpeters, she appears in Top Brass with her jazz trio, with pianist Robi Botos and bassist Mike Downes. Alberta composer and trumpeter Allan Gilliland's Stranger on the Prairie is another vehicle for Jensen, together with orchestral strings. Gilliland said he had been thinking about how to combine his experience as an orchestral composer with his experience as a jazz musician. This led to the concept of a series of "Jazz Concertos" for soloists who were comfortable in both the classical and jazz idioms, such as Jensen. In 1995 the legendary Canadian jazz composer and trumpet and flugelhorn player Kenny Wheeler (1930–2014) made an arrangement for four trumpets, of the Irving Berlin song, How Deep is the Ocean? Ingrid Jensen decided to rearrange Wheeler's arrangement, in this case, for three trumpets, accompanied by piano and bass, and her version of the piece will round out Top Brass.
In a video produced to promote Top Brass, trumpeter Jens Lindemann proclaims: "The best thing about the evening is that it's going to be a clash of three trumpet titans, epic on a scale not seen since The Three Tenors. And even better, because the tenors couldn't play brass instruments."
David Jaeger is a composer, producer and broadcaster based in Toronto.