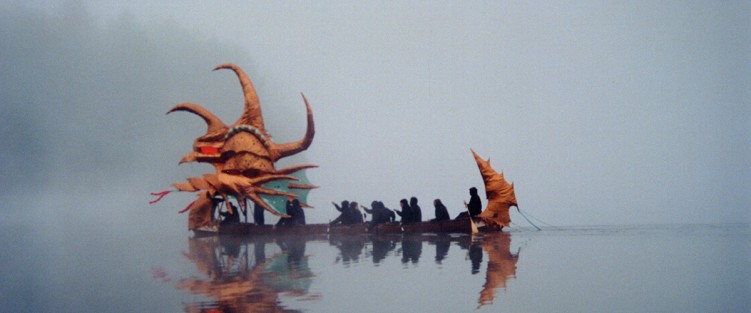 On a particularly sunny and warm May day in Belfast – one might even have called it summery – my thoughts turned to the coming season, and to the phenomenon of music performed in the great outdoors, or even deep in the wilderness, if the friends and followers of Murray Schafer are to be emulated. My reverie gradually took me back to a much earlier time when such thinking was a fresh idea.
I recalled that in the summer of 1979 my CBC Radio colleague, John Reeves, approached me with an unusual proposal for a broadcast. He asked if I would consider funding an episode he wanted to produce for my recently established contemporary music series, Two New Hours (1978–2007) on what was then known as the CBC FM Network. The notable aspect of his proposal was that it would feature a composition by Murray Schafer, to be recorded on a wilderness lake. The title of the episode was simply, Music for Wilderness Lake. The performance of the work would be by an ensemble of 12 trombonists, ringing the lake, and the recording would be made from the perspective of microphones positioned in a canoe in the middle of the lake.
I thought about Reeves' proposal, reflecting on other Schafer compositions I had already broadcast on the series, such as his now iconic Third String Quartet, which I had commissioned. The quartet had been a highly unconventional piece, one which begins with only the cellist on stage and in which the other three string players gradually join after slowly progressing, one by one, from the back of the hall to centre stage. In the middle movement, the string players perform all manner of un-string-like sounds. They shout, growl, stomp their feet, and generally carry on in an unhinged and bellicose manner. Needless to say, this kind of innovative writing worked beautifully both on stage and on the radio! The idea, therefore, of a new Schafer composition to be recorded from a canoe in the centre of a wilderness lake was only momentarily surprising. I responded by authorizing the necessary budget to Reeves to produce the segment.
I subsequently discovered that the audio recording was only part of the project. A film crew would accompany Reeves and his recording engineer into the wilderness. The filmmakers eventually contracted for the rights to synchronize and mix our CBC recording as a part of the soundtrack of their film were Barbara Willis Sweete, Niv Fichman and Larry Weinstein; it was released as the first ever film by their new company, Fichman-Sweete Productions, which later evolved into Rhombus Media.
Schafer mentioned in his 2012 autobiography, My Life on Earth & Elsewhere, that Music for Wilderness Lake was his first environmental piece. "I had been canoeing around one of the many unpeopled lakes in the Madawaska area and had noticed how the sounds changed throughout the day and evening. I decided to write a work for the lake and take advantage of those changes," he wrote. "Just at this time I was approached by a group of 12 trombone players who wanted me to write a piece for them. I suggested my idea and they liked it." The book, published by The Porcupine's Quill in Erin, Ontario, is not the focus of this article, but bears mentioning; it is a remarkable read, divided into two parts. Part one is subtitled Student, Sailor, Wanderer and part two is The Music of the Environment. It's furthermore am increasingly valuable document, since Schafer has become afflicted with Alzheimer's disease, and unable to further share his remarkable story.
Brooke Dufton, a soprano and scholar who has devoted much of her career to studying and performing the works of Schafer told me: "Given the many obstacles to presenting this music publicly – gathering a dozen adventurous trombonists at once, to play at dawn, and getting performers and audience to that location, and at those times – it is remarkable how frequently Music for Wilderness Lake is professionally performed. In the last three years alone, almost 40 years after its creation, it has been featured in at least seven events. These are ones I know about: Stratford Summer Music, Stratford ON; Make Music New York, New York Central Park Lake; Nuit Blanche, Huntsville ON; The contemporary Austin Sound Series, Austin, Texas; Kalvfestivalen, Gothenburg, Sweden; and Living with Lakes, in Sudbury ON." Dufton herself is often included in such performances, positioned in the front of a distant canoe, singing Ariadne's Aria by Schafer.
Music for Wilderness Lake proved to be pivotal for Schafer's subsequent works for performance in the natural environment. Schafer wrote: "Following the success of Music for Wilderness Lake, I began to think of a larger, more theatrical work in which the action would take place on a lake with the musicians situated around the shores." The resulting piece, Princess of the Stars, composed in 1981 is an environmental opera, which also serves as the prologue for the 12-part Patria Cycle, which revolves around the journeys of three central characters: the Princess of the Stars, the Wolf and the Minotaur.
In 1997 our Two New Hours production team was able to record and broadcast a production of Princess of the Stars, staged on and around Wildcat Lake in the Haliburton Forest and Wildlife Reserve by Patria Music/Theatre Projects. This was a large- scale undertaking, requiring advance research of the lake itself in order to determine ideal locations for microphone placement. Once the locations were set, our team constructed simple floats, which were anchored at those precise locations with microphone mounts. For each performance, we paddled out to these positions with the mics themselves, installed them, together with the portable recording devices, and then ditched our canoes behind large boulders on the nearest shore, becoming invisible. This was all accomplished before the pre-dawn glow and the arrival of the audience. After the performances, we collected the recording gear and headed to the mixing station. Listeners to Two New Hours across the nation were thus transported to the lake to experience the opera.
Prior to that, in 1995, as a sort of warm-up to the Princess of the Stars opera broadcast, Schafer prepared several pieces from the final movement of Patria, the Epilogue, titled, And Wolf Shall Inherit the Moon. Several musicians travelled with us to Wildcat Lake, where recordings were made using those same methods that we would subsequently employ for the later production of Princess of the Stars. The resulting broadcast, titled Wolf Music, was heard on Two New Hours in 1996 and subsequently leased to Centrediscs, the record label of the Canadian Music Centre. This recording is still available through the CMC and Centrediscs. Wolf Music was also entered by CBC Radio as a submission to the 1996 Prix Italia, an international competition for public broadcasters, where it earned a special mention from the jury.
Two New Hours was also involved in the commissioning, recording and broadcasts of two more parts of the Patria Cycle: Patria 5 – The Crown of Ariadne and Patria 8 – The Palace of the Cinabar Phoenix.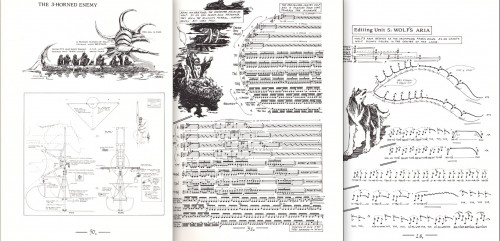 And Wolf Shall Inherit the Moon lives on, continues each summer in the Haliburton forest as a cohort of up to 64 participants who spend a week and a day in the forest, organized in packs, to live in the wild creating music and performing together. Poet and essayist Rae Crossman describes it as, "an annual pageant involving musicians, actors, dancers, artists and storytellers who create musical drama in the Haliburton Forest and Wildlife Reserve, on the edge of Ontario's Algonquin Park." Crossman explains: "This is music theatre like no other: the stage is a moose meadow, a rock-strewn gorge patterned with moss, a raft assembled from rugged cedar driftwood, or a quiet forest pool, fringed with cardinal flowers. The lighting: dawn through filigree of pine, intense noonday sun on a burnished lake, flickering campfire flames, or a million stars. Flute music accompanies birdsong. A trombone echoes across the bay. Is that wind in the tamarack or an ethereal voice singing sibilant notes of sorrow? "
Double bassist Neal Evans says: "One of my chief impressions from participating in several Murray Schafer works is that everything he does creates community." Evans, together with his wife Peg and their two sons, have been long-term participants in The Wolf Project, as it's also known. They told me that over the space of eight days it "creates a community of people who feel a close bond, much closer that would be achieved by a regular week-long camping experience." The reason, they explain, is because participants' days together are purposeful. "There is the immediate need to create short 'pieces' (Encounters) to perform for the rest of the group, and the overarching need to create the large-scale composed piece (Great Wheel Day) for the final day. What makes this experience so different, is that at the end of our 'creative' work periods, we continue working together to prepare meals, set up a campfire, dig a latrine, hang a tarp or paddle in some supplies. There is no audience, only members of the group, which means that our guards do not/cannot effectively go up on the final day. There is a heightened sense of 'performance,' of course, tempered by the awareness and understanding of our shared humanity."
Given the current fragile state of his health, Schafer no longer participates in this ongoing Epilogue to the Patria Cycle. But his story continues to be told. There are two large-scale projects in process that aim to put his life and career into perspective. One of these is a documentary by filmmaker Neil Dallhoff with the working title, R. Murray Schafer: Into the Mouth of the Wolf. Dallhoff told me he has spent countless hours with Schafer and his wife, mezzo-soprano and doctor of divinity, Eleanor James, talking, planning and filming at their rural home in Indian River. Dallhoff says: "The film is going to strongly represent Murray's outdoor works, mostly through archival drawings, participant accounts and Murray's writings. As we continue filming, the theme of the Patria Cycle is emerging in parallel with the story of his life and work."
And filmmaker Barbara Willis Sweete, our cinematic partner in crime for the CBC Wilderness Lake recording, 40 years ago, is creating Schafer's Labyrinth for the 2020 edition of Luminato. It will be a multimedia work in which, according to the project proposal, the Molinari String Quartet will perform live on stage in front of a giant movie screen showing motion picture images that include choreographed dance, shots of nature, archival and present-day images from Schafer's life, visual effects, graphics and animation. "More than 50 years ago," the proposal goes on to point out, "Schafer envisioned a Theatre of Confluence that would combine elements of opera, theatre, dance, music and projected images – and which would immerse its audience in a totally unified multi-sensory and multi-disciplinary experience."
Schafer's Labyrinth will include all 13 of Schafer's string quartets, performed over two consecutive days in four distinct programs, each lasting between 60 and 85 minutes. "Schafer's quartets embody his entire philosophy and symbology and are filled with visual allusions and extra-musical references," the proposal continues. "Images invoked in his quartets include the behaviour of water (Quartet No.2), the sounds of birds and the howling of wolves (Quartet No.10) and the movements of Tai Chi (Quartet No.6). The quartets also reflect Murray's preoccupation with mythology. Traces of the Greek myth of Theseus, Ariadne and the Minotaur are threaded through all his quartets, taking the form of musical leitmotifs that interact with each other in fascinating ways. The archetypes within this myth form the primary thematic underpinning of Schafer's Labyrinth."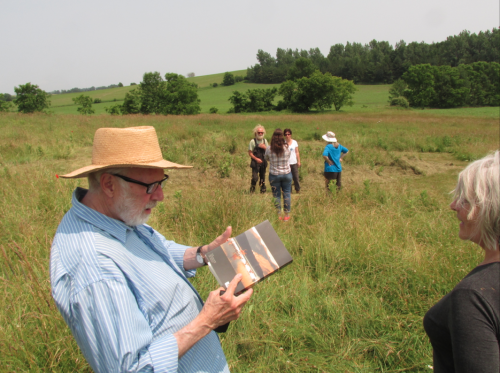 As I open my autographed copy of his book, My Life on Earth and Elsewhere, which I acquired on the occasion of Schafer's 80th birthday, I see his inscription: "For David: New sounds every day of your life! Listen!"
David Jaeger is a composer, producer and broadcaster based in Toronto.