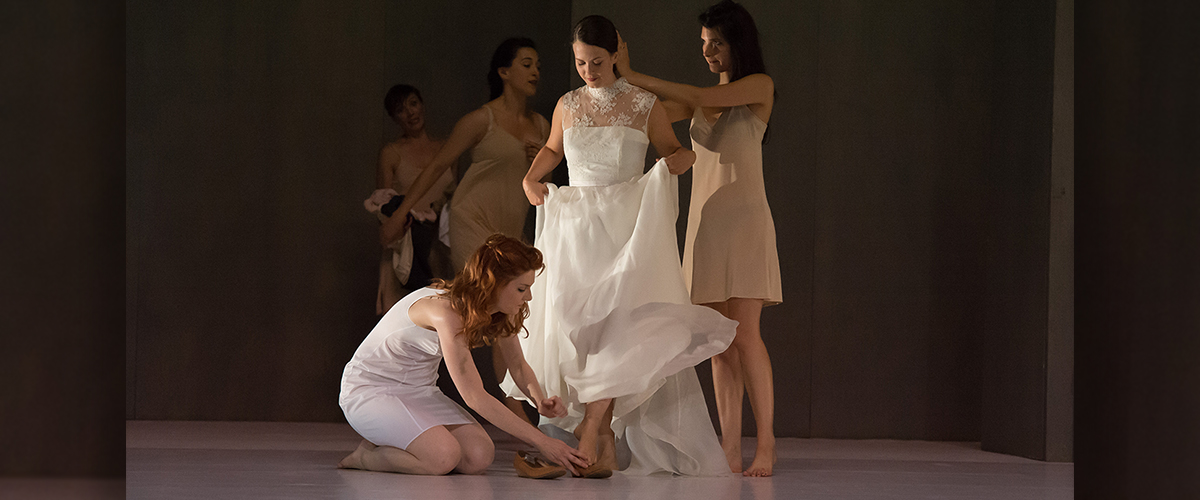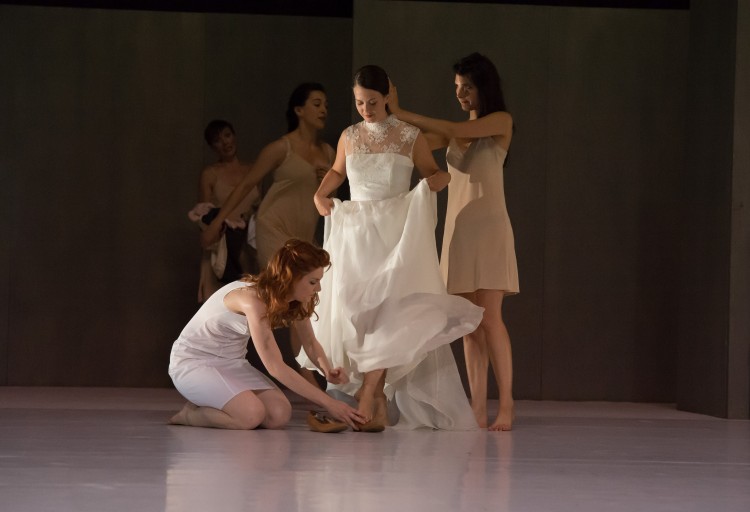 I remember the first time I heard Ana Sokolović's music: I was in Paris, participating as CBC Radio's delegate at the International Rostrum of Composers (IRC) in 1996. My Radio-Canada colleague, Laurent Major, had chosen to present a work for violin duo, Ambient V, composed in 1995 by Montreal composer Sokolović (b. 1968) who had come to Canada from her native Serbia in 1992. I recall thinking that this was a distinctly fresh musical voice. There were elements of Serbian folk music, minimalism, as well as choreographed movement by the two players. It all added up to a memorable impression of music that was playful, yet highly focused and purposeful.
I certainly was not the only person to be impressed by Ambient V. Another young Montreal composer, Jean Lesage (b. 1958), heard the work and recommended it to a colleague who was designing a program for the Société de musique contemporaine du Québec (SMCQ). The piece was programmed on the SMCQ concert, recorded for broadcast on Radio-Canada, and subsequently chosen as the Radio-Canada submission to the IRC. Ambient V is available on a recording on the SNE label called Nouvelle Musique Montréalaise II through the Canadian Music Centre. Incidentally, Sokolović and Lesage connected romantically, and were married in 1998.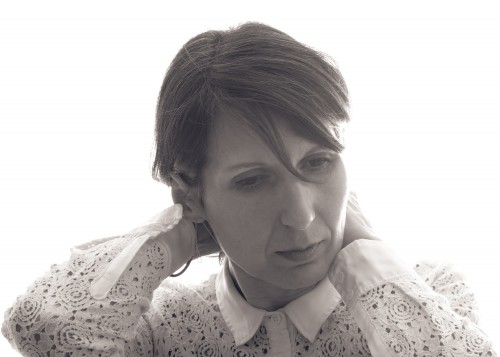 In 1999, Sokolović was named Grand Prize winner in the CBC/Radio-Canada National Competition for Young Composers, for which I served as CBC's coordinator. The work with which she won is titled, Géométrie sentimentale. It's a work in which the thematic material is seen from three different angles: "music through different geometries," as her program note states. It was through her success at the competition that I first met Sokolović, and since that time we have collaborated on numerous occasions.
Géométrie sentimentale had been commissioned in 1997 by the Ensemble contemporaine de Montréal (ECM+), a large chamber ensemble created in 1988 and led by its founder and artistic director, the Montreal conductor, Véronique Lacroix. Lacroix had also been in the audience for that same SMCQ concert in 1995 and had heard Sokolović's Ambient V. Like many others, Lacroix, too, was struck by the distinctive voice she heard in the work. Over time, and at last count, she has commissioned four works from Sokolović. The most recent of these commissions is the violin concerto, Evta.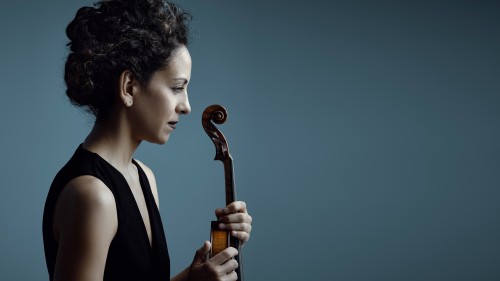 Sokolović told me she based the concerto on ideas that surfaced in conversations with her soloist, the Montreal-born, but now Toronto-based violin virtuoso, Andréa Tyniec. Two areas of interest that Tyniec expressed were Gypsy violin music and yoga. Sokolović wrote, "Evta means 'seven' in the Serbian Roma language. Each of the seven movements of the concerto is inspired by the colours of the chakras and is associated with one of the notes of the scale: C/red, D/orange, E/yellow, F/green, G/blue, A/indigo and B/violet." She further mentions, "The work is strongly influenced by Gypsy violin music played in the Balkans." Tyniec told me: "Working with Ana on Evta after performing so many of her violin works during the past years, both solo and chamber, has been a real artistic highlight for me in my career. Playing Evta is a personal experience since some of its themes and structures are drawn from conversations Ana and I had years ago. Evta is also a wonderful challenge for any soloist, to be at once a prominent voice leading the narrative and still remaining a part of the bigger textures of the work. There is such joy in being able to both stand out, be oneself and belong."
The concerto was premiered by Tyniec and ECM+, conducted by Lacroix at the 2017 World Music Days in Vancouver, sponsored by the International Society of Contemporary Music and Music on Main. I attended that performance. In my review of it for The WholeNote, I observed that Tyniec's solo violin was an astounding traveller through the seven movements, flashing virtuosity in so many ways, one lost count. The thread of this fascinating composition never lost clarity as it swept through its intricate and surprising courses. It was a riveting experience to witness the unfolding of this exciting, highly original work.
Toronto audiences will at last get their chance to hear Tyniec perform Sokolović's Evta on May 26 at 8pm when New Music Concerts (NMC) presents the work as part of their season's final concert at Betty Oliphant Theatre. NMC artistic director Robert Aitken will conduct the NMC ensemble in a concert that also includes music by two rising young Canadian composers, Samuel Andreyev (b. 1981) and Matthias McIntire (b. 1986).
Evta is also available on a newly released CD on the ATMA label titled Sirènes (ATMA ACD2 2762.) The recording contains four major works by Sokolović, including the title track, Sirènes, a work for six female voices, written for Queen of Puddings Music Theatre (QOP) in 2000. In 2010 Sokolović wrote another, more ambitious work for six female voices for QOP, a 55-minute one-act opera in Serbian called Svadba (Wedding), arguably her greatest success to date.
In her note to the opera, Sokolović wrote: "When Queen of Puddings Music Theatre (1995–2013) approached me to write an opera for six female voices, I took the opportunity to explore the theme of a wedding, particularly the evening before the ceremony, during which the bride-to-be and her friends devote themselves to private ancient rituals. The text is based on original Serbian poetry but given a new context, adapting it to our contemporary culture, and the music is derived from traditional folklore." Sokolović has told me that when she arrived in Canada as a student, she saw herself as a member of an international contemporary music community, and she tried to avoid any limitation to her music that might result from emphasizing her Serbian roots. However, she learned that, rather than being limiting, expressing her musical roots in a contemporary context enabled her to strengthen her voice as a composer.
Svadba has had 20 productions to date. John Hess, the co-founder (along with Dáirine Ni Mheadhra) of QOP told me, "I think it is easily the most performed Canadian opera ever. Our enchantment with Ana had a lot to do with her imaginative vocal writing and the unique exploratory quality of much of that. Her roots in Serbian traditional music and her ability to use that as a compelling ingredient of her work without becoming gratuitous or sentimental was important to us. Finally, her strong dramatic instinct left us with a body of works for the singing stage that continue to be performed."
Sokolović's proven success as an opera composer has led to a commission for a new mainstage opera from the Canadian Opera Company (COC). The Old Fools is an opera that Sokolović is creating with British librettist Paul Bentley. The two-act opera was inspired by a poem by English poet Philip Larkin, focusing on the fear of aging and death. In announcing the commission, COC general director Alexander Neef said: "One of the things I enjoy most about Ana's works is that they are stories that tap into shared human experience, while simultaneously challenging our perceptions of what that is." The Old Fools is currently in development, even as the exact production date has yet to be announced.
David Jaeger is a composer, producer and broadcaster based in Toronto.