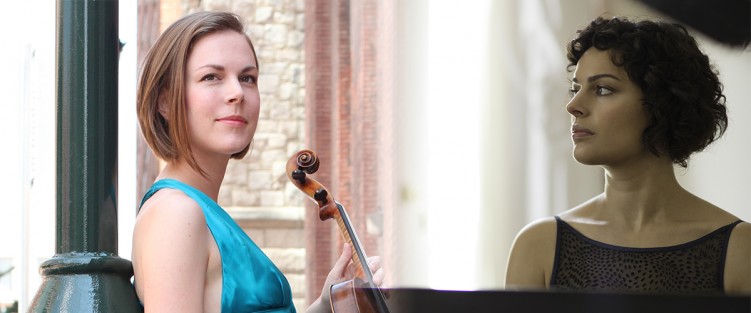 It was a simple invitation on the surface but highly unusual and intriguing at the same time:
Violist Esme Allen-Creighton and pianist Anyssa Neumann invite you to an evening of music and poetry featuring works by Robert Schumann, Dmitri Shostakovich and Paul Hindemith. Poetry will reflect on each musical selection, applying a natural lens to ask "If this song were a forest, what would it be like?" Tickets are $10. All proceeds will go to the Nature Conservancy of Canada.
The concert will take place in the Heliconian Hall (under their generous sponsorship) on April 25, three days after Earth Day. A series of emails with Allen-Creighton illuminated the commitment behind the unique endeavour and shed light on the duo's unique views:
"Both Anyssa and I have focused much of our careers on the intersection between music and other art forms. I've produced concerts combining music with poetry, theatre scripts, oral history recordings and original narrative. Anyssa, for her part, has taken a scholarly interest in music and film, and has presented this fall at TIFF on Ingmar Bergman's use of classical music in film."
When the UN's IPCC report on climate change was released last year, Allen-Creighton says, they began envisioning a collaboration "that would integrate music and poetry to illuminate the perils facing our planet." Forest Bathing was born as a result.
Allen-Creighton has written poems to introduce each of the seven movements they will perform. The poems, she explains, illustrate the dramatic content of the music which follows: each poem is conceived as a different "forest" – framing the emotional content of the music that follows.
Three movements of Schumann's Marchenbilder (Fairy Tale Pictures) form the Romantic Forest, a forest of memory, of longing. "It verges on the unreal dreamscape. In the second piece [Schumann's third movement], stormy, wild sections reflect the turbulence of nature and how it might react to pressure. The final movement explores the fragility of nature."
The accompanying poem reads:
The forest shivers as I whistle through
Her lonesome chambers
Last grasp sticks harder
Sap and bark grit strong
Woodpecker heart
Throbbing faster
Shostakovich's Viola Sonata, his final composition, inspires the Urban Forest, a dystopian possible future. "Here [Moderato] nature has been ravaged by industry and war. Ghosts and refugees roam bleak landscapes. The centre [Allegretto] satirizes the political system that allowed this catastrophe. A final piece [Adagio] forms a lament."
Hindemith's Viola Sonata, written in 1919, is, as Allen-Creighton describes it, "the Forest of Possibility, on the brink. It contrasts our most uplifting experiences in nature with grotesque deterioration. Emotionally it cycles through hope and fear, ultimately landing on resolve and generosity." (The Hindemith is played with no break between its movements so there will only be one poem to introduce it.)
Raised in Sacramento and based in London UK, American pianist Anyssa Neumann has been praised for the "clarity, charm, and equipoise" of her performances, which span solo and collaborative repertoire from the Baroque to the 21st century. She has released two recordings, with a third scheduled for release in spring 2019. Her solo debut album of works by Bach, Beethoven, Messiaen and Prokofiev was featured on David Dubal's radio program The Piano Matters.
Praised for her "unbridled lyricism, robust sound and free-flowing legato" violist Esme Allen-Creighton is passionately committed to reaching audiences through interdisciplinary productions. During her four years in Philadelphia with the Serafin Quartet she wrote numerous dramatic scripts interwoven with classical repertoire for series in non-traditional venues such as cafés, bars and comedy clubs. She has published and presented on how to engage audiences through these non-traditional means. Her doctoral thesis for the Université de Montréal explored the idea of interactive, non-traditional concert programming for string quartets.
How did the fledgling duo meet?
"Anyssa and I were introduced in 2014 by my partner at the time who had studied musicology with Anyssa at Oxford. We had both been accepted to the Prussia Cove music festival and thought it might be fun to perform together, however ended up attending at different times. We struck up a musical/philosophical pen-pal relationship though, admiring each other's musical work, but also each other's writing. I used some of Anyssa's research in my history classes while teaching at the University of Delaware. Anyssa was especially moved by my writing on Schumann in a Schmopera article about giving up a precious instrument on loan to me through a quartet position. Most importantly, we connected through shared political beliefs, advocacy and protest around women's rights, the environment, poverty and education. We both believe music and art play a vital role in these discussions. We've been in touch ever since, but not until this past fall did we manage to organize a concert together. This will be our first duo performance."
And a world premiere to boot!
Esme Allen-Creighton (viola) and Anyssa Neumann (piano) perform Forest Bathing on April 25 at 7:30pm in Heliconian Hall. All proceeds to the Nature Conservancy of Canada.
Paul Ennis is the managing editor of The WholeNote.