The WholeNote's seventh annual guide to the Toronto International Film Festival (TIFF) takes a look at 17 films (in which music plays a notable role) out of the 255 features from 74 countries that comprise the festival's 43rd edition. This year's guide is anchored by my conversation with Ron Mann about his enchanting new documentary, Carmine Street Guitars. And there is considerable space devoted to two award-winning films I saw at the Cannes Film Festival, Pawel Pawlikowski's Cold War and Gaspar Noé's Climax. Music is indispensable to all three and they are highly recommended. The rest (some of which I have yet to screen) represent a cross-section of films where music, in one way or another, plays a significant part.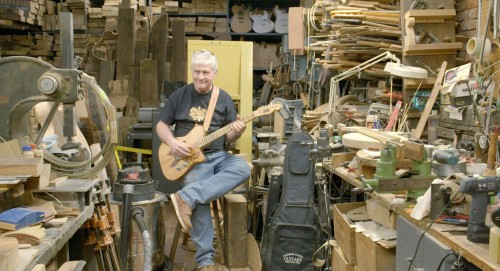 Carmine Street Guitars, Ron Mann's tenth feature-length documentary, is the latest in a distinguished career that began impressively with the free jazz doc Imagine the Sound in 1981 – when Mann was barely into his 20s.
Carmine Street Guitars will have its world premiere September 3 at the prestigious Venice Film Festival, where it is the only Canadian film. Next stop is TIFF, September 9 and 13, followed by the New York Film Festival a few weeks later. Mann and I talked by phone in mid-August – his first interview since completing the movie. The Toronto-based filmmaker, who was winding up a vacation in Woodstock, NY, seemed genuinely surprised by the love his film has engendered in festival programmers. (Reykjavik and Warsaw film festivals will also be screening it this fall, with the likelihood of many more to come).
The conceit of the film is appealingly simple. Five days in the life of Rick Kelly, a luthier in a Greenwich Village guitar shop, his assistant Cindy Hulej, and his mother Dorothy (92 at the time) – with a supporting cast of visitors, a dozen or so musicians of varying fame and fortune, from Dallas and Travis Good of The Sadies to Lenny Kaye. It's a minimalist concept that paints a rich portrait of the shop's proprietor and produces an intimate, eclectic house concert of guitar music as a bonus.
"It's a modest movie," Mann says. "Not layered like most of my films. The only thing I can think of is – there's so much noise in movies and this is quiet. There's a guitar movie called It Might Get Loud; this is It Might Get Soft."
In the 1960s, Carmine Street was the place you would go for guitars, Mann told me. John Sebastian lived across the street; Jimi Hendrix lived around the corner. It was the crossroads of music – Lenny Kaye actually worked at nearby Bleecker Bob's record store. "I guess over time my perspective is that I see people and places and values disappear before my eyes," he says. "The movie's a look at Greenwich Village and an all-too-quickly vanishing way of life."
To Mann the shop represents a safe place where a lot of musicians feel at home. Marc Ribot, who's played with everyone from the Lounge Lizards to John Zorn, drops by and tells Kelly about all the people and places he's seen vanish over the years: "I'm glad you're still here," he says.
During the film shoot, the building next door went up for sale for $6.5 million. And in a jarring, awkward minute, the real estate agent walked into the store. "You couldn't write this stuff," Mann said. "That's what can happen when you do these kinds of movies."
"Rick reminds me a lot of Robert Crumb, by the way," Mann mused. "Who I interviewed for Comic Book Confidential. Robert is someone who's out of time. Rick is more comfortable in the 1940s. In the case of Robert Crumb, Haight-Ashbury in the 60s. Rick is like Crumb's character Mr. Natural. Rick doesn't have a cellphone; he doesn't know how to work a computer. It's so great, so fantastic."
Thinking about what attracted him to Kelly, Mann says: "Rick has made guitars for Bob Dylan and Patti Smith and Lou Reed. You know, Rick has this Zen-like philosophy. At three o'clock he usually breaks out a bottle of Irish whiskey and musicians would just come and shoot the breeze. I love that barbershop quality of Carmine Street. When you walk in there, it's like going back into time. Rick's an artisan in the great tradition of guitar makers, in the Bohemian culture of Greenwich Village.
"It's something that I needed to capture. I'm a guitar player – you can't pull me out of a guitar store (or a bookstore) – they're works of art. I just love sharing the experience of spending a week in that shop and hanging out with Rick. And I love that there's this tradition that's being carried on with his 25-year-old assistant, Cindy, who represents a new generation. Those machines they work on, you can't even get parts for them anymore; there's one guy in NYC they call who still knows how to fix those machines. It's an old school way of making those guitars."
I asked how Mann and Kelly met and Mann's answer explained filmmaker-musician Jim Jarmusch's mysterious "Instigator" credit in Carmine Street Guitars. Mann was at the Big Ears Music Festival in Knoxville, TN in March 2015, to hear Jarmusch's band SQÜRL play a live soundtrack to four short 1930s silent films by Man Ray. After the performance, Mann, Jarmusch and Jarmusch's producer (and SQÜRL drummer) Carter Logan moved on to Nashville where Jarmusch was doing a live recording for Jack White's Third Man Records. "When we were all out to dinner," Mann said. "Jim told me about Carmine Street Guitars." How ten years earlier, when his Bowery Street loft was being renovated, Jarmusch asked Kelly to make him a guitar using a piece of old lumber from the loft. It was the first time Kelly used the old New York City wood that he is now famous for. Over the years, as the old wood had dried up, the pores in the wood opened, creating the opportunity for a more resonant sound.
After Nashville, Mann went to Carmine Street and met Kelly, his mother and his assistant and realized what a special place it is. Filming took two and a half weeks during the rainy summer of 2017. Mann turned to Robert Altman's Come Back to the Five and Dime, Jimmy Dean, Jimmy Dean for guidance in filming in such a small space. (Mann's doc Altman also premiered at the Venice Film Festival. Full Disclosure: my son Simon Ennis has a cinematography credit on Altman and an editing credit on Know Your Mushrooms; and Mann was the executive producer of Simon's doc, Lunarcy!)
There are many moments to relish in the film. Lou Reed's friend and guitar tech Stewart Hurwood drops by and demonstrates how Reed used to tune all of his guitar strings to the same note to produce a drone, and how Reed once told Hurwood that he "felt healed in the drones."
Nels Cline, of Wilco, buying a guitar for Jeff Tweedy's 50th birthday, came as a complete surprise to Mann. Christine Bougie, of Bahamas, whose mellow lapsteel guitar playing was a highlight for me, was on tour in NYC, so she dropped by.
One of my favourites was Bill Frisell playing Surfer Girl as he reminisced about his first relationship with the Fender Telecaster, listening to a surfing band in Denver where he grew up.
"Bill is so sweet," Mann said. "He just played it, magically played it. And we just let it go; we didn't edit it."
Kelly fell in love with the Fender Telecaster at an early age and he's been making his version of it for years. He understood that the wood made a difference in electric guitars. During the shoot Kelly got a call from McSorley's, one of the oldest bars in New York, offering old floorboards. "We were fortunate that happened," Mann said.
"I had a blueprint of what I wanted, vignettes with musicians," Mann said. "Rick is shy and one of the things Carter suggested at that Nashville dinner was, 'What if you had musicians come in and talk to him and that will get him going?' That device was something that worked in [Jarmusch's] Coffee and Cigarettes – which was dramatically scripted of course."
The concept evolved into a rare behind-the-scenes look at who these musicians really are. "I keep going back to Marc Ribot talking about how the film is an invisible history of music that includes the rarely seen relationship of the musician to the instrument maker. It's like Thirty Feet from Stardom. These are the guys – Charlie Sexton played with David Bowie and tours with Bob Dylan," Mann said, his voice trailing off.
At the end of the film, Sexton plays a wistful, light-fingered, country blues tune on the McSorley's Old Ale House instrument that Kelly had crafted out of wood from the legendary Greenwich Village bar. "I love this guitar, Rick; it's got a great vibe," he says. It's an apt description for the documentary itself.
THE CANNES CONNECTION
Of all the films I viewed at this year's Cannes film festival that were intrinsically bound up in their musical subjects or subtexts, Pawel Pawlikowski's epochal love story Cold War, which won Best Director, stood out for its cinematic artistry and fervour. Cold War begins and ends in Poland, with stops in Paris, East Berlin and Split, Yugoslavia as it journeys from 1949 to 1964. Wiktor and Zula's love is deep and true but subject to the political vagaries of the era it inhabits. Both are musicians who meet through music (of which there is a wide variety, from traditional Polish folk to 1950s jazz). Pawlikowski depicts it with rigorous attention to detail. Filmed in stylish, enhanced black and white, with compelling performances by Joanna Kulig and Tomasz Kot, Cold War succeeds at every level.
Zula joins the fictional Mazurek folk ensemble to escape her impoverished background; her talent, charm and drive make her a star. Wiktor, the conductor of the ensemble, is grounded in high culture, a classically trained pianist whose passion is jazz. Once the Stalinist regime uses the ensemble for political ends, Wiktor realizes his only option is to defect to Paris and follow his musical passion.
Pawlikowski based the Mazurek troupe on the famed Mazowsze ensemble, which was founded in 1949 to collect folk songs which were re-worked and performed by singers and dancers dressed in costumes inspired by traditional peasant outfits. And just as the Mazurek ensemble was co-opted by the Polish regime, so too was the Mazowsze, which the authorities saw as a useful weapon against jazz and atonal music.
Pawlikowski cleverly re-fashioned some of the music to give the film a subtle through line. The Mazowsze standard Two Hearts is first heard as a simple country tune sung by a young peasant girl; later it morphs into a jazz number sung in French by Zula in 1950s Paris. The bebop tune Wiktor's jazz quintet plays in a Paris nightclub is based on a traditional dance melody (oberek) first played by a woman on an accordion and then by the Mazurek company. Later in Paris at the piano, Wiktor reworks the oberek and turns it back into Two Hearts. (All the jazz numbers were arranged – and the piano parts performed – by Marcin Masecki.)
The music credits for Cold War are a treasure trove of traditional Polish folk music with almost two dozen excerpts; the jazz side features Coleman Hawkins, Miles Davis, Clifford Brown, Billie Holiday, Ella Fitzgerald and Kulig and Kot doing Gershwin's I Loves You, Porgy. What wraps up this musical odyssey? A few moments of Glenn Gould playing Bach's Goldberg Variations. It's all a not-to-be-missed cinematic experience, due in large part to its crucial musical component.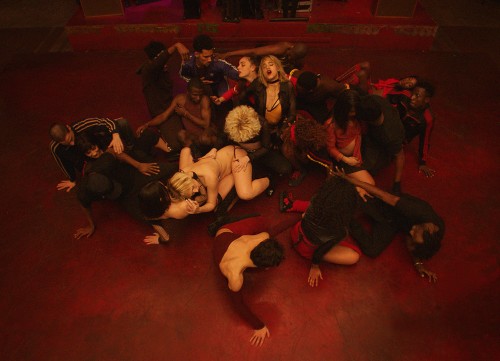 Gaspar Noé's exhilarating new film set in 1996, Climax, won top prize in the Directors' Fortnight sidebar. Filmed in 15 days with a troupe of dancers, it's 45 minutes of exuberance and technical brilliance, shot in long takes, followed by a descent into hell at a party, once the sangria spiked with LSD kicks in. Noé has admitted to always having been fascinated by situations where chaos and anarchy suddenly spread. "My greatest pleasures lie in having written and prepared nothing in advance," he said. "And as much as possible allowing situations to happen in front of me, as in a documentary. And whenever chaos sets in, I'm even happier, knowing that it will generate images of real power, closer to reality than to theatre."
Since you can't have dance without music, choosing it was pivotal. Noé chose music from no later than the mid-1990s, concentrating on tracks that would speak to the widest audience. From Gary Numan's bent take on Satie's Gymnopedies to music by Chris Carter, Cerrone, Patrick Hernandez, Lil Louis, Dopplereffekt, Neon, Suburban Knights, Daft Punk, Aphex Twin, Soft Cell, Giorgio Moroder, The Rolling Stones, Cosey Fanni Tutti and Coh, among others, Climax is an elemental shot of joyous filmmaking.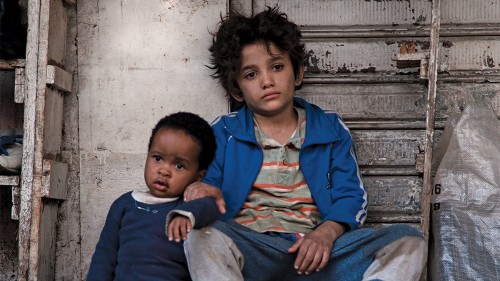 Nadine Labaki's emotionally potent film, Capernaum, about a 12-year-old Lebanese boy who sues his parents for giving him life, won the Jury Prize at Cannes. Her husband Khaled Mouzanar produced the film and composed the score. To fit what Mouzanar called "the poverty and rawness of the subject," he wrote a "less melodic score than usual using dissonant choral melodies that seem to disappear before they can be grasped, as well as synth-based electronic sonorities." Crucially, he chose not to "underline or highlight emotions that were already sufficiently intense."
Birds of Passage, by the filmmaking team behind the remarkable Embrace of the Serpent, is a compulsively watchable saga inspired by true events in the Guajira region of Colombia during the rise of the marijuana export industry (1960-1980). It's a carefully constructed epic where chapters are presented as song titles and stunning music – a combination of traditional instrumentals and contemporaneous pop – contributes in kind.
Ali Abbasi's Border, a Swedish film which deservedly won the top prize in the Un Certain Regard sidebar, benefits from an atmospheric score by Martin Dirkov that moves discreetly from dreamy electronica to joyful swells. Strikingly original, Border follows a female customs officer who can smell what people are feeling, making it easy for her to spot deception of any kind. Her life broadens when she meets a man with similar characteristics who shares her uncanny ability. Then this film about societal outsiders takes a page from Norse mythology and leaps into unseen territory.
In Icelandic director Benedikt Erlingsson's genre-bending dramatic comedy, Woman at War, a middle-aged female choirmaster (with a twin sister) whose adoption request for a Ukrainian four-year-old has just been accepted, is also an eco-terrorist who shoots down power lines with a bow and arrow. And because it's an upbeat movie, she's followed around by a kind of musical Greek chorus consisting of sousaphone, accordion, drums and three Ukrainian singers in traditional costumes.
FILMS WITH A PEDIGREE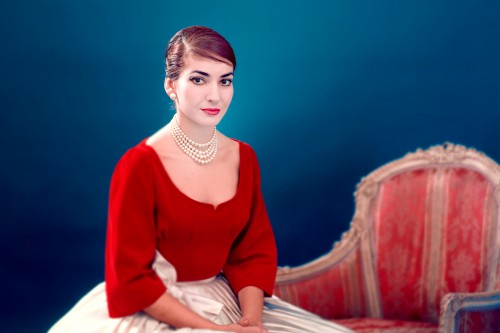 Tom Volf's documentary, Maria by Callas, narrated by Joyce DiDonato, promises fresh insights into La Divina through recently rediscovered writings and interviews with the legendary Greek-American soprano.
Quincy follows 85-year-old legend Quincy Jones as he puts together a star-studded concert for the opening of the National Museum of African American History and Culture in Washington, DC, giving him ample time to reflect on his life and work with such icons as Count Basie, Herbie Hancock, Chick Corea, Dinah Washington, Frank Sinatra, Dizzy Gillespie and Michael Jackson.
For Damien Chazelle's First Man, about Neil Armstrong's moon landing, Chazelle's longtime composer Justin Hurwitz has revealed he's getting away from jazz and old-fashioned orchestral sounds and experimenting with electronic music.
NOT YET VIEWED BUT INTRIGUING CANADIAN FILMS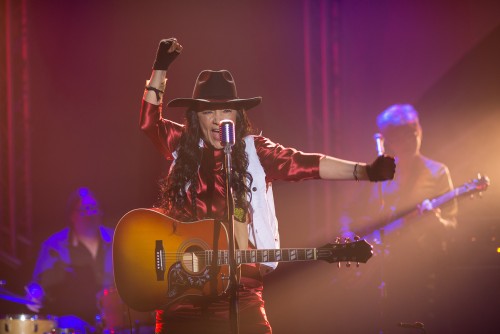 In Darlene Naponse's Falls Around Her, a renowned Anishinaabe musician (the always watchable Tantoo Cardinal) comes home to Atikameksheng Anishnawbek First Nation in Northern Ontario to restore herself after many exhausting years on the road. But it can be tricky to hide from the demands of the outside world. Said to be inspired by Buffy Sainte-Marie.
Gwaai Edenshaw and Helen Haig-Brown's debut feature, Edge of the Knife, the first feature made entirely in the two dialects of the Haida language, uses traditional music to add a note of authenticity to its story. In 19th-century Haida Gwaii, an accident prompts a tormented man to retreat deep into the forest where he becomes Gaagiixiid/Gaagiid ("the wildman").
Igor Drljaca, fondly remembered for his cinematic eye and musical ear in Krivina, has made his first documentary, The Stone Speakers, that looks at the intersection of tourism and ideology in four post-war towns in Bosnia and Herzegovina and features traditional music on the soundtrack.
A tiny section of Part 2 of his Symphony No. 8, that Mahler wrote in relation to the final scene of Goethe's Faust, adds to the fascination of Andrea Bussmann's first feature, Fausto, which she calls "quite experimental." On the Oaxacan coast, tales of shapeshifting, telepathy and dealings with the devil are embedded within the colonization and enslavement of the Americas. Through literature, myth, and local entanglements, the veil between reality and fiction, and the seen and unseen, is lifted, according the film's press kit.
THREE LOTTERY PICKS
Fresh from the Venice Film Festival and featuring a soundtrack full of new music by Australian pop star Sia, Brady Corbet's Vox Lux is an original musical that follows a pop star (Natalie Portman), from her rise to fame after surviving a major school shooting in 1999, to her scandal-plagued, present-day, all-too-public private life.
Vasan Bala's Bollywood genre mashup, The Man Who Feels No Pain, screening in the Midnight Madness section, has a kinetic trailer filled with action and humour set to a rollicking riff on Superfly that demands attention.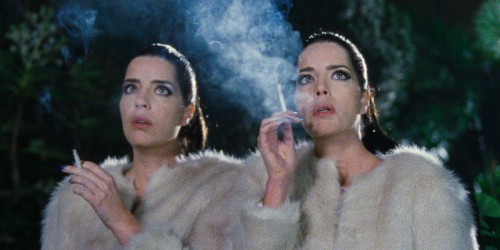 These words by Guy Lodge in Variety about Gabriel Abrantes and Daniel Schmidt's Diamantino are quite a recommendation: "Part loopily queer sci-fi thriller, part faux-naive political rallying cry, glued together with candyfloss clouds of romantic reverie, it's a film best seen with as little forewarning as possible. ... Only in the up-is-down world of Diamantino could Donna Lewis' cream-cheese slab of mid-90s dreampop I Love You Always Forever briefly seem a soaring anthem of the heart. 'Love has reasons that even reason can't understand,' muses Diamantino in voiceover at one point; so does this lovably ludicrous film."
The Toronto International Film Festival runs from September 6 to 16. Check tiff.net for further information.
Paul Ennis is the managing editor of The WholeNote.