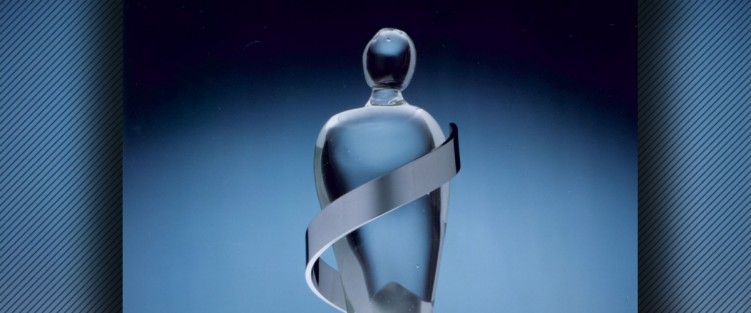 The five composers who have works nominated in this year's JUNO category for Classical Composition of the Year form a formidable group of mid-career Canadian creators: James Rolfe, Alice Ho, Andrew Staniland, Jocelyn Morlock and Vincent Ho. I first met them as emerging young composers through my work at CBC Radio; since then, all have developed into significant artists, shaping the future of Canadian composition. I recently asked each of them to frame their currently nominated piece in the context of their past and current work.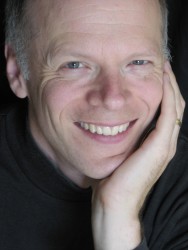 James Rolfe: When I first met James Rolfe (b.1961) he was a prize winner in the CBC/Radio-Canada National Competition for Young Composers in 1990, which I coordinated for CBC Radio. His winning composition, Four Songs on Poems by Walt Whitman for bass voice and piano, revealed early evidence of his gift for writing for the voice. In 1998, his opera Beatrice Chancy, commissioned by Queen of Puddings and the first of his ten operas, at the current count, introduced the vocal world to soprano Measha Brueggergosman.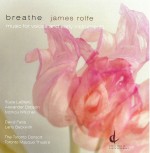 Rolfe's current JUNO-nominated composition Breathe was commissioned in 2010 by Soundstreams Canada. The impetus for the commission was to provide a new Canadian work for Soundstreams to bring together the vocalists in the European group, Trio Medieval, and the musicians of the Toronto Consort, directed by David Fallis. Breathe appears on a Centrediscs release, and also gives the CD its title. Rolfe says the JUNO nomination is welcome recognition for all the great artists who made this CD – writers, singers, musicians and production team. "The three pieces on it are dear to my heart: my collaborations with their writers (André Alexis, Anna Chatterton, Steven Heighton) led me to places I had never been – lyrical, emotional and playful places I still return to in my current work, places I can still find new means of expression, new ways to weave voices together." In addition to Breathe (libretto by Anna Chatterton), the CD includes two dramatic Rolfe works commissioned by Toronto Masque Theatre, Europa (libretto by Steven Heighton) and Aeneas and Dido (libretto by André Alexis).
Towards the end of March, and just a few days after JUNO night, Rolfe's newest opera The Overcoat will have its world premiere at the St. Lawrence Centre in a co-presentation by Canadian Stage and Tapestry. Morris Panych is the librettist, whose book is based on the short story of the same name by the 19th-century author Nicolai Gogol (1809–1852).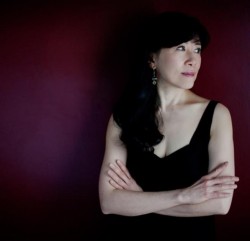 Alice Ping Yee Ho: My first encounter with the music of Alice Ping Yee Ho (b.1960) was in 1994 and during another CBC Radio broadcast of a composers' competition, when we broadcast her orchestral work, Ice Path from the Winnipeg Symphony Orchestra's (WSO) New Music Festival. Ho's work was a finalist in the WSO Canadian Composers' Competition, and her music already bore the trademarks of her vividly colourful style.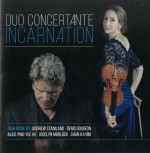 Ho's Glistening Pianos was nominated in the 2015 JUNO Classical Composition of the Year category, and her duo for violin and piano, Coeur à Coeur, is nominated in that same category this year. The work was written especially for the husband-and-wife team, Duo Concertante: violinist Nancy Dahn and pianist Timothy Steeves. Ho explains: "The idea of the commission came at a sushi dinner in Toronto, with the idea of a composition about Nancy and Tim's life. Their beautiful story of two lovers and artists struggling and pursuing their dreams is real and inspiring. The element of writing from the heart becomes something I cherish in my ongoing works, regardless of styles or genre." The recording is on a CD titled Incarnation on the Marquis label.
Alice Ho recently completed a children's opera with librettist Marjorie Chan, The Monkiest King, to celebrate the 50th anniversary of the Canadian Children's Opera Chorus. Public performances of the opera will be at the Lyric Theatre, Toronto Centre for the Arts on May 26 and 27. Ho's most recent recording will be launched shortly after JUNO night. It's a CD of her chamber music titled The Mysterious Boot, featuring flutist Susan Hoeppner, cellist Winona Zelenka and pianist Lydia Wong on the Centrediscs label.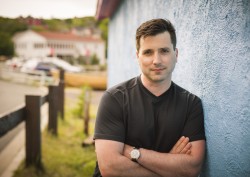 Andrew Staniland (b.1977) was the second winner of the Karen Kieser Prize in Canadian Music at the U of T Faculty of Music in 2003 for his composition for clarinet, cello and electronic sounds, titled Tapestry. From its inception in 2002, a component of the Kieser prize (for the first ten years it was awarded) was a broadcast of the winning work on CBC Radio Two. This was how I met Andrew. Just a few years later, in 2009, he became the Grand Prize winner in the first and only CBC/Radio-Canada Evolution Young Composers Competition at the Banff Centre.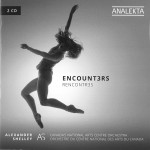 Last year, Staniland's Dark Star Requiem (with librettist Jill Battson) was nominated in two JUNO categories: Best Classical Album, Vocal or Choral; and Classical Composition of the Year. This year he's once again nominated in that latter category for his ballet score, Phi Caelestis. The ballet was commissioned by the National Arts Centre for Alberta Ballet and choreographer Jean Grand-Maître. It's one of three new ballets created through an initiative called Encount3rs that paired three composers, three choreographers and three ballet companies. All three ballets have been recorded on an Analekta CD titled Encount3rs Rencontr3s. Staniland had this to say about the nomination: "Phi Caelestis is a work that is very dear to my heart, as it represents one of the most rewarding collaborations I have ever experienced involving choreographer Jean Grand-Maître, conductor and artistic director Alexander Shelley and the National Arts Centre Orchestra. Further, I have much admiration and respect for each and every one of my fellow nominees, which makes this nomination extra special. We have wonderful composers in Canada!"
Staniland told me his next project is "to compose a new piece for five choirs! The premiere is at Podium in St. John's on Canada Day 2018. But this month I am extra excited about the upcoming Newfoundland and Labrador tourism campaign, a part of which
I wrote the music for. The video, featuring the Newfoundland Symphony Orchestra, will be released in March and it looks absolutely superb. I can't wait to share it."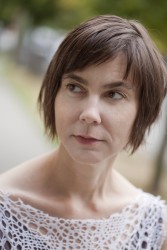 Jocelyn Morlock (b.1969) came to prominence in 2002 when we submitted her Lacrimosa as CBC Radio's entry to the International Rostrum of Composers in Paris. Lacrimosa was voted one of the top ten works presented that year, and it was subsequently broadcast in over 20 countries. In 2003 she received the Canadian Music Centre Prairie Region Emerging Composer Award at the WSO New Music Festival. In 2004, the Vancouver vocal group Musica Intima commissioned her work, Exaudi for solo cello and voices, for performance with the renowned British cello soloist, Steven Isserlis. The recording of the work on the ATMA label garnered a JUNO nomination for Classical Composition of the Year in 2011. In 2014 Morlock became composer-in-residence with the Vancouver Symphony Orchestra (VSO).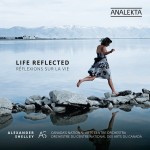 This year, Jocelyn's JUNO nomination for Classical Composition of the Year is for a recording with the National Arts Centre Orchestra (NACO) on the Analekta label on a disc called Life Reflected. Her work is titled My Name is Amanda Todd. Morlock told me, "My Name is Amanda Todd is very different from my other work in some ways. It is a very specific piece about the strength and power of a young woman in the face of cyberbullying, and it is a collaboration with maestro Alexander Shelley and the NACO and with Amanda's mother, Carol Todd. It was my intent to write music that could show how bright and wonderful a person Amanda was, rather than only focus on the idea that she was just a victim, because she was so much more than that. Amanda, and her mother Carol (who founded the Amanda Todd Legacy and works tirelessly to promote awareness around cyberbullying, internet safety and mental wellness), are heroes." The work was commissioned by NACO as part of a full program of multimedia works reflecting on the lives of four heroic Canadian women and their journeys to find their individual voices. Morlock said: "What My Name is Amanda Todd has in common with my other work is my desire to connect with listeners on an emotional level."
Morlock is currently completing two commissions, one from the Vancouver Cantata Singers and the other for the VSO. The latter work, O Rose, will celebrate Bramwell Tovey's final concert as VSO music director this June, and will share that concert with the Mahler Resurrection Symphony.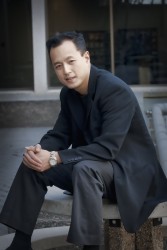 Vincent Ho (b.1975) was studying for his master's degree at the University of Toronto Faculty of Music, when his String Quartet No.1 was presented at the Massey Hall New Music Festival and broadcast on CBC Radio Two in the year 2000. The recording we made for that broadcast on the CBC Radio Two network program, Two New Hours, was leased by Skylark Music and became part of Ho's debut CD in 2007. This was the same year that Ho became composer-in-residence for the WSO. He held that post for seven years, a prolific time for him, as he produced several important works, including his Arctic Symphony and The Shaman, a concerto for the acclaimed Scottish percussionist Dame Evelyn Glennie, and orchestra. In 2009 he won the Audience Prize in the CBC/Radio-Canada Evolution Competition for Young Composers for his work Nature Whispers.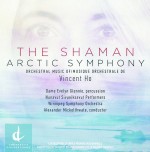 The WSO, conductor Alexander Mickelthwate, Dame Evelyn Glennie and the Nunavut Sivuniksavut Performers recorded the Arctic Symphony and The Shaman for broadcasts on CBC Radio Two. Those broadcasts were leased by the WSO, remastered for Centrediscs, and released last year. That release is nominated in the category of Classical Album of the Year: Large Ensemble, and Ho himself is nominated in the Classical Composition of the Year category for The Shaman. Ho says, "Being nominated for a JUNO is a tremendous honour for any Canadian musician. It means I am being recognized for my work. For me, there are two kinds of recognition: external and internal. This upcoming JUNO event is an external recognition, and for that I am extremely honoured. When something like this happens it makes me stop and reflect on the long journey that brought me here. This is where the internal recognition comes in. As an artist I am very process-oriented, meaning that my creative work is an ongoing journey of self-discovery and growth manifested in musical form."
Ho comments about the work itself, "The Shaman was written seven years ago and it was the product of my musical thinking and circumstances surrounding my life at the time – I was in my third year as the WSO's composer-in-residence, it was my first concerto for an internationally recognized artist, and my career was just starting off. Due to the importance of the commission, I put my heart and soul into the creation of the work, aiming to deliver the best possible product I could create."
Ho is currently the new music advisor to the Calgary Philharmonic Orchestra and the Artistic Director of Land's End Ensemble. He continues to be busy with numerous commissions.
The JUNO jury will select one Classical Composition of the Year for 2018; all five of these Canadian composers have done the work to be worthy of the accolade.
David Jaeger is a composer, producer and broadcaster based in Toronto.