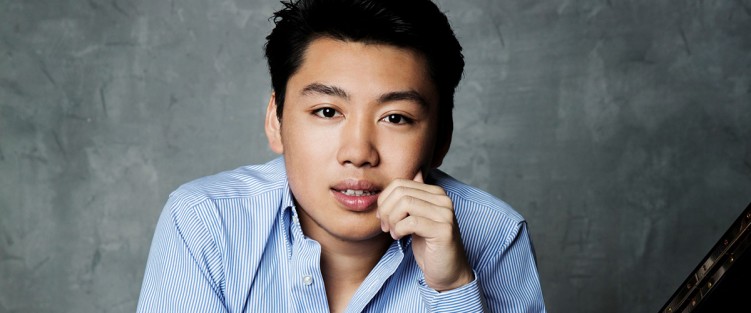 The 2015 International Tchaikovsky Competition produced a motherlode of talent, sparking concert careers by each of its top four prizewinners. This past March, Show One Productions brought gold medallist Dmitry Masleev to Koerner Hall; on February 4 they will complete the Koerner circle with George Li's recital there. Boston-born Li – the son of Chinese immigrants – shared second place with Lithuanian-Russian pianist Lukas Geniušas, whom Show One presented in a memorable 2016 Koerner Hall concert with fourth-place winner Lucas Debargue of France.
A student of English Literature at Harvard now in his fourth year, Li explained in an email exchange with me in mid-November that his non-musical studies have affected his approach and led to a deeper understanding of the music he plays, echoing what he told the Harvard Gazette in September 2016: "With music, there's a balancing of different qualities and you have to have control and finesse and technique. There's always a fine line between too much control and technique with being overly emotional, overindulgent. With literature, it's not always an outpouring of emotion. It never goes overboard. It's on the cusp of going overboard, but it never does."
Elsewhere in this issue in his Editor's Corner, DISCoveries editor David Olds calls Li a "fabulous young performer" in his review of Li's debut CD, Live at the Mariinsky.
WN: How important a role did music play in your home growing up?
GL: It was definitely a big part of my life ever since I was little. I was always surrounded by music, whether it be listening to the classical radio station, going to concerts to hear the BSO, or recitals in Boston, or listening to my sister practise.
How did you come to start playing the piano? How old were you?
I started when I was about four years old, and much of how and why I started was due to the things that I mentioned above. Because music played such a big part in my life from a young age, it almost became inevitable that I would try it out, and I haven't stopped since!
Who was the first composer you fell in love with as a child?
I remember becoming obsessed with the Moonlight Sonata for a period of time, as well as Prokofiev's Concerto No. 3, so I suppose Beethoven and Prokofiev.
Who were your musical heroes in your formative years?
When I was in my teens, I listened quite a bit to pianists in the Golden Age of playing, so I really idolized Cortot, Horowitz, Gilels and Richter. I also started listening to a lot of orchestral music, so conductors like Abbado and Kleiber gave me great inspiration as well.
Do you feel a particular kinship to any pianist (or musician) living or dead?
I connect especially with Horowitz, because of his magical abilities with the piano; the amount of colour and character in his playing is astounding, and he's also unafraid of taking risks.
When did you feel that you would devote your life to music?
I think I started realizing that I would fully immerse myself in music when I was 12 or 13. It was actually at a concert I was playing then when I realized how powerful music is, and what a transformative experience it was to be able to perform onstage. Since that concert, I decided I would fully dedicate myself to music.
Your upcoming Toronto recital mirrors your first CD, Live at the Mariinsky. What went into choosing the repertoire for it?
There were several reasons, but the most important for me was that I felt that there was a strong arc throughout the program. Although each piece is of a totally different style and from a different period, there is also a fluidity throughout; each piece flows naturally into the next in terms of tone and character. For example, in the first half of the CD, the Haydn sonata – which contains a nuanced tinge of darkness and tragedy – flows quite naturally into the turbulent, dramatic tragedy that is the Chopin Sonata No.2.
You concluded the program of your Toronto debut with Music Toronto in December 2012 with the Liszt Consolation No.3 and Hungarian Rhapsody No.2, both of which also conclude your first CD and Koerner Hall concert. What is the attraction these pieces have for you and how has your approach to them evolved over the years?
Liszt has been a favourite composer of mine throughout the years, and these two pieces especially have been a part of me for a long time. I especially appreciate that Wagnerian drama and the operatic references that he often implements, and while we don't exactly hear Wagner in the Rhapsody, I nonetheless try to highlight the drama and the variety of colours that I do hear throughout the piece.
Are there any particular pieces, orchestral or chamber, that never grow stale for you?
Beethoven's Seventh Symphony, Mahler's Second Symphony and quite recently Debussy's Prélude à l'après-midi d'un faune have been a few of the orchestral pieces that I've been listening to incessantly.
Paul Ennis is the managing editor of The WholeNote.