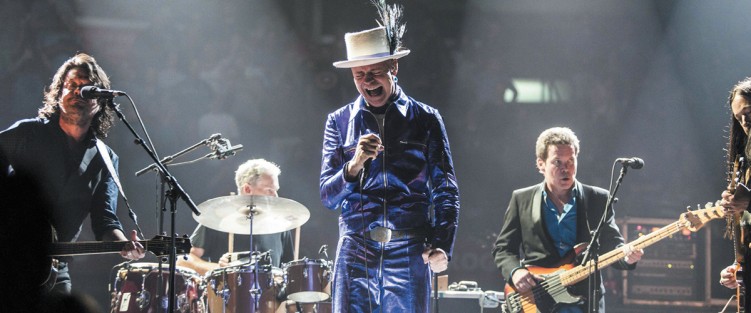 The WholeNote's sixth annual guide to the Toronto International Film Festival (TIFF) takes a look at 20 of the films in TIFF's 42nd edition, in which music plays a notable role. After sleuthing through the credits of many of the 255 features in the program and previewing 14 of them, what follows represents a cross-section of titles that music lovers with a taste for cinema can use as a guide.
Long Time Running: As Jennifer Baichwal said at the TIFF Canadian films' press conference earlier this month, when she and Nicholas de Pencier made the seminal doc Manufactured Landscapes they never imagined they would ever film a rock tour. But filming The Tragically Hip's final tour proved to be an intense and emotional experience for them. When it was announced last year that singer Gord Downie had been diagnosed with terminal brain cancer, it seemed as though the 30-year career of that quintessential Canadian band was over, but Downie convinced his bandmates to go on tour. Long Time Running captures the exhilarating result.
Singular Performers: There is a handful of music documentaries this year that focus on singular performers of popular music. Programmer Thom Powers describes Lili Fini Zanuck's Eric Clapton: A Life in 12 Bars (the title couldn't be more apt) as "an intimate, revealing musical odyssey" about the blues-influenced guitar virtuoso. Powers writes that Sophie Fiennes' Grace Jones: Bloodlight and Bami, filmed over the course of a decade, "offers a stylish and unconventional look at the Jamaican-born model, singer, and new wave icon." Sammy Davis, Jr. was a dancer, singer, impressionist and actor of unparalleled charisma who, according to Powers, "began dazzling audiences at age three and never stopped until his death at 64." Sam Pollard's Sammy Davis Jr.: I've Gotta Be Me shows how he "broke racial barriers and defied societal norms around interracial romance, religion and political affiliation but paid a heavy price. If you've never beheld Davis in action," Powers writes, "prepare to gasp in awe and delight."
Child of Arc: French director Bruno Dumont calls his bizarre new film, Jeannette, the Childhood of Joan of Arc, a cinematographic opera since it takes the writings of Charles Péguy (1873-1914) with his socialist world view and fervent Catholicism and sets them to music arranged by French composer/performer Igorrr (whom Dumont describes as "an experimental electro multi-instrumentalist who can switch in a second from Scarlatti to heavy metal.") The focus is on Joan's spiritual questioning and political awareness, first as a winsome eight-year-old (Lise Leplat Prudhomme), then as a mature thirteen-year-old (Jeanne Voisin). It's often surreal, sometimes blasphemous but overwhelmingly devotional as Dumont manages to have his satirical cake and (reverently) eat it too. Not to be missed: a nun played by twins (Aline and Elise Charles) singing evocatively and dancing awkwardly about her love for the Holy Spirit. Dumont was so impressed by the twins' musical talent that he asked them to compose most of the songs in the film. As to Dumont's own musical taste: "After Fauré come Brel and the Rolling Stones, and then I can skip on until Igorrr."
Lanthimos: There is no more rigorous filmmaker working today than Yorgos Lanthimos. Always compelling, sometimes outrageous, in The Killing of a Sacred Deer – an unsettling, gripping homage to Greek tragedy in which a 16-year-old boy (Barry Keoghan) whose father died on the operating table takes revenge on a cardiac surgeon (Colin Farrell), with dire consequences – he again creates a singular universe with its own internal logic. Everything in the film, from the most mundane to the most crucially relevant, is spoken in a flat, matter-of-fact, otherworldly tone. Which only adds to impact of the horror as Lanthimos deliciously explores his premise and doubles down on his attack on the hypocrisy and smugness of the bourgeoisie.
The majority of the music on the atmospherically striking soundtrack was sourced by Lanthimos himself. Following the sepulchral opening chorus of Schubert's Stabat Mater D383 the film plunges into the unearthly tones of Gubaidulina's Rejoice! (for violin and cello). Other Gubaidulina works used include the evocative bayan (Russian accordion) pieces, Sonata "Et Expecto" the ominous De Profundis and Fachwerk for Bayan, Percussion and String Orchestra.
Past the midway point, Ligeti joins in with large excerpts of his early Cello Concerto and the second movement (Lento e Deserto) of his Piano Concerto, both of which reinforce the ominous events unfolding onscreen. Greek composer Jani Christou's atonal orchestral work Enantiodromia also supports the director's vision. Herr, unser herrscher from Bach's St. John Passion plays its special part as does the Waterboys' catchy How Long Will I Love You. Rarely has a soundtrack of sourced classical music been as integral to a film's mood as this one.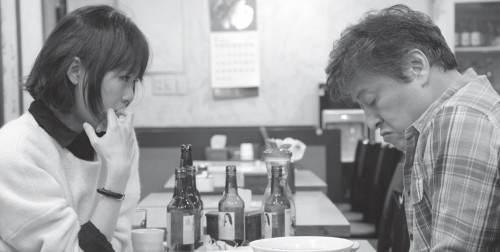 The Day After: By contrast, the only music in Hong Sangsoo's perfectly crafted little gem about male-female relationships, The Day After, is a simple melody composed by the director himself. But whether used as a bridge between scenes or as subtle emphasis to one of several revealing conversations, it makes an essential contribution to this tale that is elegantly shot in glorious black and white.
Buzzed About at Sundance: One of the most buzzed-about films at this year's Sundance Film Festival was Luca Guadagnino's Call Me By Your Name, a love story starring Armie Hammer and Timothée Chalamet that has been compared to Moonlight. Guadagnino is another director who likes to curate the soundtracks of his films. This one includes tracks by John Adams, Ryuichi Sakamoto, Satie and Ravel, as well as a song by Sufjan Stevens created specifically for the movie. In addition, Chalamet performs Bach's Capriccio on the Departure of his Beloved Brother on guitar and piano. The movie is set in the 1980s so a lot of period Italian pop music (including Giorgio Moroder's Lay Lady Lay) can be heard on the radio and Hammer dances to the Psychedelic Furs' Love My Way. "It's kind of autobiographical, because I remember listening to that song when I was 17 and being completely affected by it," says Guadagnino. "I wanted to pay homage to myself then."
High praise for Vega: A Fantastic Woman, Sebastián Lelio's follow-up to his fondly remembered Gloria, has already generated high praise for its star, the trans singer/actress, Daniela Vega. Guy Lodge touched on the film's music component in Variety: "The light hot-and-cold shiver that characterizes [the film] sets in from the first, head-turning notes of the score, a stunning, string-based creation by British electronic musician Matthew Herbert that blends the icy momentum of vintage Herrmann with spacious gasps of silence. This disquieting soundtrack plays enigmatically over the film's opening image of cascading waters at the spectacular Iguazu Falls on the Argentine-Brazilian border — a projection, we come to learn, of a romantic vacation that will never take place.
"Music, too, is ingeniously used to define her [Vega] from either side of the looking-glass: Lelio pulls off a daringly literal song cue in Aretha Franklin's (You Make Me Feel Like) A Natural Woman at a point when his protagonist most requires such blunt self-assertion, while the character's own high, ethereal rendition of Handel's Ombra mai fu later on amounts to an act of regenerative grace."
Herbert also composed the score for Lelio's other film in the festival, Disobedience, adapted from Naomi Alderman's novel about a woman (Rachel Weisz) who returns home to her orthodox Jewish community in London and rekindles a romance with her cousin's wife (Rachel McAdams).
Seven Suggestions: A new film by François Girard, the director of Thirty Two Short Films about Glenn Gould and The Red Violin, always gets our attention. We're giving a special look to Hochelaga, Terre des Âmes, not only because of its ambitious subject matter (the history of Montreal spanning 750 years) but because the soundtrack is credited to minimalist avatar Terry Riley and his guitarist son Gyan.
Kim Nguyen, whose powerful earlier film, the Oscar-nominated War Witch still resonates, has filled the soundtrack of his new film, Eye on Juliet, with music by Timber Timbre, the masters of reverb, spooky synths and evocative vocals that seem to come from a deep emotional space. With the exception of one or two songs from their previous albums, they wrote new music specifically for Eye on Juliet, described by programmer Steve Gravestock as a "distinctive romance set in a time of surveillance, terrorism and prejudice."
Writer/director Sadaf Foroughi uses excerpts from the classical music canon on the soundtrack of her first feature AVA, about a 16-year-old upper-middle class girl in Tehran whose stifling relationship with her parents fuels her rebelliousness. Boccherini's charming Minuetto from String Quintet in E Major, OP.11, No.5 is one of the most famous examples of Baroque gentility. Vitali's Chaconne in G Minor contains some of the most divine Baroque violin music ever written. And Purcell's The Cold Song from his opera King Arthur is a truly chilling work. It will be interesting to see how Foroughi works them into her film.
According to Fat Cat Records, Montreal-based Olivier Alary (who wrote the score to Carlos and Jason Sanchez's psychological thriller A Worthy Companion) "explores the grey areas between noise and musicality and likes to blur the boundaries between what is acoustic and what is generated electronically."
Toronto-based Ingrid Veninger turns her lens on the friendship between two young teenage girls in Porcupine Like, which has a soundtrack consisting entirely of 17 tune-worthy songs by Carlin Nicholson and Michael O'Brien most of which are performed by their retro indie band Zeus.
Canadian film programmer Magali Simard describes Black Cop as having a free form jazz feel and a number of songs that stand out. On his website, composer Dillon Baldaserro describes his style as a "combination of acoustic, orchestral and electronic elements to create an emotional and thematic soundscape that first and foremost communicate a feeling and a narrative."
Maggie Lee (in Variety) calls Mouly Surya's Marlina the Murderer in Four Acts "the first Satay Western." She singles out Zeke Khaseli and Yudhi Arfani "for their exceptional score, which grasps the spirit of Morricone then reinvents it with original Indonesian elements, such as the soulful folk songs in Sumba dialect that the bandits sing or their use of local instruments."
And By Reputation: Other films that look promising based in part on the name recognition of their composers include:
Kings, soundtrack by the team of Nick Cave and Warren Ellis, is the first film in English (starring Halle Berry and Daniel Craig) by Deniz Gamze Ergüven following his acclaimed Mustang;
Lady Bird, soundtrack by Jon Brion (who's worked with Paul Thomas Anderson, David O. Russell and Charlie Kaufman), is Greta Gerwig's highly anticipated directorial debut;
Three Billboards Outside Ebbing, Missouri, soundtrack by Carter Burwell (who's scored all but one of the Coen brothers' films and all but one of Spike Jonze's films), is Martin McDonagh's eagerly awaited follow-up to In Bruges and Seven Psychopaths.
We'll give the last word, for now, to Burwell: "There's just too much music in movies," he says. "Almost always more than I think there should be. It's either lack of confidence on the part of filmmakers or a tradition of scoring things. It's always better to have less than to have more."
The Toronto International Film Festival runs from
September 7 to 17. Check tiff.net for further information.
Paul Ennis is the managing editor of The WholeNote.