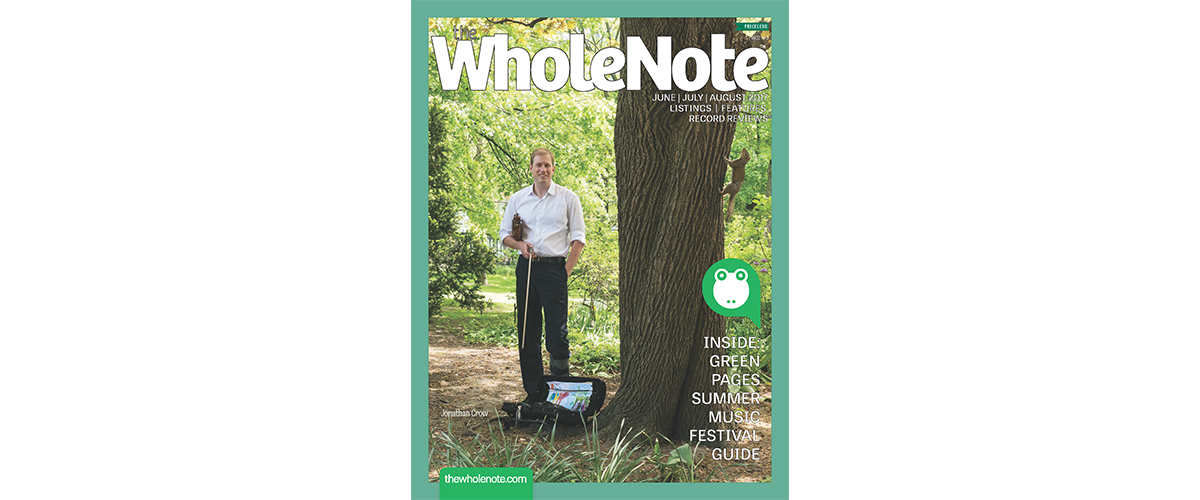 "One of the advantages of playing a string instrument is getting the chance to perform with friends basically from day one. I can't actually remember a time playing the violin where I wasn't playing in ensembles of some sort. This is one of the things that kept me going in music - I didn't want to lose out on hanging out with all my friends!"
- Jonathan Crow, We Are All Music's Children, September 2012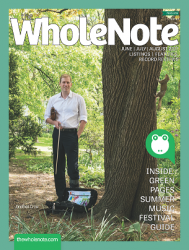 Is Toronto Summer Music (TSM) going to be an excuse for you to hang out with friends? It was a question that came up early in The WholeNote's soon-to-be-posted podcast with TSO concertmaster, New Orford String Quartet violinist and U of T associate professor Jonathan Crow, who was in our studio to speak with us mostly about his new role as the third artistic director of TSM.
"Absolutely!" he said. "It's all true. When I was a kid the social aspect of making music was what I loved." It's clearly still true today; whether playing orchestral or chamber music, Crow loves the interaction. "You can learn so much from other people."
The fact that his first TSM season in charge turned out to be Canada's sesquicentennial could have been a a bit of a headache curatorially for Crow, had the festival stood on its head to make Canadian music the primary focus. But the chamber-music friendship factor turned what might have been a headache into, in his words, "kind of a no-brainer."
There were a lot of top Canadian performers he already wanted to get for the festival, he explains, and the "sesqui thing" gave him the chance: Andrew Wan (OSM concertmaster and New Orford String Quartet violinist); Nikki Chooi (newly named concertmaster of the Metropolitan Opera Orchestra - "one of the biggest violin jobs in the world"); Desmond Hoebig (the last cellist of the Orford String Quartet); and Joseph Johnson (TSO principal cellist), who has made Canada his home.
"The idea became to make this a big celebration, to bring back Canadian artists - somebody like Martin Beaver, who's one of Canada's greatest violinists. Ever. But who happens to live in the States for many years now…he should be a mainstay on every single concert stage in Canada.
"In an interesting way, Canada's a very, very big country, but it's a very small musical world. So Desmond is somebody that I knew of growing up - he always taught at Scotia Festival, and my wife is from Halifax…he was one of Canada's great, great cellists of all time, and he was principal of the Cleveland Orchestra, and has had a huge career. But, because he's very busy, is not back as much as he would like. We're thrilled that he was able to have some time in the summer to come play with us."
Hoebig and Johnson, he tells us, will play the cello parts in Schubert's Quintet in C Major, the centrepiece of July 28's "String Extravaganza" concert. Violinists Wan and Chooi along with violist Steven Dann complete the starry quintet. "It's really the pinnacle of all chamber music," Crow said. "It's the scope. When people talk about Schubert's heavenly length, somehow this piece doesn't feel too long. It feels epic. And it feels at the end that you've really gone somewhere."
Crow himself is playing with Hoebig two days earlier in Dvořák's Piano Trio in F Minor Op.65. Crow will take the violin part with Angela Park on piano. "It's a little bit selfish, but I just love that piece so much." He elaborates when I ask what it is that he loves about it: "The tunes. I love Dvořák for sure but there's something about piano trio tunes that you just feel that you have so much freedom…to be soloistic on the spur of the moment."
It's interesting to hear him describe the subtleties in what can be characterized as TSM's string-centric program this year. (For example, the festival opens July 13 with the St. Lawrence String Quartet playing selections from their 1992 Banff International String Quartet Competition win; then the competition's most recent winners, the Rolston String Quartet, echo them in the July 24 recital of selections from their winning Banff program.)
He talks about the effect the St. Lawrence's playing had on him as a student hearing a Bartók string quartet [the Third] for the first time. "I had no idea you could do that on a violin," he says. And on the topic of the repertoire for that opening concert: "I think for the audiences here to see Haydn [Op.20 No.2], who basically invented the quartet, Beethoven [Op.131], who perfected it, if you will, and then [R. Murray] Schafer [Quartet No.3], who followed in their footsteps…to have a chance to hear three of the great, great quartet writers of all time all together and see how that program connects, I think is wonderful."
As it matures, TSM is evolving steadily into much more than just a series of mainstage concerts, and Crow is eager to talk about these developments. There is the new Kids Concerts program which will be offered for free at 10am on each Wednesday of the festival. "It's not going to be different people playing the kids concerts: James Ehnes is going to play," he says. "It's interesting for kids to see where the people onstage got their inspiration."
He's also excited about the so-called reGENERATION concerts, in which fellows from across the world are put together with a guest mentor in a chamber-music setting; each piece is worked on for a week, and then it's performed. "The idea that you can get to see someone who's doing it for the first time and learning what it's like doing it for the first time - for me, that's amazing," Crow says.
"I also love the open classes because you get to see the way people think about music," Crow says about the Sunday Public Masterclasses that will be given by James Ehnes, Soile Isokoski and pianist Jane Coop. "We see him [Ehnes] on stage; we see what he has practised. But it's always interesting to get inside the head of someone like Jimmy and then see what he is actually thinking," Crow said. "You can see that when he teaches somebody else; you can see how he reacts to what they do."
Other highlights (all talked about in the podcast): Anton Kuerti will be the subject of a tribute he helped curate with one of his best-known former students, Jane Coop. According to Crow, they created a program of what Kuerti liked and was known for, pieces that epitomize him as a person and a performer. For Crow, "Anton [is] a huge Canadian presence, kind of an iconic figure in the history of music in Canada;" and in a nod to TSM's art-of-song origins, mezzo-soprano Julie Nesrallah has created a program of mini-operas (a lot of Carmen a little bit of Thaïs, and other gems), which she will host and perform in along with TSM alumna Danika Lorèn, tenor Roger Honeywell, bass Gary Relyea, pianist Robert Kortgaard and violinist Nikki Chooi (who will perform Franz Waxman's crowd-pleasing Carmen Fantasy).
To hear the full conversation with Jonathan Crow, or any of our other podcasts, search for "The WholeNote" in your favourite podcast app, or go to TheWholeNote.com/podcasts.
Toronto Summer Music runs from July 13 to August 5 in Koerner Hall, Walter Hall and the Church of the Redeemer.
Paul Ennis is the managing editor of The WholeNote.