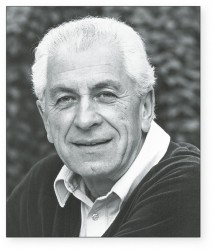 A long-awaited and impressive new Centrediscs CD filled with distinctive orchestral compositions by Harry Freedman (1922-2005) will be launched Friday, February 10, at Chalmers House, the national headquarters of the Canadian Music Centre. Freedman was a master of orchestration, an art that was informed by the 25 years he served as English horn soloist in the Toronto Symphony Orchestra (1945-1970). He wrote for many other genres, including art song, ballet, chamber music, choral and film music, as well as incidental music for the theatre. But his orchestral music contains much of his very finest work, creating a canon of compositions that is not only large, but also diverse, both in style and creative approach. This Centrediscs compilation of Freedman's orchestral works displays five vivid examples of his imaginative takes on orchestral composition, all beautifully recorded in live performances for broadcast on CBC Radio. The new CD is titled Harry Freedman: The Concert Recordings.

In 2002, in a broadcast interview on the national CBC Radio Two series I created, Two New Hours, Freedman spoke of how his skill with orchestration had developed during his time with the TSO. He told program host Larry Lake, "You're sitting in the middle of an orchestra. Anything you hear that strikes your ear, thinking, 'Oh wow, how'd he do that?', well you can just go find out how he did it – there's a score sitting right up on the conductor's podium. And when I was writing and had a problem with, say something for the trombone, I could go to the trombonist and ask, 'Can you do this? What if you did this? Would that be OK?' And you find out so many things in the orchestra you just can't get from reading an orchestration text. There's no better way to learn." Largely as a result of all this practical experience, Freedman's orchestral compositions show refinement and sophistication and are stunningly effective works in the Canadian repertoire.
Many of Freedman's works were the result of commissions from CBC Radio Music. I remember the first time I commissioned him, in 1977. The occasion was the approaching 50th birthday of Freedman's good friend, the famous baritone saxophonist, Gerry Mulligan. Freedman himself was approaching his 55th birthday, but his point was, he wanted to compose a concerto for Mulligan to celebrate the soloist's own half century milestone. Harry and I discussed the project, and I checked with Radio Music senior managers to get their support for the idea. They liked the concept of a concerto for Mulligan and orchestra and we went ahead with it. The hidden factor in this conversation was that, at this very time, I was preparing to launch Two New Hours, the new national contemporary music series on what was then called the CBC FM Network (and eventually CBC Radio Two.) We knew we would need plenty of content to support a weekly network series in which everything would be new. Freedman, who was president of the Canadian League of Composers at the time, was well aware that these plans were in the works, and he was pleased to be one of the earliest collaborators with the new series.
The premiere of Celebration, Freedman's new concerto for Mulligan, was at Hamilton Place in September 1977, during what was called the CBC Hamilton Festival. The late Howard Cable (1920-2016) was engaged to lead the orchestra, which we called the CBC Hamilton Festival Orchestra but was largely made up of the members of the Hamilton Philharmonic. The chemistry between Freedman, Mulligan and Cable was wonderful and the premiere of the new concerto went famously. According to Walter Pittman (writing in Music Makers, his 2006 biography of Freedman and his wife, soprano Mary Morrison), Mulligan subsequently performed Freedman's Celebration, "around the world." Celebration was released in 2002 on the Ovation series on CBC Records.
Jazz also constituted no small part of Freedman's musical language. On the new Centrediscs CD this is reflected in Indigo, which CBC Radio commissioned in 1994 for the Manitoba Chamber Orchestra. Although it was scored just for the strings of the MCO, Freedman's deft and subtle inflections echo a wide palette of jazz sonorities, and show how well Freedman understood the intricacies of string writing.
In contrast, Freedman's 2000 composition Graphic IX: For Harry Somers uses strings to evoke a succession of expressive textures that reference his close friendship with Somers, who died in 1999. In the interview with Larry Lake mentioned earlier, Freedman, a lifelong student of painting, shared the story of the memory that triggered Graphic IX. He said, "Somers came over one day. I was practising Japanese sumi-e painting, particular strokes. He was watching and was amazed at the brush I was using, a sumi-e brush, made from the hairs of a male Manchurian wolf. And you can do so many different things with that one brush: you can make some very thick textures, what they call 'broken ink,' or, depending on how much water and ink there is in the brush, you can make a fine point and draw a hairline, so versatile that one brush. And he was looking at me and he said, 'That's just like your music, it's all about the textures.' Harry, he recognized it: he had that kind of perception."
I was also involved with commissioning the last of the works Freedman wrote as a CBC Radio Music Commission, a large composition titled Borealis, in 1997. Borealis combined the forces of the Toronto Symphony Orchestra, the Danish National Radio Choir, the Swedish Radio Choir, the Elmer Iseler Singers and the Toronto Children's Chorus, all under the direction of conductor Jukka-Pekka Saraste. These combined forces surrounded the audience, from the ground floor up into the various levels of balconies ringing the ten-story Barbara Frum Atrium in the Canadian Broadcasting Centre. The occasion for this commission was our collaboration with the Northern Encounters Circumpolar Festival of the Arts, organized by Soundstreams Canada. The effect of the music was stunning. Harry Freedman himself considered it one of his finest achievements in writing for large-scale musical forces. He called it "a summation."
We subsequently presented Borealis to the International Rostrum of Composers (IRC) in Paris in 1998, where it was voted fourth overall among the submissions by the delegates from public radio services in 30 countries around the world, leading to broadcasts in all those countries. Harry was very pleased with this accomplishment, comparing it to the experience of "being shortlisted for the Booker Prize." He pointed out that, in the big international competitions, "[the] shortlisted works receive just as much attention and visibility as the eventual winners."
Now that Borealis has been included in this new Centrediscs Freedman compilation, many more listeners can marvel at its sonic brilliance. The sense of soaring space in the Barbara Frum Atrium was wonderfully captured by the engineers in our Two New Hours production team. And the fact that Freedman responded to the opportunity to write such a work for just such a big international occasion, with all the creative might he possessed is one of those miracles of Canadian artistic achievement.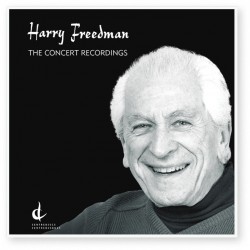 It's significant that two of the works in this new CD (Borealis and Freedman's iconic 1960s masterpiece Images) are performed by the TSO, an orchestra he knew intimately. Two other compositions, Graphic IX: For Harry Somers and Manipulating Mario are represented in performances by Toronto's Esprit Orchestra and their founding music director and conductor, Alex Pauk, with whom Freedman had a close relationship. Pauk commissioned several of Freedman's orchestral compositions and frequently programmed his music on Esprit Orchestra concerts. The performance of Indigo was by The Composers Orchestra, under conductor Gary Kulesha, recorded in Glenn Gould Studio.
The five compositions in Harry Freedman: The Concert Recordings are all different in style, construction and message. This fact alone is indicative of the remarkable breadth of Freedman's musical output. We hear, at various points, the sounds of jazz, impressionism, modernism, minimalism and many more textures and colours, all blended perfectly to serve his expressive purpose. Freedman was at ease with the music of many cultures around the world and he was always open to fresh musical discoveries. He was both an innovator and an artist who could unite different aesthetic trends.
For the more than 30 years that we were colleagues, Freedman and the orchestras who played his music fuelled an ongoing stream of broadcasts on Two New Hours. But Harry was also my friend. I respected him for his prolific creativity and we enjoyed working together on all manner of innovative musical projects. I valued that our many conversations about composition, art making and life in general were always fresh and stimulating. Harry Freedman made a deep impression on many people in the musical community, and his work remains an example of the very highest level of achievement in Canadian music.
David Jaeger is a composer, producer and broadcaster based in Toronto.