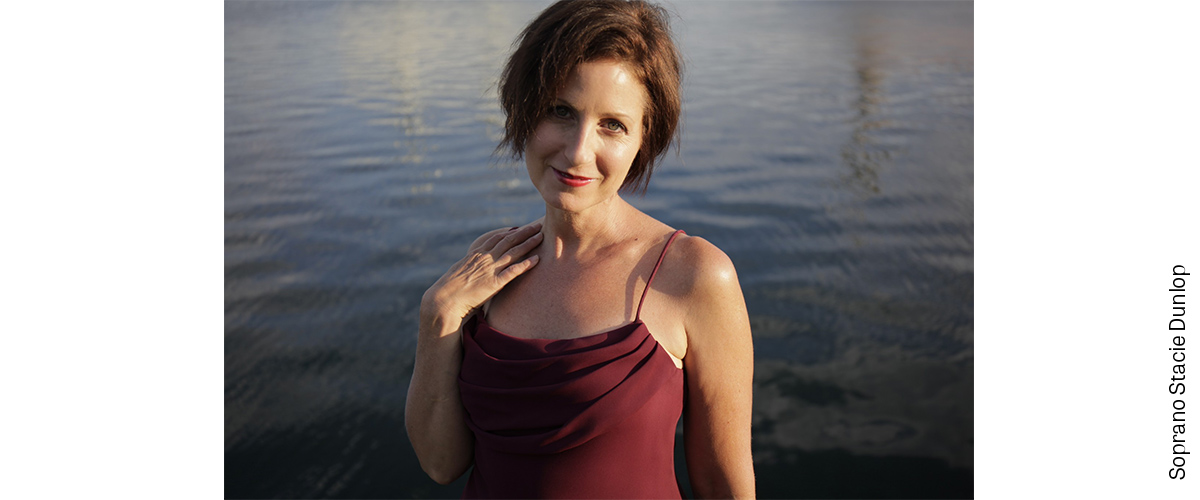 As the year 2016 winds down and gives way to 2017, our usual nostalgic sentiments of the festive season give way to excitement for the festival season in the world of contemporary music across Canada. Beginning on January 28 in Winnipeg, the Winnipeg Symphony Orchestra's New Music Festival signals the start of a series of new music festivals across the country, including the Toronto Symphony's New Creations Festival, Open Ears in Kitchener, the 21C Festival at the Royal Conservatory of Music and Montréal Nouvelles Musiques, among many others.
Winnipeg's NMF, as they like to call it, is the festival that started it all. In 1992 the WSO became the first major Canadian symphony orchestra to commit considerable resources to a full exploration of contemporary composition. And it also proved that contemporary music could draw large audiences. Winnipeg's 2,300-seat Centennial Concert Hall was often filled close to capacity, and even sold out for some concerts. Last January, the WSO's 2016 festival celebrated its 25-year milestone.
CBC Radio Music was a partner with the WSO in its new music experiment from the very beginning, broadcasting the majority of festival concerts for the first 16 years. Many of the concerts were heard live to air, on programs such as the national CBC Radio Two network series Two New Hours, which I had created in 1978. A highlight of our partnership with the WSO's festival was our annual live to air broadcast. Every Sunday night concert of the festival, from 1992 to 2007, was broadcast live to the nation on Two New Hours. Our programming of those live concert broadcasts was always designed collaboratively with the WSO artistic team, and aimed to create affinities with the overall programming themes of the year in question. For example, in 1998, when the two featured guest composers were British phenom Mark Anthony Turnage and emerging Canadian Omar Daniel, we designed a program of chamber works by Turnage and Daniel. In 1996 the distinguished international guest composer was American Joan Tower. She was eager for us to include younger Canadian composers, and especially Canadian women. We designed a concert with chamber works by Canadian women Linda Bouchard and Lesley Barber, along with James Rolfe and WSO composer-in-residence, Glenn Buhr.
In fact, women figure prominently among the composers at the upcoming Winnipeg New Music Festival, which runs from January 28 to February 5, 2017. American Meredith Monk is featured in three of the concerts and Canadians Fjóla Evans, Emilie LeBel, Nicole Lizée, Cassandra Miller and Ana Sokolović all have works programmed. Alexina Louie's new Piano Quintet will have its world premiere as will Jessica Moss' Glaciers 1 & 2.
CBC Radio Music, generally (and Two New Hours, specifically) played a role in the history of a somewhat lesser known but important festival, the U of T New Music Festival, presented by the Faculty of Music at the University of Toronto. (The 2017 U of T festival runs from January 29 to February 5, and includes a co-presented concert with Toronto's New Music Concerts, titled "Four Views of Salvatore Sciarrino," as its closing event. Sciarrino is the Roger D. Moore Distinguished Visitor in Composition, and the featured composer at the festival.) The connection with the CBC is revealed in the opening event, the Karen Kieser Prize Concert, which takes place at Walter Hall at 7:30pm on Sunday, January 29.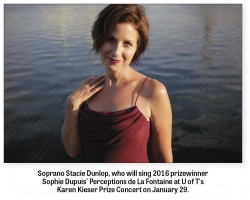 Karen Kieser was deputy head of CBC Radio Music from 1982 to 1986, and then head from 1986 to 1992. She was the youngest person ever to lead the Radio Music department, and also the first woman to do so. She held three degrees from the Faculty of Music at the University of Toronto: a bachelor of music and a masters of music, both in piano performance, and a master of music in musicology. She could have had a career as a concert pianist, but she chose broadcasting as her life's work, serving as a gifted CBC host, producer, executive producer, and eventually as a leader in CBC's senior management. Friends and colleagues endowed the Karen Kieser Prize in Canadian Music upon her death in 2002, too soon a loss at age 53. It is a tribute to her life, her work and her passionate devotion to the cause of Canadian music and musicians.
Her official biography states that "Karen's nearly 30-year tenure at CBC Radio Music had many highlights, including a renewed emphasis on live broadcasts and documentaries, numerous prestigious special events and international awards, and expanded audiences. She championed the cause of Canadian music and musicians through the creation of Canadian content policies for classical music broadcasting on CBC, an ambitious commissioning program, and the establishment of CBC Records as a high-profile label with a reputation for excellence both at home and abroad. She was equally committed to finding and developing new broadcasting talent, and many of the leading lights of the music department today (both on and off the air) were recruited and nurtured under Karen's watchful eye. Throughout her career, Karen was a trailblazer for women in senior positions at the CBC. Her tireless work ethic, her ability to master countless details while keeping an eye on the big picture, and her unique combination of unfailing good manners and steely determination, made her both an inspiration and a role model."
It was fitting, then, that a woman would be the very first composer to win the Karen Kieser Prize. In 2002, Abigail Richardson won for her composition Dissolve, a trio for harp, piano and percussion. In addition to the cash prize, Richardson won a performance of the work, which was broadcast live on Two New Hours. Following that, we submitted the recording of the broadcast to the 2003 edition of the International Rostrum of Composers, a gathering of public radio contemporary music producers in Vienna, where it was selected as the best work by a composer under the age of 30. Radio France commissioned Richardson as a result of her selection, and her string quartet, Scintilla, was subsequently premiered in Paris by the Quatour Castagneri in 2006. It's reasonable to say, based on this account, that the impact of the Kieser Prize on Richardson's emerging career was tangible and immediate. She has developed into one of our most active composers and is now composer-in-residence with the Hamilton Philharmonic Orchestra and serves as artistic director of the HPO's What Next Festival, yet another new music festival, held in the spring. Richardson recently told me that winning the Kieser Prize literally changed the direction of her career. Karen Kieser would have been immensely proud of her!
In the ensuing 15 years, five women have won the Karen Kieser Prize in Canadian Music, including the last two winners, Shelley Marwood, in 2015 and Sophie Dupuis, in 2016. I spoke with Marwood and Dupuis, and both of them acknowledge that Kieser's accomplishments are an inspiration. As Dupuis put it, she has not felt gender bias in her creative career "because Karen paved the way." Her winning piece, Perceptions de La Fontaine, commissioned by the Thin Edge New Music Collective, will be performed on the January 29 opening festival concert, together with the Cecilia String Quartet's performances of Glass by Patrick McGraw, the 2014 Kieser Prize winner, and String Quartet No.7 by Salvatore Sciarrino.
Dupuis' Perceptions de La Fontaine is based on three texts from Fables de La Fontaine, a collection of short tales written from 1668 to 1694 by French writer Jean de La Fontaine. She says that "these tales were meant to teach good moral values to children. They feature whimsical characters, often animals or Gods from the Greek mythology. The three tales selected for this piece have to do with perception, more specifically, how one's own perception of events, things or people might not reflect the truth." The performance of Perceptions de La Fontaine will feature soprano Stacie Dunlop.
The Karen Kieser Prize in Canadian Music was, for its first 15 years, the only prize available specifically intended for composers at the U of T Faculty of Music. More recently, Ann Atkinson has provided an additional prize at the U of T Faculty of Music, the Ann H. Atkinson Prize in Composition. This is a prize that invites U of T composers to submit electroacoustic compositions for consideration. The inaugural Atkinson prize was awarded in 2015 to co-winners Parisa Sabet and Xintong Wang, and their winning compositions were heard during last year's U of T festival. The 2016 Atkinson prize competition will be adjudicated in December, with plans for the the winning composition to be heard during this season's U of T festival on February 3.
Another notable feature of the 2017 U of T festival will be a concert performance of The Killing Flower (Luci mie tradici) by distinguished guest composer Salvatore Sciarrino, on February 1. It's a one-act opera based on the tragedy of Count Carlo Gesualdo, the murdering composer of the Italian Renaissance. The cast includes soprano Shannon Mercer, countertenor Scott Belluz and baritone Geoffrey Sirett.
Who could have predicted that the festival format that began in Winnipeg in the 1990s would set the Canadian new music community on a new course, one that's still evolving! CBC Radio was there from the beginning to contribute programming and to bring the excitement to listeners across Canada. That early participation will always remain part of the fabric of the story.
David Jaeger is a composer, producer and broadcaster based in Toronto.
Update (December 16, 7:30pm): On January 29, 2017 at the Karen Kieser Prize concert, instead of Patrick McGraw's piece Glass, the Cecilia String Quartet will be playing Rebekah Cummings' Chasing Beauty, which has been named the winner of the fourth annual U of T String Quartet Composition.
Rebekah Cummings' piece Forget, for cello and electronics (winner of the 2016 Ann H. Atkinson Prize in Composition), will also be heard at the U of T New Music Festival, during an electroacoustic concert on February 3.