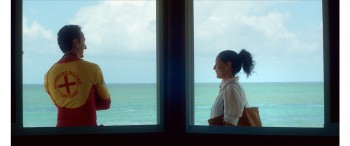 The WholeNote's fifth annual guide to the Toronto International Film Festival (TIFF), 41st edition, aims to once again alert you to films in which music plays a significant role. After pouring over the list of 296 films from 71 countries, the following 26 titles represent a loose guide for music lovers with a taste for cinema. Highlights include a handful of music docs, Damien Chazelle's original musical La La Land, films with scores by the likes of Robi Botos, Jesse Zubot, Son Lux, Lesley Barber and Gabriel Yared, as well as movies with characters connected to music.
Lutz Gregor's intimate and moving Mali Blues looks at the plight of the Malian people - since music was banned by the jihadi takeover of the country's north - through the eyes of four Malian musicians.With a keen cinematic eye backed up by a hypnotic guitar groove, Gregor gives us the backstories of Fatoumata Diawara, Ahmed Ag Kaedi (pictured on our cover), Bassekou Kouyaté and Master Soumy . Heweaves them in and out of ordinary people in close-up and scenes that take us from Bamako to the desert, showing how integral music is to all of their lives. It's essential viewing, especially if you missed hearing Diawara in her 2014 Koerner Hall concert (with Kouyaté on ngoni) or seeing her memorable performance in Abderrahmane Sissako's Timbuktu.
For its subject matter alone, Chasing Trane: The John Coltrane Documentary caught my eye. Early word has it that John Scheinfeld's new film is the definitive portrait of one of jazz's seminal figures. Made with the cooperation of the Coltrane family and the owners of his recordings, the doc is said to contextualize Coltrane's life within the roiling social and cultural landscape of which he was a key component while vividly bringing his story to the screen.
Iconoclastic American indie filmmaker Jim Jarmusch has two films in the festival. Gimme Danger, is a scrupulous two-pronged documentary look at the Iggy and the Stooges phenomenon. Iggy (aka Jim Osterberg) provides a detailed historical chronology, paying particular attention to the band's musical origins and influences. From the 1950s TV show Lunch With Soupy Sales to the idiosyncratic American composer Harry Partch, from Iggy's brief, meaningful relationship with Nico (on the rebound from Lou Reed) to Miles Davis' Bitches Brew, James Brown and Maceo Parker, the film drops one memorable nugget after another. At his press conference in Cannes (where the film premiered) Iggy also mentioned his indebtedness to Bo Diddley, Link Ray, Frank Zappa and Karl-Heinz Stockhausen. Fascinating.
Paterson, Jarmusch's clever neo-minimalist film, chronicles seven days in the life of a Paterson, New Jersey, bus driver (named Paterson), his happy marriage and daily routine. In this city of the poet William Carlos Williams, Paterson (Adam Driver, bringing sensitivity to the role) is also a poet. So is Jarmusch in his own refreshingly natural and observant way. It's two hours of serenity, a musique concrète of city sounds and overheard conversation, the music of daily life. The spare, ambient score is by SQURL and Drew Kunin.
Part jazz history, part true-crime tale, Kasper Collin's I Called Him Morgan uses extensive archival footage and new interviews to tell the tragic story of the talented hard bop trumpeter Lee Morgan and his common-law wife Helen, who murdered him in a New York bar in 1972. Possessed of enormous technique with a warm, vibrant sound reminiscent of Clifford Brown, Morgan was only 33 when he died. In his last interview (some of which will undoubtedly be in the film) he eloquently described the place of black American art in American culture. This is one doc I'm particularly looking forward to.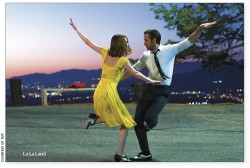 Damien Chazelle has followed his critically acclaimed and popular success, Whiplash, with an original musical comedy, La La Land, about an ambitious jazz pianist (Ryan Gosling) and an aspiring actress (Emma Stone) who fall in love while pursuing their dreams of stardom, in what TIFF calls a "dazzlingly stylized homage to the classic Hollywood musical." Justin Hurwitz composed the score, just as he's done for each of Chazelle's other feature films.
Agnès Varda's One Sings, The Other Doesn't, which originally showed at TIFF in 1977, contagiously popular in its day, now newly restored, puts on a shiny face as part of the Cinematheque section of this year's festival. A feminist musical about a pop singer dedicated to women's liberation and her ongoing relationship with her old friend, a single mother of two who has moved to the country, it's a tender reminder of another time.
In Kleber Mendonça Filho's Aquarius, legendary Brazilian actress Sonia Braga (Kiss of the Spider Woman) memorably plays a retired music critic (Clara) fighting to keep her Recife apartment building from the hands of developers in this spirited portrait of a strong-willed 65-year-old. Needless to say, music plays a major part in this sun-dappled film whose storyline cannot be divorced from its social context. From Villa-Lobos to Maria Bethânia, Jobim and Tropicalia to Recife, Minha Cidade, Aquarius will leave you in love with the best of the Brazilian soul. Here's the director describing the importance of music in the film: "I like the fact that Clara has LPs at home—those she bought over a period of 40 years, or those sent to her while she was working as a critic. I also like the idea that, even though she has a vinyl collection, she doesn't refuse to listen to tracks on her phone. It was only natural, since she listens to music, for music to occupy scenes. Music also gives an indication of her tastes and moods."
Master jazz pianist Robi Botos was approached by Jean of the Joneses' music supervisor Michael Perlmutter who put him in touch with writer/director Stella Meghie and producer Amos Adetuyi. "After a meeting with Stella we really connected," Botos said in an email. "So she gave me the green light for the score. I just tried to give the movie the right vibe. It's bittersweet so the music has that role too." The film got rave reviews when it premiered at SXSW earlier this year. Sean L. Malin wrote in the Austin Chronicle that "Meghie's feature debut suggests an exciting new voice. Highly visually controlled, snappily edited, and beautifully acted, Jean of the Joneses is a clever New York comedy about the Caribbean diaspora."
Bruce McDonald has always had a good ear for musical found objects to buttress his films which are often sparked by road trips. In Weirdos, he teams with veteran playwright and screenwriter Daniel MacIvor for this offbeat coming-of-age dramedy, about two Nova Scotian teens who hit the road in the summer of 1976 accompanied by the laconic ghost of (the still-living) Andy Warhol. The 70s' pop soundtrack includes some real oddities (Which Way You Goin Billy, the title song from the Peter Lynch movie The Hard Part Begins) and performers of the day like The Poppy Family.
Nathan Morlando, whose cinematic intelligence permeated every frame of his film debut, Edwin Boyd: Citizen Gangster (which won Best Canadian First Feature at TIFF 2011), had the cinematic good sense to hire Max Richter to compose the music for his debut film. When Richter was unavailable for Morlando's follow-up, Mean Dreams, he turned to Son Lux. The enterprising composer made the soundtrack a mirror of this parable of two teenagers escaping their intolerable Northern Ontario lives. Evoking memories of Malick's Badlands, it's finely calibrated filmmaking that nicely integrates the landscape while the luxuriant soundtrack occasionally acts as a kind of Greek chorus.
"In composing the score, I turned to acoustic sounds and colours that are beautiful on their surface, but hide a certain dystopian quality," Son Lux said. "I chose my tools mostly from acoustic sources. With the help of a small team, I extensively recorded a variety of things, including lots of rare and one-of-a-kind instruments. One sound at a time, we created a huge, unique library of complex sound material … Through extensive editing and programming of these isolated sounds, as well as fragments of improvisation, we created playable 'virtual instruments.' This gave me an enormous amount of flexibility and control in order to compose the score."
Kim Nguyen's Two Lovers and a Bear features music by Jesse Zubot (who performs it on violin, viola, synths, sub bass, drums and programming), vocals by Tanya Tagaq; also recorded samples taken from Genetic Memory and Rabbit from Animism by Tagaq and Sun Up from The Element Choir at Rosedale United. A Tribe Called Red's Sisters, two tracks by Gil Scott-Heron and an excerpt from Tchaikovsky's The Sleeping Beauty ballet are among other sounds energizing this unusual Arctic romance, filmed close to the North Pole in all of its magnificent splendour.
Montreal native Xavier Dolan won this year's Grand Prix (second place) at Cannes for It's Only The End Of The World, an emotionally riven chamber piece about a writer who returns to his family after an absence of 12 years to announce that he has a terminal illness. In a series of confrontations, tensions driven by resentment and lack of understanding are revealed. Working in France for the first time with an all-star French cast, Dolan's camera lingers on his characters in close-up, accentuating pauses, building to the affective climax. Gabriel Yared's warm, empathetic symphonic score and pop music outbursts like Camille's Home Is Where It Hurts, Grimes' Oblivion and the Moldovan pop group O-Zone's Dragostea Din Tei are essential ingredients.
With J: Beyond Flamenco, Carlos Saura has come full circle. After decades of memorable films devoted to music (Blood Wedding, Carmen, Sevillanas, Tango, among many) he has returned to his birthplace, Aragon, where jota had its origins. "La Jota is folk music and dancing so powerful that it has been able to attract renowned musical composers such as Liszt, Saint-Saëns, Massenet, Falla, Granados and Albéniz," Saura said in the press notes. "Its influence is evident in the Spanish geography. Its unique rhythm, cheerful and contagious, has kept improving over the years." Musicians in this music and dance celebration include battente guitar virtuoso Francesco Loccisano, composer and cello virtuoso Giovanni Sollima, flamenco pianist Miguel Angel Remiro and his quartet, world music star and Galician bagpiper Carlos Núñez, guitarist Enrike Solinis and jota singer Nacho del Rio.
Terrence Malick, who touched on the origins of the universe in Tree of Life, puts his singular cinematic vision to work in Voyage of Time: Life's Journey, a documentary look at the same subject that promises to be a celestial experience. Malick has always leaned heavily on classical music as a foundation for his films and this new sound and image poem features a playlist that could serve as a Who's Who of the music of the spheres. The soundtrack includes excerpts from Giya Kancheli's Evening Prayers, Bright Sorrow and Morning Prayers, Beethoven's Symphony No.9, Poulenc's Gloria, Penderecki's St. Luke Passion, David Hykes' Hearing Solar Winds (part 8), Arvo Pärt's Da pacem Domine, In Principio and Litany, Mahler's Symphony No.2 in C Minor ("Resurrection"), Haydn's The Creation and Bach's Mass in B Minor (IV). Malick also makes use of Eleni Karaindrou's evocative Hecuba's Theme I, Exodos and Terra Deserta, Keith Jarrett's Spheres, pieces by Paul Horn, Michael Baird, Francesco Lupica, Simon Franglen, Hanan Townshend and even sounds from the Voyager's mission to Jupiter's smallest moon Io.
In Past Life, two Israeli sisters, one of whom is an aspiring classical musician, delve into the dark mystery of their father's former life in Poland during World War II in this new film by Avi Nesher, best known for his highly praised The Wonders. One of the two performers recreating the amorous correspondence (1948-1967) between poets Ingeborg Bachmann and Paul Celan in Ruth Beckermann's The Dreamed Ones is experimental Austrian musician Anja Plaschg (Soap&Skin). Kevan Funk, who made the genre-defying Vancouver sextet Brasstronaut's Mean Sun music video, hired its leader, Edo Van Breemen, to score his small-town hockey drama, Hello Destroyer. After making a key contribution to Kenneth Lonergan's unforgettable You Can Count on Me, stalwart Canadian film composer Lesley Barber is back with the master observer's latest, Manchester by the Sea, critically acclaimed at Sundance earlier this year.
Actor/rapper Nick Cannon wrote, directed, financed and stars in King of the Dancehall about a Brooklynite who visits family in Jamaica and falls in love with the island's music and culture. Jamaican dancehall luminaries T.O.K. and Beenie Man appear, along with Jamaican-Canadian singer Kreesha Turner, Ky-Mani Marley and Busta Rhymes. Also in the cast is Carl Bradshaw, part of Jamaican film history since 1972's The Harder They Come. In The Sixth Beatle, co-directors Tony Guma and John Rose profile Liverpool concert promoter Sam Leach who offers a spirited account of his two-year roller-coaster ride with The Beatles in the pre-Brian Epstein era.
In Andrea Arnold's naturalistic road movie, American Honey, newcomer Sasha Lane plays a teenager who joins a group of magazine subscription salespeople who criss-cross the American Midwest in vans; Riley Keough is her hard-nosed boss and Shia LaBeouf (in a return to early form) a super salesman. The energy of the young cast is reminiscent of Larry Clark's Kids and the extensive soundtrack, from Springsteen, Steve Earle and Rihanna to country singers Sam Hunt and Lee Brice, Juicy J, Quigley, Mazzy Star and so much more, is the engine that drives it all.
Music plays small but key roles in two Japanese films. Hirokazu Kore-eda's finely observed family drama, After the Storm, took its Japanese title from a lyric by Teresa Teng, the "diva of Asia." It was a link to the popular music that played in Kore-eda's home growing up. "Teng's songs are about dramatic love, which connects with the concept of not everyone being able to become the adult they wanted to be," he explained. But the movie's score and theme song were composed by Hanaregumi, a more contemporary pop figure. In Koji Fukada's chilling Harmonium, a charming ex-con ingratiates himself into the life of family by helping the young daughter learn to play her harmonium.
Edoardo De Angelis' Indivisible is "about Neapolitan Siamese twin sisters who are exploited as a novelty singing act by their father," reports Screen Daily's Melanie Goodfellow. "Kept in isolation, outside of their paid performances at social occasions, the girls start to rebel against their reality when one of them falls in love and they discover they can be separated."
The New Yorker's Richard Brody called Terence Davies' A Quiet Passion - in which Cynthia Nixon portrays Emily Dickinson - "an absolute drop-dead masterwork." He continued: "Davies films his literary script with a directorial daring that's both precise and free, blending delicately composed close-ups and group portraits with audaciously confrontational and uninhibited visual imagination … He also makes exemplary use of Dickinson's poetry, recited by Nixon, on the soundtrack, playing like a sort of music that meshes with the actual music track, which is dominated by well-chosen touches of further New England audacity, such as Charles Ives' The Unanswered Question."
Davies' musical ear is evident in a soundtrack that ranges from Bellini's "Ah non credea" and Schubert's Nacht und Träume to the haunting 17th-century songs by Thomas Ford and Thomas Ravenscroft arranged by British saxophonist/composer John Harle and sung by British soprano Sarah Leonard, supplemented with snippets of 19th-century piano pieces and Ives' Decoration Day.
I've seen ten of the 26 films previewed here and am looking forward to viewing many of the others (and more) during TIFF 2016. Watch for reports on these and other discoveries in my Music and the Movies blog on thewholenote.com over the months to come. The Toronto International Film Festival runs from September 8 to 18. Check tiff.net for further information.
Paul Ennis is the managing editor of The WholeNote.