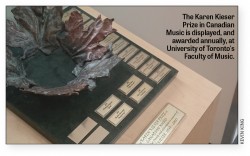 The decade of the 1990s witnessed a flourishing of Canadian musical creativity, in terms of both the composition of significant new works and the growing maturity of several organizations that commissioned and presented performances of them. Two New Hours, the contemporary music program I created for CBC Radio Two, turned 12-years-old on New Years Day, 1990. We had already commissioned over 100 new Canadian works, and were just "hitting our stride," as the saying goes. Included among the many outstanding Canadian works whose world premieres were yet to be broadcast on Two New Hours in the 1990s were Glenn Buhr's Cathedral Songs, Harry Freedman's Borealis, Jacques Hétu's Concerto for Trombone and Orchestra, Alexina Louie's Shattered Night, Shivering Stars, Murray Schafer's Concerto for Accordion and Orchestra, Harry Somers' Third Piano Concerto, Ann Southam's Webster's Spin and hundreds more works of exceptional quality. It was already clear that the investment CBC had made in new musical creation was yielding large-scale returns.
In November 1990, in a live network broadcast from Quebec City on both CBC Radio Two and Radio-Canada, Chris Paul Harman, then a 19-year-old, became the youngest Grand Prize winner in the National Radio Competition for Young Composers. At the end of that decade, the Grand Prize went to Brian Current. In both instances, Harman and Current were subsequently voted top young composers at the International Rostrum of Composers in Paris, launching their careers on the international stage. It was clear that CBC's investment in identifying and developing emerging young Canadian composers was providing a high-power talent pool for the future.
Karen Kieser (1948–2001) was head of CBC Radio Music as the 90s began. Karen was a firm believer in the CBC's role as an institution that developed Canadian musical talent, not only to assure that there would be Canadian artists of international standard available to future CBC programmers, but as a fulfillment of the Broadcasting Act, the cornerstone legislation that created the CBC, and which is still in force today. The effort that Karen put into talent development in the 1980s planted the seeds for an explosion of musical initiatives in the 1990s. She was particularly supportive of the CBC's talent competitions and she made it a priority to increase their public visibility by investing in the promotion of the concerts and broadcasts of the CBC/Radio-Canada Young Performers, Young Composers and the choral competitions.
Among her many accomplishments, we owe the existence of Glenn Gould Studio to her. Her formidable determination ensured that it was included in the plans for the Canadian Broadcasting Centre, against all odds. As crunch time approached to finalize the plans for the Broadcasting Centre in the late 1980s, Karen battled those planners who considered a dedicated music studio to be an unnecessary frill. I remember that dark Friday, when word arrived that the "performance studio," as it was then labelled, had been officially purged from the design plan. It was a temporary setback, as Karen counterattacked, rallying support and seeing to it that a world class music production facility would be in the music department's tool kit when the Centre opened in 1992.
Karen moved to the new Canadian Broadcasting Centre in 1992, not as head of Radio Music, but rather as executive director of Glenn Gould Studio (GGS). One of her first production decisions in this new capacity was to set aside budget for programming contemporary music. She asked me to conceive and produce concerts that would broaden the range of otherwise standard classical repertoire she was offering in GGS-sponsored concerts. A highlight of that first season was our presentation of the percussion group, Nexus: Bob Becker, William Cahn, Russell Hartenberger, Robin Engelman (1937–2016) and John Wyre (1941–2006). All were eager to exploit the perfect acoustics of the new hall, and to accomplish this, we designed a concert titled "Classics of Contemporary Percussion." The program included Drumming (Part 1) by Steve Reich, Third Construction by John Cage, Rain Tree by Toru Takemitsu and The Birds by William Cahn. The sold-out concert was a brilliant success, a fabulous broadcast, and it certainly showed off the Nils Jordan-designed acoustics of Glenn Gould Studio.
Encounters: In 1993 Karen also asked me, as executive producer of Two New Hours, to create a new music concert series at GGS in partnership with Lawrence Cherney, who was busy transforming his organization, Chamber Concerts Canada, into Soundstreams Canada. With Karen's support, Lawrence and I created Encounters, a series of concerts pairing music by a significant Canadian composer with works by a composer who was internationally recognized. The series was co-presented by GGS and Soundstreams Canada and broadcast on Two New Hours. In the first season we produced concerts in GGS that paired Canadians Ann Southam, Michael J. Baker and Barry Truax with Estonian Arvo Pärt, American Terry Riley and Englishman Gavin Bryars, respectively. Encounters was a successful format, both for concert and radio audiences, and the series continued to the end of the decade. A highpoint of this collaboration was in 1997, when Soundstreams expanded the Encounters concept and produced the Northern Encounters Festival, a large undertaking described as "a circumpolar festival of the arts."
Another signature feature of the new Canadian Broadcasting Centre was the Barbara Frum Atrium. The design team had conceived the ten-story, glass-topped atrium as a public space, where people could gather in a friendly atmosphere. There was always a notion that the space might serve to host performance events, but it wasn't until 1995 that the appropriate grand statement was realized. In 1993, on the heels of the success of the Winnipeg Symphony's New Music Festival, I asked WSO composer-in-residence, Glenn Buhr, to compose a piece of music that would be an expression of musical community building. The work would be designed as a surround-sound symphony for performance in the Barbara Frum Atrium: on the ground floor, up in the balconies, and with antiphonal brass groups sounding from the very top floors. Glenn responded to the challenge and he began composing Cathedral Songs, a work that included the Toronto Symphony, Nexus, the Toronto Children's Choir and the Hannaford Street Silver Band. In March of 1995, these forces were assembled for a concert titled Cathedral Songs, in which the eponymous composition by Glenn Buhr had its premiere. Each participating group performed separately in the first half of the concert, and then all together in Glenn's composition in the second part. The Atrium's 700 seats were full, and the concert was broadcast live-to-air, yielding an audience of thousands of listeners across Canada. The concert, the broadcast, the new work and all the other pieces performed that night made a statement. Canadians, creating together and aspiring for excellence, can achieve greatness. Alec Frame, vice president of CBC Radio at the time, told me, "I wish that concert could have gone on forever!" It was a highpoint of Canadian music in the 90s, and there was still half a decade to go!
David Jaeger is a composer, producer and broadcaster based in Toronto.