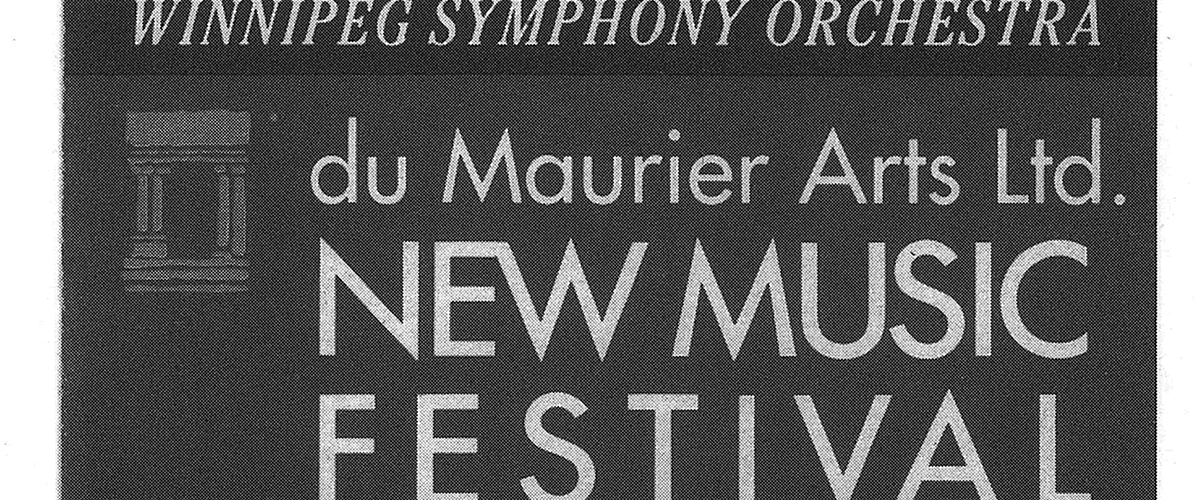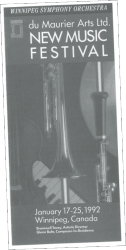 The presence of both Australian composer/conductor/violist Brett Dean and Scottish composer/conductor Sir James MacMillan in Toronto for concerts the same week (March 5 to 12) creates the possibility of the artistic equivalent of a seismic event. Dean is the curator of this year's TSO New Creations Festival at Roy Thomson Hall and MacMillan conducts Soundstreams' Choir 21 at the Trinity-St. Paul's Centre, as well as concerts in Waterloo and Kingston. Dean and MacMillan, both in their mid-50s, are both prolific composers and winners of major international honours. They're also in great demand, conducting their music around the world; it's a fortunate coincidence that they should both be in Toronto the same week. It's also fortunate that the concert dates do not conflict: the New Creations dates are March 5, 9 and 12; the Soundstreams Toronto concert is March 8.
Another interesting coincidence is the fact that both these artists came into prominence in the early 1990s, the same time as many Canadian orchestras seized upon the new music festival format as a way of introducing audiences to contemporary repertoire. This happened first in Winnipeg, and in fact, this past January, the Winnipeg Symphony Orchestra celebrated the 25th anniversary of their New Music Festival. The WSO's festival has been so successful that it remains one of their signature events, one that has contributed to the rebranding of the orchestra, so much so that its last two music directors, Andrey Boreyko and Alexander Mickelthwate, were both attracted to Winnipeg on the reputation of the New Music Festival. The WSO's concept of presenting new orchestral music in a festival format was copied soon after by orchestras in Vancouver, Toronto, Montreal, Edmonton and other communities. The music of Dean and MacMillan was first heard in Canada in such festivals.
The significance of the WSO's bold initiative in 1992 cannot be overstated. It was the first time a major Canadian orchestra had committed its full organizational resources to the production of a week-long contemporary music festival, one that featured both new Canadian orchestral works as well as important international works. Music director Bramwell Tovey, composer-in-residence Glenn Buhr and the late executive director Max Tapper had contacted me in 1991 to ask whether I, as executive producer of Two New Hours on CBC Radio Two, would be interested in broadcasting music from the contemporary music festival they were planning. I saw this as an exciting opportunity and immediately promised that not only would we broadcast as many concerts from their festival as the Two New Hours budget could afford, but I would also be prepared to contribute an event which we would broadcast live, to show our support for the WSO's innovative programming approach.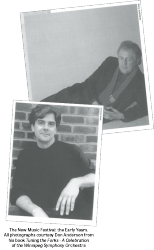 On Sunday night, January 19th, 1992, Two New Hours presented a contemporary piano recital by Christina Petrowska Quilico, live to air on CBC Radio Two, from the Centennial Concert Hall in Winnipeg. The recital included music by Canadians Omar Daniel, Steven Gellman, Peter Paul Koprowski, Sid Robinovitch and Ann Southam and acclaimed international composers Frederic Rzewski and Toru Takemitsu. The WSO's production team, not sure how best to market a recitalist in their 2,500-seat hall, decided to put up risers on the stage, as the main seating area, in case the attendance was small. Those 700 riser seats filled quickly, and the WSO's management team watched in amazement as another 1,000 people then took "overflow" seats in the main section of the hall. It was clear from that moment that the New Music Festival would be a great success. And needless to say, Christina played a brilliant program, cheered on, as she was, by the enthusiastic mob of listeners who surrounded her, which in turn made a wonderfully sparkling live broadcast.
The early success of the WSO's festival attracted more than just ticket buyers. Composers, publishers, arts councils, soloists and indeed other CBC Radio Two network music programs also took notice. By the next year, the WSO's New Music Festival could already call itself an international festival, thanks to the worldwide distribution of our CBC Radio broadcasts over the program-exchange protocol managed by the European Broadcasting Union (EBU). Through an alliance I built with other CBC radio music shows, we were able to broadcast all the festival concerts for the next several seasons. By the time the WSO's New Music Festival celebrated its tenth anniversary the list of international "star" composers who had been featured incuded Americans John Corigliano, Aaron Jay Kernis, David Del Tredici and Christopher Rouse; Estonian Arvo Pärt, Englishmen Gavin Bryars and Mark-Anthony Turnage; Dutchman Louis Andriessen and Austrian HK Gruber. Literally hundreds of Canadian works had been performed. A memorable moment at the end of the 1996 New Music Festival was the spectacle of the usually taciturn Arvo Pärt, receiving an ovation on stage, and crying out, "Thank you, Winnipeg."
The success of the Winnipeg festival proved that a well-programmed and properly promoted new music festival could draw substantial audiences. It also made for exciting, irresistible radio programming. Brett Dean, this year's TSO New Creatons curator, was featured as both viola soloist and composer in the 2003 edition of the WSO's festival, including a showstopping performance of Styx, the dramatic viola concerto by Georgian composer Giya Kancheli. Dean had been introduced to Canadian radio listeners when we programmed his clarinet concerto, Ariel's Music, on Two New Hours in 1995, after it was selected at the International Rostrum of Composers in Paris. At that time Dean was just emerging as a composer, having spent 14 years in the viola section of the Berlin Philharmonic Orchestra.
But now, Dean and the aforementioned Sir James MacMillan are both recognized as mature composers, and we'll have excellent examples of their best works during their respective appearances here, thanks to Soundstreams and the TSO. MacMillan will conduct a choral program with Soundstreams' Choir 21 that includes his profound and powerful Seven Last Words from the Cross and his lovely setting of Robbie Burns' The Gallant Weaver, along with works by Canadians James Rolfe and Murray Schafer and Norwegian Knut Nystedt. Dean and the TSO, with music director Peter Oundjian, will bring us Dean's Viola Concerto (with Dean as viola soloist), his trumpet concerto, Dramatis Personae (Hakån Hardenberger, trumpet soloist) and the cantata, Knocking at the Hellgate (Russell Braun, baritone soloist), along with world premieres by Canadian composers Kevin Lau and Paul Frehner and other international repertoire.
March 5 to 12 promises to be a sublimely raucous and exciting week of new music in the community. I'll definitely be going to it all!
David Jaeger is a composer, producer and broadcaster based in Toronto.