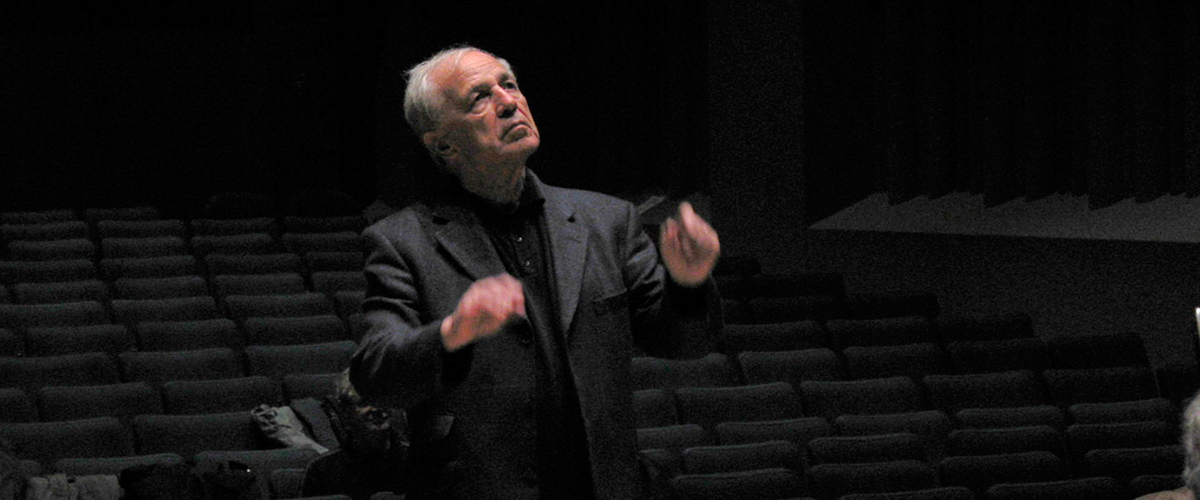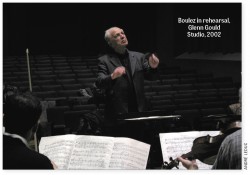 I was in my teens, growing up in a small Wisconsin town, when I first encountered the name Pierre Boulez. The late composer was mentioned by no less a person than Igor Stravinsky in his Conversations with Igor Stravinsky, published in the late 1950s. Stravinsky felt that Boulez was a promising emerging composer, and he was particularly impressed with Boulez's 1954 composition, Le marteau sans maître. Having read this, I immediately visited my local record shop and ordered a copy of a recording of it with Boulez conducting, a Vox Turnabout LP (TV 34081S). It's a record I still own, although it's considerably worn out from the thousands of times I listened. This work made a strong impression on me then (I admit I tried to mimic the approach in my own juvenile compositions), and it still does today.
My first person-to-person meeting with Boulez was in 1975, when CBC Radio Music sent me to London to attend a BBC Radio symposium on the Broadcast Presentation of Contemporary Music. It seemed as though the BBC was planning a new initiative in this area, much like CBC, even if the resulting programs were still a few years away from launching. I was, at the time, producer of the program Music of Today on what was then called the CBC FM Network. Pierre Boulez was in his final year as music director of the BBC Symphony Orchestra and he was asked to give the keynote address at our symposium, which was attended by contemporary music producers from many national broadcasters around the world.
Boulez made many points about how he, having just served four years as the BBC's chief conductor, saw the role of public broadcasters in developing contemporary music specifically, and classical music generally. But his main point was this: producers who design music broadcasts should always be didactic in making their programs. His point was simple and sensible – it boiled down to, "Know what you have to say and what point you have to prove, and then make your programs for the sake of proving that point." He further argued that even if the focus of the broadcast were weak or ill-advised, a didactic approach would at least be more interesting and engaging than programs with no point at all.
For my own part, I was entirely in Boulez's camp on this point. Having just completed ten programs on the life and music of Arnold Schoenberg with Glenn Gould the year before, I was already a convinced and committed didactic broadcaster. The opportunity to champion Schoenberg at the hands of Gould, perhaps his most compelling advocate, was a memorable and entirely convincing experience. Gould made no secret of his admiration of Schoenberg's music and our ten programs on the topic were nothing if not didactic.
Two years later we began planning CBC Radio's signature network contemporary music program, Two New Hours, and once we launched in 1978, Boulez's music was prominently featured among our regular broadcasts of international concerts. And we also broadcast our own productions of his work from Canadian concerts. In 1979, when New Music Concerts staged the North American premiere of Messagesquisse for solo cello and cello sextet, we were there to record and broadcast this superb new creation.
In fact, it's likely that Robert Aitken's New Music Concerts has been the Canadian organization most associated with Boulez's music, having presented his work numerous times over the years. They were the ensemble of choice in 2002 when Boulez received the Glenn Gould Prize, performing a full program of his music in Glenn Gould Studio for the presentation of the award. Flutist Robert Aitken, pianist Christina Petrowska Quilico, soprano Patricia Green and cellist Jean-Guihen Queyras were featured as soloists with the NMC ensemble, the latter gentleman having been selected by Boulez to receive the City of Toronto Glenn Gould Protégé Prize. Boulez had initially declined the invitation to conduct the concert, but at the first rehearsal, realizing he was in the presence of such an outstanding ensemble, he spontaneously changed his mind and took the reins.
The late Larry Lake (1943–2013), host of Two New Hours from 1995 to 2007, interviewed Boulez during that Toronto visit in 2002. Boulez told Larry that while he had never met Glenn Gould, he respected him for his single-minded devotion to his own principles and for exploring new ways to apply electronic media for the dissemination of music. Boulez made the observation that Gould, like himself, "… had a point to prove."
New Music Concerts will once again honour Pierre Boulez, February 15, in their concert at Betty Oliphant Theatre at 8pm. They will present two of his compositions with an organic connection: the solo piano work, Incises (1994/2001) and its relative, the large ensemble piece, Sur Incises (1996/2006).
With Boulez's passing, we remember him as a brilliant yet complex artist. His talents were so numerous and so exceptional, it's difficult to single out any one as his defining trait. Those of us who were with him for the 2002 Glenn Gould Prize presentation saw him as a gracious, warm and generous man, but there are just as many reported episodes where he was the "Pierre-of-the-sharp-tongue." In a public interview I held for the International Music Council in Vienna with Austrian composer Kurt Schwertsik in 2006, Schwertsik recalled the early days at the Darmstadt Summer Courses in the 1950s and 1960s. He said that Boulez would, "...arrive late and leave early, leaving behind numerous cuts, bruises and other virtual injuries to the participants' egos. It was then up to Bruno Maderna," he continued, "to come after him and soothe and mend all that Boulez had inflicted."
Boulez's goal was to aim high to achieve goals of significance, and in so doing he left many behind. He was an artist who always had a point to prove, and he had no lack of confidence in his creative powers. Perhaps my most lasting memory of him is from an interview on CBC's Arts National with the late Terry Campbell (1946–2004) in 1991, when Boulez was in Halifax for Scotia Festival. He remarked that "Once we come to recognize the brain as a muscle, the sooner we'll realize that in its regular exercise over time, we can accomplish great things."
Boulez was right, and he did achieve greatness, leaving us his rich legacy.
David Jaeger is a composer, producer and broadcaster based in Toronto.