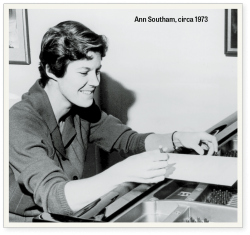 Canadian composer Ann Southam's Glass Houses, a collection of 15 pieces for solo piano, was composed for Christina Petrowska Quilico in 1981. Christina often played selected pieces from the collection in her recitals, many of which were broadcast on my CBC Radio Two series, Two New Hours. We found that the public response to these pieces on our broadcasts was always enthusiastic. Southam (1937–2010) was quick to point out the essential elements in these compositions. The first was the allusion in the title to the minimalism of Philip Glass, which had charmed her since the 1970s. But equally important was the sound of traditional East Coast Canadian fiddle music, which she had first encountered in the 1950s on the CBC Television show, Don Messer's Jubilee. Southam found great affinities between these two disparate sources, both of which delighted her.
The recent release by the Canadian Music Centre's Centrediscs record label of the complete set of these 15 pieces, as recorded by Petrowska Quilico, is symbolic, coming as it did on the fifth anniversary of the composer's death. Christina and I produced the first group of recordings in Glenn Gould Studio late in 2010, shortly after Ann's passing, and the second volume in 2013. Although the two volumes were at first released separately, we now have a freshly made package with all of the music together.
Christina and I have completed six volumes of Ann's piano music thus far, with more to come. In 2005 we recorded the complete Rivers in two volumes, and then in 2009 we produced another two volumes of water-inspired pieces under the collective heading Pond Life. Although she was already in failing health during the last of these sessions, Ann's enthusiasm for Christina's playing was overwhelming. While we recorded, she would explode with exclamations of "Wow! Fantastic! Holy Cow!" and motion thumbs up through the studio glass after takes she especially liked. Later she wrote to Christina, "I'm still blown away by the way you play Glass Houses."
I had first met Ann Southam in 1973, when she attended a concert of live electronic music presented by the Canadian Electronic Ensemble (CEE). This is the group that David Grimes, Larry Lake (1943–2013), Jim Montgomery and I had started in 1971 while we were graduate composers at the University of Toronto. Ann had already begun to assemble her own private electronic music studio in her home, and she had produced several electronic works, many of them as collaborations for modern dance, often with Toronto choreographer Patricia Beatty. On this occasion, however, she seemed less than convinced of the viability of live performance with the primitive synthesizers that were then available. I was struck by two observations at the time: I recall she had very little to say after our concert, and I then noticed her driving off in her Porsche convertible. Clearly, she had access to resources. This impression was further supported two years later when she self-released her most ambitious work of electronic music, The Reprieve, a nearly 50-minute composition on her own label.
The members of the CEE took note of this and we eventually approached Ann with the offer of a commission to create a new work for the ensemble. The work that she responded with was a great surprise. The title, Natural Resources, or What to Do 'Till the Power Comes On, gives a hint as to the nature of the work. Ann delivered a score, essentially a set of instructions, and a bag of commonly available hardware: bolts, wooden dowels, hooks, screws, rope thimbles, chain links, and so on. The score described the work as, "a sound game for four players" which "does not rely in any central way on sources of energy other than the players themselves." The underlying message was that she was bidding farewell to electronic music.
In the late 1970s and early 1980s Ann's focus shifted to creating works she called "made by hand for hands." She embraced the physicality of instrumental performance and she formed close bonds with musicians who understood her new approach. Many of the works she wrote for pianist Christina Petrowska Quilico come from this time, as well as Retuning for violist Rivka Golani and Alternate Currents for percussionist Beverley Johnston. In an interview on Two New Hours she spoke with host Augusta LaPaix about "the connection between composing for soloists and other forms of work done by hand, such as weaving, that reflect the nature of traditional women's work, which is repetitive, life-sustaining, requiring time and patience." Her idea was developed further in 1993 when we at CBC Radio Music commissioned her string orchestra composition, Webster's Spin, a work made entirely of interweaving patterns of melodic motives. The work was the centrepiece of a CBC Records CD, a disc that also contained Southam's solo piano composition, Remembering Schubert, performed by pianist Eve Egoyan.
I had suggested Eve to Ann when Ann and I were planning that CBC Records production. Once the two met they immediately formed a special bond, and Ann wrote several solo works for Eve, most notably Simple Lines of Inquiry. We recorded the 55-minute work for release on Centrediscs in 2009, and it was praised by New Yorker music critic Alex Ross, who placed the CD on his Top Ten for the year 2010. Eve and I recorded two more Centrediscs CDs of Southam's piano music, Returnings in 2011 and 5 in 2013. The major work included in Returnings is Qualities of Consonance which CBC Radio Music and I had commissioned for presentation on Two New Hours. The score Ann created for this occasion bears the inscription, "For Eve Egoyan and David Jaeger with thanks." Five posthumously discovered pieces intended for Eve form the contents of 5.
Looking back on Ann Southam from the perspective of having lost her five years ago, it occurs to me that Ann often produced her best work when she was involved in artistic collaborations. Whether it was a choreographer, a soloist or a music producer she was responding to, she seemed to find her strongest voice when she was in a creative conversation with a colleague. I must say that I and all those many other collaborators miss her dearly. Thankfully, we still have her music.
David Jaeger is a composer, producer and broadcaster based in Toronto.