The moment my new CBC Radio Two network program Two New Hours hit the airwaves in January of 1978, composers, and especially Canadian composers, suddenly had a new way to connect with audiences across Canada. The simple act of broadcasting concerts of new works from all the major production centres of Canada each week immediately allowed a growing number of people to become aware of all the diverse sorts of newly created music. And naturally, the musicians who performed in these concerts of new works quickly realized there were paying gigs for them if they were willing to learn new compositions. Musicians began networking with other musicians, often with the result that they created ensembles to play all this new repertoire.
Two New Hours was an instant success. Audience numbers for what was considered highly specialized listening were at once respectable and in a short period of time grew to be more than just respectable. By 1982 Two New Hours had already broadcast more than 400 world premiere performances and commissioned more than 30 original works, composed specifically for the program. Several of these commissioned works, such as Walter Buczynski's 1978 Monogram for solo piano, Brian Cherney's 1979 String Trio and R. Murray Schafer's 1981 Third String Quartet had been heard around the world through international program exchanges such as the International Rostrum of Composers in Paris.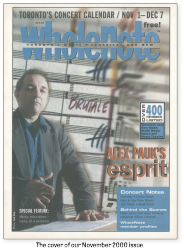 Enter Esprit: The missing ingredient in this early success story was the lack of new Canadian works for orchestra. Our symphony orchestras at that time showed no interest in contemporary repertoire. And the budget that had been established for Two New Hours productions was sized for chamber music recordings. This made sense, given that the new music ensembles across the country were all chamber groups of various sizes. This aspect changed in 1983, when composer and conductor Alex Pauk founded Esprit Contemporain, an orchestra devoted entirely to the performance of contemporary music.
Alex Pauk was experienced in starting new music groups. The Toronto group Array was "born in my living room in 1972," he told me. In 1974 Alex settled in Vancouver and founded, first Array West, a group that didn't last, and then Days, Months and Years to Come, which did. Their concerts were heard on Two New Hours in the 1970s. He also became familiar with the CBC Vancouver Chamber Orchestra, an orchestra that often included new Canadian works in their concerts, usually blended with standard repertoire. It was at one of those concerts that Pauk met his mentor, the French-Romanian composer-conductor, Marius Constant. But in 1981, Alex moved back to Toronto and was elected president of the Canadian League of Composers. In 1982 he told me that he had started thinking seriously about creating an orchestra that would only play contemporary music.
Versed as he was in the mechanics of raising support for musical start-ups, it was clear to Alex that the usual modest sums available from the regional, provincial and national arts councils would barely get him into the rehearsal room, let alone cover the costs of paying the musicians to perform a series of concerts. However, a chance meeting with a Suncor executive at the Financial Post Awards for Business and the Arts in 1982 gave him a key connection with corporate Canada. A major donation from Suncor Inc. was secured, and the company's commitment of continuing support, together with a grant from the Canada Council gave Alex the means to mount his first concert with Esprit Contemporain in the summer of 1983, in Kingston. This concert of new Canadian orchestral music, presented in association with the National Youth Orchestra of Canada, was not broadcast on Two New Hours, but their very next concert was. It was the beginning of a legacy of broadcasting contemporary orchestral music on CBC Radio Two that lasted 25 years.
World Music Days: John Peter Lee Roberts, a former head of CBC Radio Music, and the creator, along with Sir Yehudi Menuhin, of International Music Day, had persuaded the International Society for Contemporary Music to hold their annual festival, World Music Days, in Canada in 1984. This high profile event was a made-for Two New Hours opportunity. I made sure that we were the lead broadcaster for the festival by making the case to CBC senior managers that this was our chance to show ourselves to our international colleagues as a model for contemporary music broadcasting. Alex Pauk's new orchestra was a festival highlight, and we were there to help Alex announce Esprit Contemporain to the world via our broadcasts on CBC Radio Two in Canada and through international program exchanges with public radios in more than 30 countries. World Music Days was a watershed moment for Alex's new orchestra, and the positive spin it created helped Two New Hours as well. Karen Kieser (1948-2002), who was Deputy Head of Radio Music in 1984, and who had helped raise budgetary support for our broadcasts of the festival, arranged that we be funded to continue including orchestral broadcasts.
The addition of Esprit Orchestra concerts allowed Two New Hours to offer its listeners a full range of contemporary musical genres. Alex Pauk and I shared the conviction that developing emerging Canadian composers was a necessity. Esprit Orchestra gave young composers their first high profile presentation of large-scale compositions and Two New Hours let the network audience know who these young artists were and what they were doing. "The Two New Hours broadcasts of our concerts created a sense of camaraderie among our musicians," Alex told me. "The CBC relationship knit the players together and helped to raise their expectations to a higher standard."
When Alex Pauk takes the podium November 15 at Koerner Hall to conduct the largest orchestral ensemble in Esprit's history, it will demonstrate the result of decades of patient development and cooperation by those who believed it was necessary to have such an orchestra and those who insisted the story needed to be shared.
Esprit Orchestra's concert at Koerner Hall, November 15, begins at 8pm; pre-concert chat at 7:15.
David Jaeger is a composer, producer and broadcaster based in Toronto.