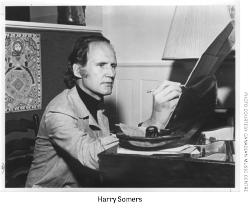 The recent funeral service for Marion Aitken (1935 - 2015), the late wife of New Music Concerts' artistic director Robert Aitken, brought back sharply into my mind the world premiere performance of Harry Somers' Dickinson, which I recorded with New Music Concerts in 1975 for broadcast on the CBC Radio program Music of Today (1966–1977).Zen, Yeats and Emily Dickinson was one of the earliest works commissioned by New Music Concerts and the new work featured Marion, as a member of the Lyric Arts Trio, together with husband Robert and soprano Mary Morrison. The Aitken family chose to play Marion's extended piano solo from this work among the many pieces shared at her funeral service, and hearing her brought back a flood of memories from the 1970s and 1980s.
Zen, Yeats and Emily Dickinson was one of my first occasions producing a concert recording for broadcast, having joined the CBC Radio Music department in 1973. I remember how surprised I was when I arrived at the dress rehearsal and was promptly handed a copy of the score by Harry himself. I sat down and read through the many score pages and he kindly asked me if I needed any explanation. "No, it's all perfectly clear," I said, because the score was actually crystal clear, and the shape of the work I was about to record became immediately evident. In retrospect, my remark may have struck Harry as somewhat arrogant, but my focus was on the task at hand, which was to accurately represent Somers' work in an audio recording that would be shared with the nation via network radio.
It was a time when both the composition and performance of new Canadian music was growing rapidly and the number of organizations encouraging this creative upsurge was increasing right across the country.
New Music Concerts, the Vancouver New Music Society and the SMCQ (Société de musique contemporaine du Québec) had been founded in the early 1970s. By 1976 there were several more such groups: Nova Music in Halifax, Espace Musique in Ottawa, Music Inter Alia in Winnipeg, Arraymusic and the Canadian Electronic Ensemble in Toronto, etc. At CBC Radio Music, we took this as an indication that there was also a growing audience for new Canadian music, and I was asked to develop a proposal for a national network radio program focusing on this burgeoning community. The resulting proposal led to the creation of Two New Hours (1978–2007), the first CBC network program to focus entirely on the creation and broadcasting of new Canadian concert music. CBC executives who appeared at the CBC's broadcast license renewal hearings in 1978 made the case that, in its first year on-air, Two New Hours had already developed an audience for contemporary Canadian music that was more than ten times the total number of people who attended all the concerts of contemporary concert music across the country.
It's clear that the creation of a national network program such as Two New Hours was crucial to the expansion of new music creation in Canada. By broadcasting world premieres of Canadian compositions regularly to a national audience, more and more listeners became aware that there was such a thing as original Canadian concert music, and that it was a marvellously diverse and fascinating genre. It also made for great radio, which is a medium that thrives on spontaneity, surprise, and discovery.
It also became clear that by combining the broadcasts of our contemporary music concerts with parallel activities such as the CBC/Radio-Canada National Radio Competition for Young Composers (1973–2002) and CBC commissions, CBC Radio had positioned itself at the very centre of contemporary musical creation in Canada. One of the most potent and useful consequences of this was that it enabled creative collaborations with the musical community. The commissioning of new works for performance and broadcast on Two New Hours grew out of my conversations with composers, conductors, musicians and artistic directors as we co-created programming.
This is exactly what happened with R. Murray Schafer's Third String Quartet. In 1980 the Orford String Quartet asked if we would commission a new Schafer quartet. This was on the heels of the success they had with his Second String Quartet, a work which won Schafer the very first Jules Léger Prize for New Chamber Music in 1978. The Third String Quartet became his most iconic, featuring a middle movement in which the string players perform all manner of un-string-like sounds. They shout, growl, stomp their feet and generally carry on in an unhinged and bellicose manner. Needless to say, this kind of innovative writing worked beautifully both on stage and on the radio! It was immediately picked up and broadcast around the world, and remains one of the most performed Canadian string quartets in the repertoire.
In 1990 Chris Paul Harman became the only teenaged Grand Prize winner of the CBC/Radio-Canada National Radio Competition for Young Composers. I suggested his winning work, Iridescence for string orchestra, to Esprit Orchestra founder and music director Alex Pauk, who immediately programmed the work with Esprit.
The work was recorded and heard on Two New Hours. I submitted that Esprit Orchestra broadcast as the CBC entry in the 1991 International Rostrum of Composers in Paris. The delegates at the IRC voted Iridescence the best work by a young composer that year, and it was subsequently broadcast in 35 countries around the world. On the strength of this success, Bramwell Tovey added Iridescence to the lineup of the Winnipeg Symphony Orchestra's New Music Festival, where it was once again broadcast in a fresh context. In a period of about 18 months, the collaboration of broadcasters and the music community enabled this young emerging composer to progress from a little-known teenager to a rising star in Canada, and a recognized composer around the world.
If the objective of public broadcasting, as defined by the Broadcasting Act, is "to encourage the development of Canadian expression by providing a wide range of programming that reflects Canadian attitudes, opinions, ideas, and artistic creativity," these initiatives were a few of the possible ways to realize that noble scheme.
David Jaeger is a composer, producer and broadcaster based in Toronto.