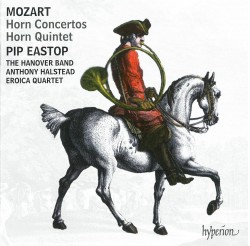 Mozart – Horn Concertos; Horn Quintet
Pip Eastop; Hanover Band; Eroica Quartet
Hyperion CDA68097
What a fabulous CD this is! In the decade before his death Mozart wrote five pieces for his close friend, the celebrated Viennese horn player Joseph Leutgeb. This disc presents the gorgeous Quintet, with its chocolatey two-viola richness, and the four horn concertos, in their chronological order to reflect how Mozart's writing for the instrument shifted to mirror his colleague's playing. The expert and beautifully balanced Hanover Band and Eroica Quartet both play with a rich diversity of colour and expressive device, but the brightest star of this show is Pip Eastop. Leutgeb was described as being able to "sing an adagio as perfectly as the most mellow, interesting and accurate voice," and Eastop's playing can be extolled just as highly. He plays brilliantly, whether in the exquisite slow movements or in the allegros where the instrument's rambunctious cor de chasse origins – "more Robin Hood than James Bond" – are never very far away; and his extraordinary cadenzas exploit the full range of the natural horn's personality and technical capabilities without ever disappearing beyond the classical horizon.
These are joyful, engaged and engaging performances, as varied in mood and vocabulary as the music itself, and alchemically removing the distance between Mozart's time and our own. The excellent booklet notes by Robert Payne, Stephen Roberts and Eastop are an added bonus. Even if you've already got a recording or two of Mozart's horn music, you must listen to this one.