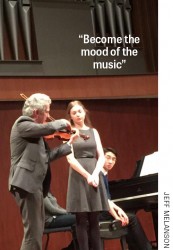 Master classes such as those listed in Section E: The Etceteras, are invaluable learning experiences. And not just for the participating students. Those listening in, be they students or other musicians can gain insights into performing that they can use in their own private pursuits; curious music lovers can likewise get a behind-the-scenes glimpse into the ways music that they hear in the course of their concertgoing lives is imagined and prepared.
TSO music director Peter Oundjian held his second RCM masterclass of the season February 9, teaching students from the Phil and Eli Taylor Performance Academy for Young Artists. As the Academy's dean Barry Schiffman (himself a former student of Oundjian) explained, the Glenn Gould School's student body ranges in age from 18 to 23 whereas the Taylor Academy's runs from 12 to 17. (Oundjian's final masterclass of the season March 2 from 5pm to 7pm at Mazzoleni Hall will focus on GGS students.)
Alice Lee, a diminutive 14-year-old who's been playing for ten years, performed the first movement of Tchaikovsky's Violin Concerto in D major, op.35 with piano accompaniment. It was as jaw-dropping a performance as it was unexpected. Oundjian bounded up onto the Mazzoleni Hall stage all smiles and once he had uttered the single word "Fabulous!" began a simple Q & A in order to determine her age, how long she had been playing, how many hours she practises, what routine her practice session takes, what etudes she plays and whether they include those by Jakob Dont.
This led to some fun. "For those of you [in the audience] who are unaware, there are violin etudes by Dont, cello etudes by won't and viola etudes by can't."
He repeated to her advice his own teacher, Itzhak Perlman, had given him: "If you're practising more than four hours a day, then you're not practising intelligently."
The maestro then complimented her on her strong right arm which reminded him of Isaac Stern. Another joke followed about Stern's left arm no longer being strong because he had become so busy he no longer had time to practise. Once Oundjian found out how young she was, he urged her to develop her musicianship by developing her humanity through reading widely and increasing her breadth of experience.
He commented on her cadenza being really beautiful and reminded her that as we get older the body gets stronger. "Remember," he urged her. "Never work harder; don't lose clarity."
The next students were a piano and violin duo who performed the first two movements of Franck's Sonata in A major for Violin and Piano. Oundjian used a hockey analogy about passing but not receiving to describe a lack of musical interplay he was seeing between the two players. He offered advice about vibrato and extending the right arm fully when bowing. "Become the mood of the music," he said.
He felt the violinist was looking at her music too intently. It reminded him of a story about Rostropovich at an airport. The great cellist glimpsed a friend across the way staring at a letter he appeared to be writing. He walked over, said hello and asked what he was writing. The friend replied that he didn't know because he hadn't received the letter yet.
The final piece was the first movement of Schubert's great String Quintet in C. Oundjian's reaction reminded everyone that prior to becoming music director of the TSO, he had been first violinist of the Tokyo String Quartet for 14 years, the longest tenured first violinist of that legendary ensemble "How wonderful it is to discover this music," the maestro mused. "I remember when I was your age and playing the first two notes – Wow! – where did that come from?"
"What we love about music," he continued. "Is that it's all left to the imagination without a literary context." He followed that philosophical insight with specific instructions about how the opening notes have to emerge from nothing but still have a presence, so they need to be played piano not pianissimo. And then, describing one of Schubert's many take-your-breath-away moments: "Is this not one of the most remarkable sighs in all of music – if you don't sigh, then they [points to the audience] won't feel it."
Later, when the first cello had the theme, Oundjian asked the student how it feels to play. She answered that it's astonishingly beautiful, that it's every cellist's dream. "So," Oundjian instructed. "Play it that way; draw it out of the instrument."
Still later: "Just as in speech, if you want to bring emphasis to music, better late, not early."
Then came some thoughts about Schubert's meaning of decrescendo versus diminuendo and how in his music diminuendo almost always means collando [collapsing], i.e. slowing down.
Finally, this insightful nugget – "We think of this piece as grand but it has moments of great intimacy" – and a telling comparison between two great composers in which Oundjian described Schubert's use of intimacy as "very personal but still having universal impact." With Beethoven, even at his most intimate moments, "you still feel he's telling you what to do."
For several minutes, the maestro had been conducting the five young string players with the same gusto and commitment he brings to the TSO.
Paul Ennis is the managing editor of The WholeNote.