Welcome to The WholeNote's third annual guide to the Toronto International Film Festival (TIFF) spotlighting films in which music plays an intriguing role. Selections range from music-centred documentaries and musicals to movies featuring characters involved in making music to soundtracks that are integral to the quality of the films they help drive. With 285 feature films in this year's festival, there was some alchemy involved in choosing the 22 titles on the following list – the soundtrack category is particularly difficult to predict in advance.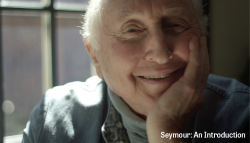 You meet the most interesting people at New York City dinner parties. That's where Ethan Hawke first met Seymour Bernstein, the 85-year-old subject of his documentary Seymour: An Introduction. Bernstein began playing the piano as a child in Newark, New Jersey and by the age of 15 was already a teacher. He had a brief concert career after studies with such giants as Alexander Brailowsky, Clifford Curzon and Nadia Boulanger before settling into his role of helping others develop.
It was Hawke's explanation of Bernstein's teaching mantra in response to Hubert Vigilia's question on flixist.com two years ago (just as the film was taking shape) that piqued my curiosity and made Seymour a must-see on my TIFF to-do list: "What is harmony? What is dissonance? Why should we practice? Why should we work hard, and what difference does it make when you play the right note or don't play the right note? He's a very deep guy. I was touched by him, and I thought he had a lot to teach me about acting, and then I slowly realized that the way he's talking about the piano relates to every profession."
Based on his moving doc Last Train Home, I'm looking forward to Lixin Fan's new film I Am Here, which follows the three finalists of the popular Chinese TV show Super Boy. In an interview with TimeOut Beijing Fan talked about wanting to examine the transformation of Chinese television over the past decade, "the explosion of a particular kind of consumable entertainment that fetishizes fame and makes overnight success seem normal." It seems that the West is not the only society mesmerized by the cult of the superstar.
The film adaptation of Jason Robert Brown's hit show The Last Five Years, starring Broadway fave Jeremy Jordan and movie darling Anna Kendrick (can't wait to see her as Cinderella in Into the Woods later this year), will receive its world premiere during the festival. Written and directed by Richard LaGravenese (perhaps still best known for The Fisher King screenplay), it's that rare movie made from an off-Broadway musical. This one deconstructs the relationship of a writer and an aspiring actress sung from their individual perspectives.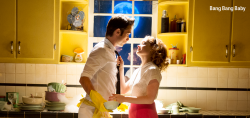 I have it on good authority from a Canadian director who's seen a rough cut, that Ian LeFeuvre's and Jeffrey St. Jules' eight original songs in Jules' sci-fi mutant musical nightmare Bang Bang Baby feel authentic, are filled with good hooks and reflect the music they're referencing in this version of an early 1960s Elvis movie musical that stars Jane Levy as a wide-eyed dreamy small-town girl in the mould of Lesley Gore.
Another Canadian film with an unusual premise is the aptly titled Songs She Wrote About People She Knows, about a timid office worker (Arabella Bushnell) who can't suppress her true feelings about . . . well, you know, "I'm confessin' that I hate you." Kris Elgstrand's feature film debut certainly does intrigue.
An uncharacteristic variation on the conventions of the bio-pic, Love & Mercy takes off from Brian Wilson's resurrection that began in the 1980s under the guidance of therapist Dr. Eugene Landy (Paul Giamatti) and second wife Melinda (Elizabeth Banks). The troubled leader of the Beach Boys is portrayed in middle age by John Cusack and, in an inspired piece of casting, Paul Dano, as the youthful 60s musical icon responsible for Pet Sounds.
Ole Christian Madsen's Itsi Bitsi dissects the origins of the legendary 1960s Danish band Steppeulvene (Steppenwolf). The promising premise: after indulging in a virtual travelogue of counterculture excess with his paramour, an aspiring writer decides that forming a band (compared in the program note to groups such as Love and Captain Beefheart's Magic Band) would cement their love.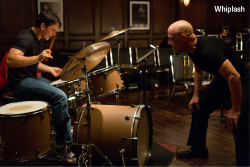 Rooted more in personal experience than in history, Damien Chazelle's Whiplash, which won both the Grand Jury Prize and the Audience Award at the 2014 Sundance Film Festival (where it was labelled "Full Metal Jacket at Juilliard") struck me as being at the opposite end of the spectrum from Seymour: An Introduction. An ambitious jazz drummer (the believable Miles Teller) is terrorized into achieving his goals by a drill sergeant of a teacher (played by the usually amiable J. K. Simmons in a performance as highly charged as the exhilarating 20-minute drum solo that climaxes the film – a musical outburst that is the most memorable thing about this tough view of education).
Eden, the new film by the always-interesting director Mia Hansen-Løve, is a TIFF world premiere. The New York Film Festival program note describes it as "a rare achievement: an epically scaled work built on the purely ephemeral, breathlessly floating along on currents of feeling. . . and music, music, and more music." Based on the experiences of Hansen-Løve's brother (and co-writer) Sven, who was one of the pioneering DJs of the "French touch" generation of the early 1990s, Eden features key figures such as Guy-Manuel de Homem-Christo and Thomas Bangalter (otherwise known as Daft Punk), who, with their friends, "see visions of ecstasy in garage music."
Other movies featuring characters of varying musical talent include Haligonian Andrea Dorfman's Heartbeat, which was an outgrowth of an immensely popular Bravo!FACT video she shot of the poet-musician Tanya Davis performing her poem "How To Be Alone" (approaching seven million hits on YouTube as this is being written). In the new film, Davis returns to guitar picking and songwriting as a means to get over a break-up with her artist boyfriend, a lovely idea in theory, but for me, most of the music just didn't click.
A more successful and equally low-key Canadian film, Stéphane Lafleur's Tu Dors Nicole is a finely-etched portrait of a 22-year-old young woman maturing over one aimless summer. The music component appears in the form of her older brother and his band, who move in to record an album. They, along with Nicole's best friend and a pre-teen former babysitting charge, all contribute to the comic wisdom of this understated little bijou, filmed in rich black and white.
Drawing inspiration from the life and death of the German Romantic poet and playwright Heinrich von Kleist, who killed himself in a suicide pact in his early 30s, Austrian writer-director Jessica Hausner's Amour Fou debunks the romantic myth of dying for love. Not without irony, Hausner makes the most of the distancing effect of the stilted 1811 dialogue. She's well aware of the absurdly comic formality of her characters and their desires – the film's title is no accident. Still, despite its great attention to period detail, beautifully composed cinematography and unerring artfulness, it left me cold. You, on the other hand, may be charmed. The musical bonus: three songs by Mozart, Beethoven and the Danish composer Christoph Weyse, performed without pretense and completely in tune with the times.
In the Greek film Xenia, a 16-year-old dreams that his older brother, a gifted singer, could become the next "Greek Star." Boychoir's provenance is more promising, since it marks director François Girard's return to a musical subject after the superb Thirty-two Short Films about Glenn Gould and the immensely popular The Red Violin. Actor Garrett Wareing is its 12-year-old centrepiece chorister, Dustin Hoffman the demanding choirmaster and the talented Eddie Izzard, his right-hand man.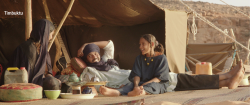 In Timbuktu, Abderrahmane Sissako takes a clear-eyed, moving, humanistic look at the jihadist takeover of northern Mali, bringing us wholly into the lives of his well-developed characters, ordinary people who want nothing more than to make music, play soccer and, for the women, to feel the breeze on their hands without being forced to wear gloves at all times. The remarkable Malian singer-actress Fatoumata Diawara (who appeared in concert at Koerner Hall last February) plays a woman being beaten for making music. As the severity of the beating builds, her cries intensify into an unforgettable wailing song, defiantly acting out the very thing for which she is being punished.
Girlhood, Céline Sciamma's classical coming-of-age story set in the Parisian suburbs, vibrates like a street opera, reaching its musical apex when its protagonists, four teenage black girls whose energy and camaraderie are completely natural and infectious, sing along to Rihanna's song "Diamonds" as they treat themselves to the pleasures of a stay in a fancy hotel. More noteworthy though, is the director's choice of Para One to write an original score consisting of only one theme that returns many times over the course of the movie, but richer each time, paralleling the development of the film's main character. Girlhood is an example of a very good film enhanced by the astute use of music.
Equally impressive is the way music is used as a driving force in five diverse films.
In Jean-Luc Godard's Goodbye to Language 3D, snippets of Beethoven's Symphony No. 7 as well as bits of Schoenberg, Sibelius and Kancheli and innumerable repetitions of a few bars of Tchaikovsky's Marche Slave support the filmmaker's depiction of an illicit love affair which itself is punctuated by literary, political and cinematic references for our amusement and stimulation. Despite the lack of conventional narrative, it's the legendary enfant terrible's most accessible and fun film in years. The ultra-modern use of 3D alone is worth the price of admission.
The violent storm conjured up by the final movement of "Summer" from Vivaldi's Four Seasons is used as a recurring motif in the darkly comic, caustic Swedish moral tale, Force Majeure, which ironically takes place in the wintry snow-laden Swiss Alps. And on the subject of mountains, writing in Variety, Musicworks editor Jennie Punter called Kyle Thomas' Alberta-set multi-narrative The Valley Below "music-fuelled." One of its episodes is centred on a songwriter.
Twenty-five-year-old Xavier Dolan's Cannes prizewinner, Mommy, is driven by a carefully chosen soundtrack including music performed by Sarah McLachlan, Dido, Counting Crows, Andrea Bocelli and Lana Del Rey among others. Dolan's film jumps off the screen with a life force that is contagious. A mother, her 15-year-old ADHD-afflicted son and their neighbour, a teacher who is more at ease with them than she is with her own family, spend several intense weeks together. The movie is formatted one to one – that is, it appears on the screen in the shape of a square. At one ecstatic moment as the son is moving down the street on his longboard with the two women on the sidewalk behind and Oasis' "Wonderwall" blasting away, he extends his arms sideways and pulls the image to widescreen width. It's a breathtaking effect.
There are few instruments as evocative as the Indian bamboo flute (bansuri) especially when heard in the open air. In Sturla Gunnarsson's Monsoon, which documents the 2013 monsoon season from Kerala to Mumbai to Cherrapunji, its sound is put to particularly good use in a score composed by the Bombay Dub Orchestra's Andrew T. MacKay that also features tabla, sitar, sarod and vocals. This music heightens the striking images so much that the film would be unthinkable without it.
Maya Forbes' highly appealing Infinitely Polar Bear, the story of two sisters raised in Boston by their bipolar father while their mother is furthering her education in NYC, is based on her own personal history. The soundtrack music is well chosen, high calibre, non-instrusive but memorable, from Ike Turner's "A Fool in Love" to Doc Watson's "Your Long Journey" and George Harrison's "Run of the Mill," to name a few. And you have to love any movie with the smarts to include Brenton Wood's "Oogum Boogum Song" on its soundtrack. But there's more. Stay for the credits and you'll hear Forbes' younger sister, China, Pink Martini's inimitable vocalist, sing a song she composed specifically for the film. It's a heartfelt, insightful complement to what we've just watched.
I've already seen 11 of the 22 and am looking forward to watching the others (and many more) during TIFF 2014. Any nuggets discovered are sure to appear in the Music and the Movies blog on thewholenote.com over the months to come, so stay tuned. The Toronto International Film Festival runs from September 4 to 14. Check tiff.net for further information.
Paul Ennis is managing editor of The WholeNote.