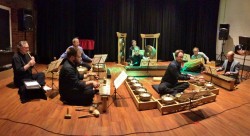 Where to start with Toronto's Evergreen Club Contemporary Gamelan? Perhaps it'd be best to mention that I was there at the group's genesis, invited by its composer/founder Jon Siddall. Over three decades later I'm still a proud member of its roster of musicians with 30 concerts seasons, international tours, over 200 new works and ten albums under its collective belt. While my bias here is clear, my tenure with ECCG as musician, composer, arranger and past artistic director also ought to qualify me to speak about its past and present projects with passion.
The ECCG has the distinction of being Canada's first group playing music on an Indonesian gamelan (orchestra). Recently it has been digging into its first decade of commissions of foundational Canadian and American music for gamelan, some not heard this century.
ECCG artistic director Blair Mackay makes a case for these early works. "There are a handful of works from the 1983-1993 era that formed the basis of the ECCG sound as well as our overall approach to playing the actual instruments." The eight-member group presents these foundational compositions in two intimate June concerts at the Arraymusic Studio, 155 Walnut Ave., Toronto. The first was staged on June 15 and the second will happen on June 22 at 8pm.