Three compelling films have recently surfaced in Toronto., Timbuktu, Abderrahmane Sissako's clear-eyed, moving, humanistic look at the jihadist takeover of northern Mali is in an exclusive engagement at TIFF Bell Lightbox as of February 13. Sissako brings us wholly into the lives of his well-developed characters, ordinary people who want nothing more than to make music, play soccer and, for the women, to feel the breeze on their hands without being forced to wear gloves at all times. All of these simple acts have been declared to be violations of Sharia law by thuggish Arab invaders.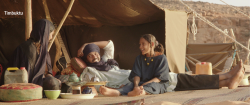 The remarkable Malian singer-actress, Fatoumata Diawara (who appeared in concert at Koerner Hall in February last year) plays a woman being beaten for making music. As the severity of the beating builds, her cries intensify into an unforgettable wailing song, defiantly acting out the very thing for which she is being punished.
Gorgeously photographed by the cinematographer of Blue Is the Warmest Colour, Timbuktu, which is one of the five Foreign Film Oscar nominees this year, focuses on a loving family whose pastoral life outside of town is riven by a tragic accident that brings them under the foreigners' merciless grip. In telling their tragically timely story and that of the other innocent victims, Sissako stands up for free will everywhere.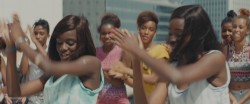 Girlhood, Céline Sciamma's classical coming-of-age story set in the Parisian suburbs vibrates like a street opera. It reaches its musical apex when its protagonists, four teenage black girls, whose energy and camaraderie are completely natural and infectious, sing along to Rihanna's song "Diamonds" as they treat themselves to the pleasures of a stay in a fancy hotel. Even more musically noteworthy, is the director's choice of Para One (who have scored all her films) to write an original score consisting of only one theme. The theme returns many times, richer each time, paralleling the development of the main character Marieme. Girlhood is an example of how a very good film is enhanced by an astute use of music.
Sciamma has portrayed young women before (in Water Lilies and Tomboy) but here she deals exclusively and non-judgmentally with black teenage girls and masterfully so; watching Karidja Touré as Marieme mature into a confident young woman in control of her life is a joy. Showing only once as part of TIFF's Next Wave Film Festival, Saturday February 14 at 6pm, it's free for high school students and recommended for everyone. It begins a regular run at the Lightbox on February 27.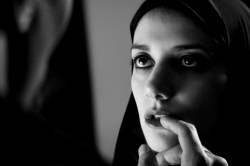 The multi-hyphenate genre mash-up A Girl Walks Home Alone at Night is an addictive mood piece in black and white with a confident artistic swagger that perfectly fuses sound design and soundtrack. Easily the most music-dominated piece of film to be released this year its power would be unthinkable without a score ranging from Ennio Morricone riff-laden Portland, Oregon-based Federale and Iranian dance music from Radio Tehran and Kiosk to English post-punk band White Lies. Don't miss this romance between a chador-clad vigilante vampire and a classic '57 Thunderbird-driving, white-T-shirt-with-a-nod-to-Rumblefish-wearing loner in an oil town in the rump of Iran. Despite its Lightbox run having finished February 12, see it February 16 to 19 at the Carlton Cinema and February 18 and 19 at the Royal.