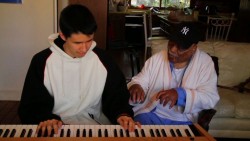 Allan Hicks' fearlessly intimate Keep On Keepin' On focuses on the relationship between nonagenarian jazz trumpeter Clark Terry (b. 1920) and blind pianist Justin Kauflin who is in his early 20s. Terry joined the Count Basie band in his late 20s, describing it as prep school for the University of Ellingtonia and stayed with Ellington for a decade before becoming the first black musician hired by NBC (he was a regular on The Tonight Show with Johnny Carson, for example). He's best known as a teacher, however, with his famous system of doodle-tonguing and thousands of students -- strikingly, Quincy Jones at 13 was his first -- spread his philosophy of music far and wide.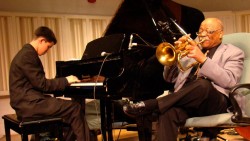 There are many testimonials to Terry's skills here but what makes Keep On Keepin' On so moving are the powerful emotional bonds that are displayed onscreen over the course of four years of filming. Terry was 89 and enfeebled by diabetes when we first see him onscreen but he still maintains an affectionate relationship with his devoted wife. And he still plays his trumpet -- "Are your lips greasy?" Jones would invariably ask when the two spoke -- and is constantly singing whatever tune happens to be in his head. He takes on Kauflin as a student and they feed off each other, the pianist transcribing Terry's vocal phrases instantly to the keyboard. Much happens over the course of the movie -- the drama is rooted in life itself – in addition to the rich jazz history lessons that unfold unexpectedly and the up-close musical pedagogy that is displayed so naturally throughout.
Keep On Keepin' On finished fourth on the list of audience favourite films at Hot Docs 2014. It plays the Bloor Hot Docs cinema November 14 through 26. Check the schedule here. Oscar Peterson's youngest child, Céline Peterson, will participate in a pre-screening Q&A on November 14, at 8:45 p.m.
Rooted more in personal experience than in history, Damien Chazelle's Whiplash, which won both the Grand Jury Prize and the Audience Award at the 2014 Sundance Film Festival (where it was labelled "Full Metal Jacket at Juilliard") occupies the opposite end of the pedagogical spectrum from Keep On Keepin' On. An ambitious jazz drummer (the highly credible Miles Teller), who idolizes Buddy Rich, is terrorized into achieving his goals by a drill sergeant of a teacher (exuberantly played by the usually amiable J.K. Simmons in a performance as highly charged as the exhilarating 20-minute drum solo that climaxes the film -- a musical outburst that is the most memorable thing about this tough view of education). Whiplash has just expanded its theatrical run from one screen to several, testimony to the power of its musical and dramatic chops.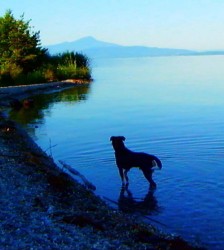 Music is a driving force in Jean-Luc Godard's Adieu au language (3D) [Goodbye to Language 3D] currently on screen at TIFF Bell Lightbox. Snippets of Beethoven's Symphony No. 7 as well as bits of Schoenberg, Sibelius and Kancheli and innumerable repetitions of a few bars of Tchaikovsky's Marche Slave support the filmmaker's depiction of an illicit love affair (or two) punctuated by literary, political and cinematic references for our amusement and stimulation. Despite the lack of conventional narrative, it's the legendary enfant terrible's most accessible and fun film in years. The ultra-modern, eye-popping use of 3D alone is worth the price of admission. Placing his camera in the foreground, Godard skews our perspective; focusing on objects upfront enhances and changes the way we view the human element.
Palpably energizing, the film's 70 minutes fly by on wings of puns and song. The director's dog proves to be a most genial guide to his owner's ruminations on nature and metaphor in a film that is as densely packed as most movies twice its length.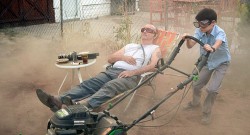 Theodore Melfi's St. Vincent has been playing around town since October. It's the latest in a line of films featuring cantankerous characters whose crankiness conceals a painful past. What sets St. Vincent apart is the delicacy of Bill Murray's performance as a Vietnam vet who softens as he teaches his new 12-year-old neighbour (Jaeden Lieberher) a thing or two about life while babysitting him after school. If you think you can escape the tears that accompany the film's storybook ending, you're probably mistaken.
One thing you should not consider escaping is Murray in a lounge chair in his backyard intermittently singing along to Bob Dylan's "Shelter from the Storm." While the end credits roll sit back and enjoy one of the great character actors working today as he slips in and out of the lyrics.