Looking back on the history of the early-music movement over the last 50 years, we can say that one accomplishment it made was to shift the focus of the musical canon away from Germany and Austria to other countries. It's understandable that this would happen -- German-speaking countries had a virtual monopoly on great composers from Haydn's day, but the cultural landscape in the preceding centuries was considerably more multipolar -- yet there's still a bias in early music for a few Western European countries. French, Italian and maybe a bit of English music is now de rigueur in early music circles, still there's no push to expand the canon any further, at the expense of more than a few great composers who have been lost to the ages.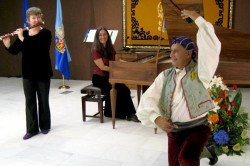 But no more. An excellent example, Spanish harpsichordist Luisa Morales and dancer Cristóbal Salvador, who have teamed up with Toronto-based flutist Alison Melville to present and tour a program based around Spanish music and dance. Their concert last Saturday at Bloor West United Church, titled "¡Fandango, Sonata, Bolero!," brought together the music of diverse Spanish composers with the traditional dance of Spain to show off and promote Spanish music that has, until now, been overlooked as part of the performing repertoire.
The two most renowned composers on the program, Domenico Scarlatti and Antonio Soler, might be recognizable to anyone with a passing acquaintance with piano music, since they have long been treated as either flashy party pieces for pianists or an easy captital C classical selection for a conservatory exam. Having Morales play them in an all-Spanish concert was a chance to hear these composers as part of a national tradition. Still better was the decision to have Salvador dance and play the castanets to the harpsichord sonatas – the rhythms brought out the similarities between (one assumes) Spanish folk dance and Scarlatti's music. One would never make the connection otherwise.
Unfortunately for Salvador, there wasn't enough space on stage at Bloor West United for him to dance, so he had to perform at floor level in front of the pews. This made it impossible for anyone to see any part of his body below the shoulders, so the audience couldn't see much dancing. Is he good at traditional Spanish dancing? We just don't know.
Nonetheless, aside from some technical problems, the group made a valiant effort to bring some underappreciated repertoire back to life. Perhaps a further revival of the Spanish baroque awaits.