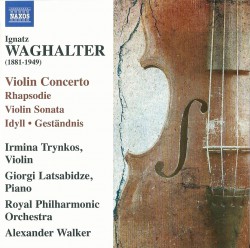 In the February 2013 Strings Attached column I reviewed the debut CD by the Greek-Polish violinist Irmina Trynkos, who is now based in London, England. It was also the first CD in her Waghalter Project, created specifically to promote the music of the Polish composer and conductor Ignatz Waghalter, a remarkably successful and established musician who fled the Nazi regime in Germany in the late 1930s, and whose music fell out of fashion and remained virtually unplayed for more than 60 years.
I noted at the time that Trynkos "plays with warmth, style and confidence; she is clearly one to watch."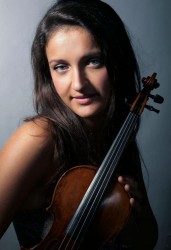 On Saturday October 25 I had the welcome opportunity to do exactly that at the George Weston Recital Hall, as Trynkos jetted in from London to join Nurhan Arman's Sinfonia Toronto for their opening concert of the season.
Waghalter's music is featured in Sinfonia's first two concerts of the 2014-15 Masterpiece series (his dates, incidentally, are misprinted throughout the season program as 1841-1949 instead of 1881-1949) but to nowhere near the extent I had hoped, given Ms. Trynkos' involvement here. The violinist had a chance encounter with the composer's grandson in London in 2009 which led to a passionate interest in Waghalter's music and a determination to help bring it out of the shadows and back into the public realm. The outstanding 2012 Naxos CD featuring the Violin Concerto and four shorter works was the result, and Ms Trynkos is now intent on taking Waghalter's music to concert venues around the world.
The only Waghalter piece in this concert, however, was the Notturno Op.4, an early work originally for cello and piano, performed here in the North American premiere of an orchestral transcription by Constantinos Stylianou. It's lovely music, straight out of the German Romantic tradition of Brahms and Bruch, with a strong melodic line, lush harmonies and immense warmth and richness; it's also, unfortunately, extremely brief – only about five minutes or so in length. Still, the warmth, style and confidence that I noted in Trynkos's playing on the CD were there for all to hear, as they were in Sarasate's Zigeunerweisen and the North American premiere of Nimrod Borenstein's Poem Op.64.
It will be interesting to see what other examples of Waghalter's music will be resurrected in the light of Trynkos' project. In April 2015 Naxos will release a second Waghalter CD, this time of orchestral music, with three Orchestral Suites from 1939 making up the bulk of the program. It will hopefully add fuel to the ongoing re-assessment of this fascinating musical personality.