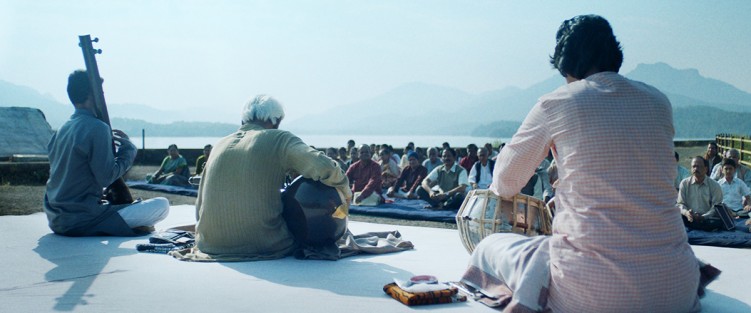 In this year like no other, the Toronto International Film Festival (TIFF) has adapted to the pandemic's parameters by making most red carpet events virtual and scaling back on how films will be presented.
TIFF's 45th edition – running from September 10 to 20 – offers both digital and in-person screenings, using TIFF Bell Lightbox and the Isabel Bader Theatre at reduced capacity to conform to measures provided by the City of Toronto and Public Health Ontario, ensuring that there will be a modicum of lineups. As well as drive-ins at CityView and Ontario Place, there will be an open air cinema at Ontario Place. A sophisticated, secure digital platform, called Bell Digital Cinema, will house most of the 50-plus films selected for TIFF 2020 enabling Festival-goers to watch Festival films at home on their television screens.
Given The WholeNote's early deadline, TIFF's schedule and program notes were unavailable, so the current guide is based on a film's subject matter, a filmmaker's track record and gleanings from across the Internet.
The Disciple
"A finely crafted labour of love set in the world of Indian traditional music… The Disciple is a refined yet uncompromising portrait of a young artist's journey, his dreams and his loneliness, featuring some extraordinary musical performances." (New York Film Festival). Classical musicians prominent in the film include lead actor Aditya Modak, Arun Dravid and Deepika Bhide Bhagwat. In an interview on the scroll.in website, director Chaitanya Tamhane said he was drawn to the stories and anecdotes about musicians of the past, their secret knowledge and ancient wisdom. "The more I studied, listened, and attended concerts, the more I was enticed, and I realized Indian classical music is not as simple as the perception goes – how its practitioners act and behave, for instance.
"The lead character is a young vocalist, raised and introduced to music by his father. He has grown up on stories of the past, these secrets, modern-day myths and masters, purist concepts of music, and how one should live their life in accordance with them."
For research, Tamhane travelled to cities with a vibrant Hindustani music culture: Delhi, ITC Sangeet Research Academy in Kolkata, Benaras, Pune, Ahmedabad. "I needed to form genuine friendships and build a rapport so they opened up and let me understand their inner world, and that took time. What you will see in the film is an amalgamation of insights I gained over two years."
For decades, the life of American jazz musician Billy Tipton was framed as the story of an ambitious woman passing as a man in pursuit of a career in music. In Aisling Chin-Yee and Chase Joynt's documentary, No Ordinary Man, Tipton's story is reimagined and performed by trans artists as they collectively paint a portrait of an unlikely hero. Working with Tipton's adopted son Billy Jr., the filmmakers delve into Tipton's complicated and contested legacy: how do you tell the story of someone who was hiding in plain sight yet desperate to be seen?
According to Diane Midddlebrook's book, Suits Me: The Double Life of Billy Tipton (quoted in the April 2013 issue of Allegro, the magazine of the NYC musicians' union AFM Local 802), Tipton did not make a serious effort to become a recording star. He mainly earned his living playing dance music of the kind popularized by small jazz ensembles in the 1930s and 1940s. At his best, he sounded like Benny Goodman's piano player Teddy Wilson. He studied Wilson's recordings until he could imitate Wilson's style, and later, when he had a small group of his own, adopted the Goodman quartet's Flying Home as a theme song.
"At the peak of Tipton's career, every successful small-time musician was to some extent a skilled impersonator. Tipton's trio often performed Exactly Like You, made famous by Louis Armstrong. Tipton caught the multiple meanings of this clever title early in her career as a musician and improvised on it for the rest of her life, in undetected drag. Playing a sequence of roles historically reserved for the 'opposite sex,' Tipton demonstrated by her accomplishment that gender, unlike sex, is in large part a performance: she was the actor, he was the role. And if her first act of cross-dressing was a brilliant, problem-solving prank, she quickly found that being taken for a man provided access to almost everything she wanted – music, travel, the love of adventurous and caretaking women."
TIFF Wavelengths programmer Andréa Picard previews The Inheritance: "Ingeniously structured from visual and sonic counterpoint, Ephraim Asili's much-anticipated feature debut The Inheritance is an eye-popping, jazz-infused, shape-shifter – part fiction, part documentary – fully attuned to this political and cultural moment. Shot on Super 16mm in vibrant primary colours, The Inheritance riffs off Godard's La Chinoise in palette, structure and playful didacticism as it inventively weaves together the history of the MOVE liberation movement, the Black Arts Movement and the filmmaker's formative experiences in a Black Marxist collective. New York-based Asili, who is also a DJ, teacher and avid record collector, imbues his film with an iconography of Black artists and freedom fighters via vintage photos, books and records. An audio collage of field recordings, onscreen free jazz performances, spoken word, archival sounds and the whirring of a recording Bolex collapses time and space in a trippy and moving way. Features musical excerpts by Sun Ra and his Solar Arkestra, Max Roach and Oscar Brown Jr."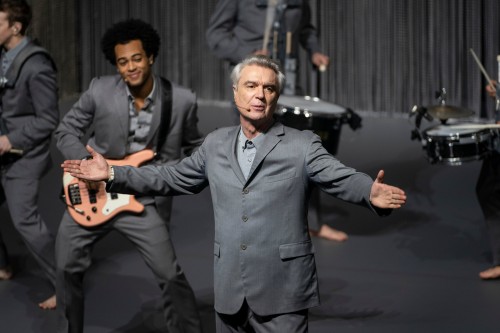 David Byrne's American Utopia, Underplayed and Bandar Band
TIFF2020 opens with Spike Lee's film, David Byrne's American Utopia, which documents the former Talking Heads frontman's brilliant, timely 2019 Broadway show, based on his recent album and tour of the same name. Among the many rave reviews of the Broadway show was David Rooney's in The Hollywood Reporter. Rooney wrote that the "sheer jubilation being transmitted by the crew of 11 prodigiously talented and hard-working musicians, backup singers and dancers of diverse ages and ethnicities, not to mention the dynamic staging, seems to demand a new kind of sensory intake.
"Hatched out of Byrne's seventh solo studio album but anthologizing material from across his output stretching back to his days as the art-rock guru frontman of Talking Heads… It's a sensational concert by any measure, but also a highly sophisticated extension of much of what Byrne has been doing over an eclectic and influential career spanning almost five decades."
The Broadway show's running time was 100 minutes. Lee's film is listed at 135 minutes. Vive la différence.

New Zealand-born, LA-based director Stacey Lee's documentary Underplayed, about gender inequality in electronic music was shot over a period of six months with an all-female crew and (according to Lily Moayeri in Variety) takes us into the professional and personal worlds of established superstars like TOKiMONSTA and Alison Wonderland, newcomers like Sherelle and hardworking underground artists like Tygapaw.
Lee told Moayeri that Suzanne Ciani, Delia Derbyshire, Daphne Oram and Wendy Carlos – the pioneers of electronic music – have been tinkering away in "this almost scientific laboratory realm. As things have gotten more commercial, it's become harder for a woman to be taken seriously. There is this underlying double standard where people who do the exact same thing don't get the same level of acceptance."
Bandar Band, Manijeh Hekmat's music-infused twist on a road movie follows a group of Iranian women singers and their entourage on a day-long journey across a flooded landscape to Tehran where they hope to enter a competition. Every road they take leads to a dead end in a film that appears to be more allegorical than Sisyphean.
Three Tempting Soundtracks
Ludovico Einaudi, whose recordings invariably rise to the top of the classical charts, brings his lyrical minimalism to Nomadland, Chloé Zhao's follow-up to her critically acclaimed The Rider. "Set against the grand backdrop of the American West, the film recounts a year in the life of a stoic, stubbornly independent widow – Frances McDormand, in a beautiful performance of understated grace and sensitivity – who, having spent her adult life in a now-defunct company town, repurposes an old van and sets off in search of seasonal work. In this richly textured feature, Zhao establishes herself as one of contemporary cinema's most clear-eyed and humane chroniclers of lives on the American margins" (from the New York Film Festival program note). I wonder if Einaudi's vision of the West will be more like Aaron Copland's or Ennio Morricone's.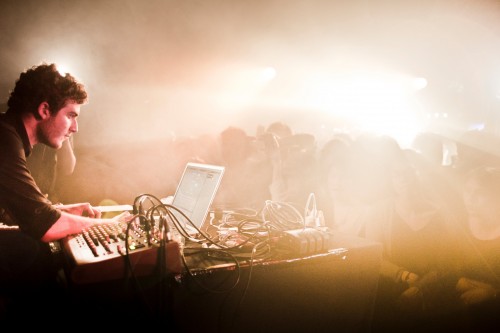 In a 2009 interview – Patrick Lyons pointed out in an article for Bandcamp – the then-19-year-old Nicolas Jaar listed Erik Satie and Ethiopian jazzer Mulatu Astatke as his primary influences – heady stuff for an electronic music "it" kid whose early singles and remixes were marked by a precocious blend of dance rhythms and avant-garde approaches to structure and melody. "In the decade since, Jaar has ridden his omnivorous appetite to far-flung corners of ambient, house, psychedelic, jazz, drum & bass, noise, reggaeton, industrial, and more." And now, he's composed the soundtrack for Dea Kulumbegashvili's Beginning, a Georgian film selected by the Cannes, Toronto and New York film festivals. The New York Film Festival program notes: "Her striking feature debut uses rigorous, compositionally complex frames to tell the devastating story of a persecuted family of Jehovah's Witness missionaries from the perspective of a wife and mother. Beginning announces a major new arrival on the world cinema scene."
Viggo Mortensen stars in his directorial debut, Falling, a film he also wrote. A veritable polymath, Mortensen (who speaks seven languages) is a painter, a poet, a photographer, a publisher – he started Perceval Press with some of his Lord of the Rings earnings – and a musician. He composed and performed Falling's piano score with occasional help from Buckethead. Peter Debruge wrote in Variety that Falling is "more deeply felt than your typical American debut… unpretentious and perfectly accessible to mainstream audiences… Drawing on his own upbringing while touching on universal themes of family and loss, Mortensen reimagines the relationship with his parents – doting mother, difficult father – through the protective filter of fiction."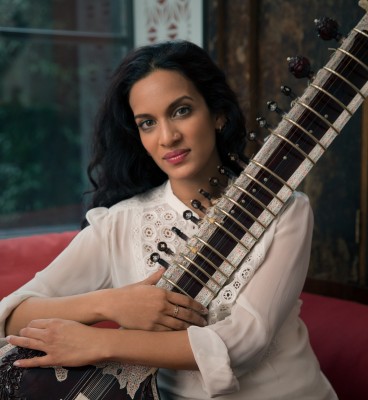 Quick Picks
A young woman in post-partition India struggles to balance family duty and personal independence in A Suitable Boy, Mira Nair's six-part adaptation of Vikram Seth's bestselling novel. Anoushka Shankar's infectious contribution to the soundtrack intrigues.
Versatile American pianist and composer Dustin O'Halloran records for Deutsche Grammophon, has an ambient orchestral project on the side, is a member of A Winged Victory For The Sullen, and with his co-composer, Volker Bertelmann (aka Hauschka) was nominated for several awards for the score to Lion. That's enough to get my attention and put Francis Lee's Ammonite on my radar. Another film selected by Cannes this year, Ammonite stars Kate Winslet and Saoirse Ronan as two lovers in 19th-century Dorset.
From Peter Debruge's Variety review: "Not since the summer of 2003, when François Ozon unveiled Sapphic sizzler The Swimming Pool at the Cannes Film Festival, has the French director seduced audiences quite as brazenly as he does in Summer of 85, which was also set to premiere at Cannes, before the global coronavirus outbreak forced the cancellation of the 2020 edition."
Ozon talked about Jean-Benoît Dunckel's score in an interview with Félix Lefebvre:"I wanted music that was sexy, romantic and nostalgic; something that would remind us of the 1980s and the beginnings of electronic music. All these aspects can be found in Jean-Benoît's music. I have always enjoyed the work he did when he was in the band Air. And it turns out that in an interview where he was asked to give the title of a song he liked when he was young, he'd answered: Stars de la pub, [an 80s hit pop song], saying that it was a really well-produced song. I took this coincidence as a sign because it was also one of my favourite songs when I was a teenager. So I contacted him, and I explained that I wanted to use the very song he'd mentioned in my film. I gave him the script, from which he composed themes without having seen the images. It's quite extraordinary because during the editing process we used the melodies exactly as they were written."
Based in the UK, Hutch Demouilpied is a composer, sound designer and musician whose work has been praised by The Guardian and Variety. Her latest feature, Limbo – about a promising young Syrian musician stuck on a remote Scottish island while he awaits his asylum request – is Mark Sharrock's "funny and poignant cross-cultural satire that subtly sews together the hardship and hope of the refugee experience." When Festival head Thierry Frémaux announced Limbo's selection for Cannes this year, he described it as "Wes Anderson by way of Scotland."
The Toronto International Film Festival runs from September 10 to 20. Please check tiff.net for further information.
Paul Ennis is the managing editor of The WholeNote.