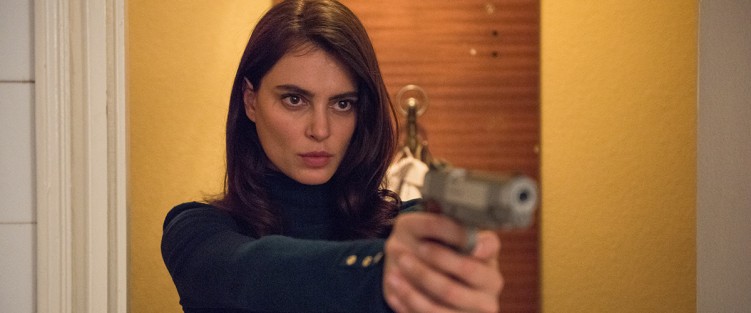 The Whistlers, the new film by Romanian director Corneliu Porumboiu (12:08 East of Bucharest; Police, Adjective), is a lighter-than-air pastiche, a diversion filled with film noir tropes and other cinematic homages, all buoyed by a soundtrack that ranges from Iggy Pop, Ute Lemper and Anna Netrebko to Johann Strauss father and son, punctuated by the likes of Diomedes Diaz & Nafer Duran, Lola Beltrán and Jeanne Balibar.
The well-chosen music begins with Iggy Pop's jaunty tune, The Passenger, as soon as police detective Cristi (subtly played by Porumboiu regular Vlad Ivanov) arrives at La Gomera in the Canary Islands for a ride inland. He's there to learn the whistling language, a coded method of communication native to the island of La Gomera that sounds like birds singing, which will enable Cristi to work around any surveillance in the layered, opaque goings on to come. He's also re-introduced to Gilda (Catrinel Marlon), a bona fide "femme fatale" (a shout-out to Rita Hayworth's iconic character in Gilda).
As Porumboiu said in an interview with Marcus Rothe: "She's the archetype of a woman who plays the femme fatale: she betrays the men, turning against them. Catrinel Marlon plays this lure very well, as an ambiguous and unsettling character who manages to manipulate others without them realizing it."
Cristi is a compromised cop in the pocket of gangsters and known to his fellow detectives who follow his every move in what sometimes resembles an intricately plotted police procedural. He checks into the Opera Motel, its lobby permeated with the sound of an LP of Anna Netrebko singing Casta Diva from Bellini's Norma. (The hotel clerk tells him that "we are trying to educate" the clientele.) The operatic spirit continues with Netrebko and Elīna Garanča filling the soundtrack with the Barcarolle and its "nuit d'amour" from Offenbach's Tales of Hoffmann as Cristi drives to a small house where he leaves a package. Later the hotel clerk sings along with it before slitting the throat of a policeman who had asked him to turn off the music. The lovely foreboding and air of mystery of Mozart's cavatina, L'ho perduta me meschina, from The Marriage of Figaro (sung by Patricia Petibon) accompanies more Cristi subterfuge while later, Ute Lemper's sublime rendition of Kurt Weill's Moritat der Mackie Messer (Mack the Knife) is cleverly introduced by its familiar tune being whistled.
As Porumboiu put it: "Music has a strong and important presence in this film with rapid shot or scene changes, since it permeates short scenes and quickly denotes a character's world. I also like to create interesting shifts using unexpected musical tracks. For instance, by playing classical music in violent scenes or action sequences. This is another way I play with the conventions of the genre film while subverting them."
The action, which cuts between the rainy gloom of Bucharest and the streams of sunlight beneath the clouds of La Gomera, ends in the neon explosion of Singapore's Gardens by the Bay, with a greatest-hits medley of waltzes by the Strausses (On the Beautiful Blue Danube, Du und Du and Radetsky) and Tchaikovsky (Waltz of the Flowers from The Nutcracker) climaxing in the "Galop infernal" (better known as the French can-can) from Offenbach's Overture to Orpheus in the Underworld. All of which is introduced by a portion of Orff's Carmina Burana.
It's the art of artifice writ large.
The Whistlers is currently playing at TIFF Bell Lightbox.
Paul Ennis is the managing editor of The WholeNote.